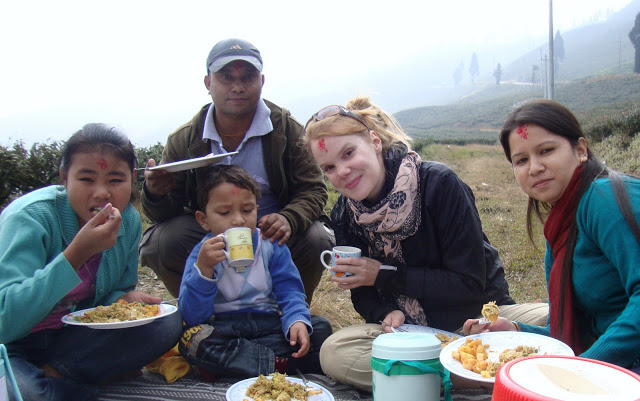 A Christmas Eve picnic in the tea fields of Eastern Nepal was not part of the original plan.
As a card-carrying type-A Virgo list-maker, it may surprise you to know that I'm also a huge proponent of the open-ended travel plan.  What?  Yes.  Despite my fondness for never-ending lists (what to pack! things to prepare for! toiletries to bring!) I'm also the girl who says things like "Oh, I don't know.  I guess I'll just see what happens when I get there." What.a.hippie.
Why Unplanned Travel Can be The Best
Many of the best and most exciting things that have happened over the last five months of travel were completely unplanned.  I didn't leave America intending to teach English to third graders in Eastern Nepal.  Teaching Thai sex workers wasn't part of the plan.  I wasn't 100% sure I was going to Laos until I was at the border crossing.  Now, I'm in my  spiritual homeland of New Zealand.  When am I going to back to the states?  I don't know.  I'm waiting to see if NZ presents me with any life-changing opportunities (read: Bret McKinzie confesses his undying love for me) There is a contingency plan, but there is no exit ticket.
Of course, this hippie-dippy, loosy-goosy approach to travel probably doesn't work for everybody.  I'm traveling alone, earning money as I go – no one's depending on me to return home by a certain date or earn x amount. But even if you're only traveling for a few weeks, I'd be remiss in my duty as your friend if I allowed you to over-schedule and over-plan your trip.  Book accommodation for your first few nights, choose three or four things that you absolutely must do, but resist the urge to pack every minute of every day full with Activities and Sights.
If you stuff your days too tightly, you're going to miss out on all the amazing, weird things that pop up as you go.  The traditional banana leaf dinner at your guide's house!  The one-week editing gig in Lima!  The elephant festival deep in the mountains of Laos!  You might feel like you're putting yourself at the mercy of the universe, but I promise you – if you leap, the net will appear.
And sometimes that net comes in the form of Thai Sex Worker English classes.
How much do you leave to chance when you travel?  How often do you open yourself up to unknown opportunities?