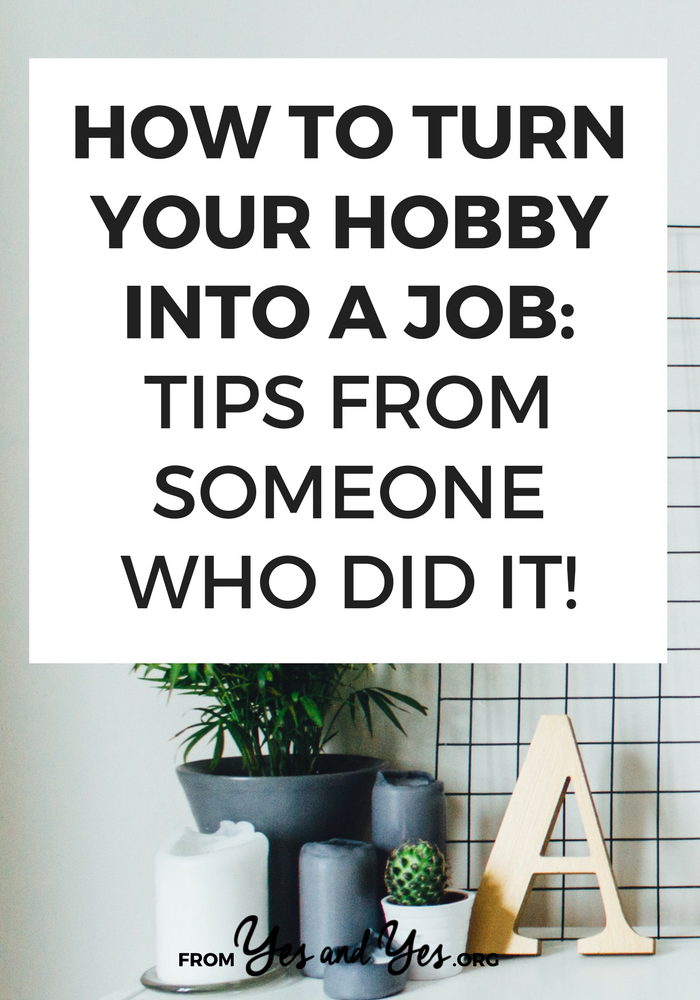 It it possible to turn a hobby into a job? Especially if your hobby is something like "making cute signs out of found wood"? Yes! It's possible! Today my friends
Katie and William
of
Oh Dier
are telling us how they went from hobby to job with pretty much zero business know-how.

We don't understand benefits packages, projected gross (if that's even a thing), or even how to do charts on Excel. We both got liberal-arts degrees (Katie: journalism; William, architecture) and never took a business class. And after talking to some "business people," we have gone about this completely the wrong way. Yet we have become successful small-business owners.

Oh Dier started because we have a design fetish. We consume a lot of design and we're surrounded by design in our professions, but we wanted to be a part of the design world. So here we are. We make décor (from mostly upcycled materials) that we hope brings some beauty and/or levity to your world.
Good design doesn't have to be snooty. Wherever you spend your time—office, home, etc.— should represent who you are. We're here to help you do that.
6 steps to turn your hobby into a job
Be passionate about what you do
The items William was making at the beginning weren't even listed on Etsy. Because we didn't even HAVE an Etsy shop. He was just doing them as a hobby and a way to express his creativity. Things were piling up around our loft. We were giving them as gifts and people were saying "Hey, you should sell this." Instead of saying "Aw shucks," we were like "Hell yes!" And then we actually did it, instead of just sat around talking about it.
Truly, you have to be doing something you believe in, because if you want to grow it into a full-time business, you have to keep going long after you think you can.
Like, we imposed sweatshop labor-like conditions in our house.  We were both working full time when this began. We worked before work, after work, on the weekends, and through social events we would have really liked to attend. But we had our eye on the prize. Even if it felt really, really far away.
We treated it as a serious business even though sales weren't immediately crazy good. No procrastinating—once we had someone's money, we had to make good on our promise, and fast.
Talk about what you do
You don't have to do a hard sell to everyone you talk to, but people have to know what you're up to if you want people to know about it! Don't pull a Michael Scott and ask your friends over for dinner, only to pitch an investment opportunity for your girlfriend's candle business. But if it's something you're passionate about, it's going to genuinely come up in conversation.  Passion is contagious. People want to be excited about stuff, and excited for you. Click To Tweet
William's first art show came about because Katie mentioned his photos to a neighbor, who owned a yoga studio. She offered to host his work for the St. Paul Art Crawl. And the success of that weekend was the impetus to do find other ways to sell artwork.
These opportunities present themselves more the more you put out there. Pretty soon, someone's gonna hook you up. But be prepared to come through for them. And send them an awesome thank-you or flowers. Or help hook them up with something or someone you know. That's how it works, and it never has to feel icky.
Check yourself before you wreck yourself
After a while, signs started to surface that we might be actually able to make a full-time go of what we were doing. We kept saying, "Oh, after X event, sales will die down," or "After Christmas, we'll sell less," but eventually, it just became the norm.
We started a separate bank account for business. It was very hard to track what's actually coming in and going out if we mixed in our Starbucks lattes and regular paychecks and a vintage-shopping binge. The bank will keep you real.
And then there's the cash. It's why we're doing this, right? Except…we just kept saving it. Living like it wasn't even there, because eventually we wouldn't have the steady paycheck—or at least a guaranteed one. And we want to invest in our business with more equipment, etc. And then eventually we had enough to make the leap, even if we have a bad month.
Consider the source
We derive so much inspiration from our source materials. Because we use mostly recycled or upcycled materials, we're sometimes restricted with size, shape, or finish. But that almost always results in a new idea. Using recycled/upcycled materials makes less of an impact on Mother Nature and it keeps materials costs lower. It makes the business feel refreshing.
Have impeccable customer service
Especially in our internet-based business, you NEVER know whom you're working with. Some people buy a tiny purchase, and then because of our customer service, turn around and buy a TON. We deal with angry people quickly and kindly, and it's always worked out in our favor. Make it personal. Stand by your work. You get as good as you give.
Pull the trigger already!
We suddenly realized that we hadn't had a single day for months that we didn't work. We were dragging. Our service was starting to lag. We were constantly tired. But we had the savings and regular business. It was time. It was scary. It was weird. But every single moment since has been awesome.
Thanks so much for sharing, Katie and William! Have any of you guys transitioned from hobby into job? If you have – will your share your best tips in the comments? We want to learn from you!
P.S. How to chase your dreams without hating your life