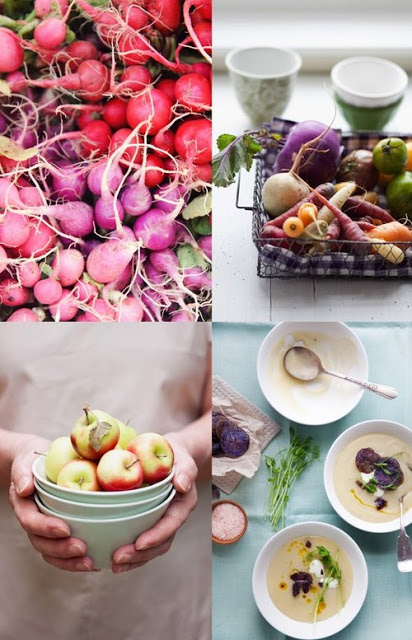 It's almost gardening season!  This is a fantastic guest post from one of my favorite bloggers, Enna of Kosher Porkchops fame.  Pop over and say hi!
This is the story of how I started a community garden in my area.
I think in order to understand my motivations, how this garden came to be, and why I have made the decisions I did, you have to believe in fate. This community garden is my fate. The next thing you need to understand is what being poor means.
This post
(and the comments)describes what being poor in America really feels like – shame.The purpose of
my community garden
  is to feed the poor of DuPage County, Illinois through the
People's Resource Center
.
And here is how I did what I did.
Say it out loud.
I say a lot of useless things out loud "Oh that looks pretty" "What is that smell" "I suck at math" – it's like if it pops in my head it comes right out my mouth. This time, however, my friend Jeff was listening, and realized that we did have land available that we could create a garden on. Tell someone what you want to do. More often than not, whomever you tell will tell others, and someone will be able to help you.
Get connected to a church or neighborhood association.
Do you want free land to create a community garden on? Churches and civic associations usually know where some is, or have some that you can "borrow."
Be prepared to do everything yourself.
I am not saying that no one will help you, they will. But plan on no one helping you, this will help you stay organized and on top of things.
Learn how to ask for help.
There is a difference between putting a blast out on Facebook asking for volunteers, and sending an email or phone call listing a person's strengths and why you think they would be perfect to help with just this one teeny tiny little thing. The most powerful words you will ever say is "[Name], I really need your help. I cannot do this without you." People want to feel important, and as soon as you fluff their ego, they are more than willing to help.
Also, put up information in public spaces, coffee houses and at Whole Foods.  Email botany professors and ask for help. It is insanely easy to get people to help you, you just need to ask.
Call a state college.
University of Illinois has a program where they will send some grad students out to look at your land and tell you what you can grow, where, and how. FOR FREE. Call and ask your nearest state college if they have something similar.
Get over your fear of rejection.
Always remember – the worst thing anyone can say to you is no, so you might as well ask.
Decide whether or not you want to become a non-profit.
My garden is connected to a church, and therefore I get covered under their non-profit status (and insurance!) If this becomes your full time "job" you might want to become a non-profit for tax purposes. If you are connected to a church, this may not be an issue for you.
CYA. CYA stands for COVER YOUR ASS.
Anyone and everyone who volunteers on your garden needs to have signed a waiver otherwise they can sue you if they get hurt. Not only can they sue you, they can sue the civic organization/church that helped you create your garden. People are greedy, but you don't have to be stupid. Google Liability Waivers and use one. Check with a pro-bono lawyer to make sure you are covered. Seriously.
Also, make sure that you are not violating any laws or do not need a permit to do this.
Find an organization that will take the fresh produce.
This sounds like it would be easy, but sometimes this is the hardest part. Make sure they understand who you are, that you represent a community garden, and that the produce is fresh. Food banks are wary of accepting fresh produce because it isn't really fresh.
Compost compost compost.
The soil is the most important part of the garden. My garden is made up of the following: The base layer is wood chips (donated by the city), the next layer is composted dirt. And that's it. You can grow on cinderblocks with this method. This step should really be step one because this is the first step you are going to have to take. Talk to local restaurants about donating their non-protein based waste. (You can find out what you can and cannot compost here.)
Water hook-up.
If there is not one on your site, check with the city to see if they will hook up the water for free. Again, it never hurts to ask.
Make up business cards and a website.
People will take you much more seriously and be more inclined to help you if you look like you know what you are doing. You know the saying "Fake it til you make it?" That is pretty much my motto.
Do not grow corn.
I know, I know. Everyone wants to grow corn. Just don't do it. Trust me.
Know thyself.
Be ready to take a step back when needed, and to relax. And I fully recommend taking two weeks off where you don't look at, think about, or talk about your community garden. Trust me, it will save your sanity.
If you have any further questions, you can contact me at anne.egeland (at) gmail (dot)com!
Do you guys like gardening?  Have you ever taken part in a community garden?  When I was a kidlet, my mom let me have a corner of the garden to myself and I was constantly trying to grow watermelons and other impractical things!