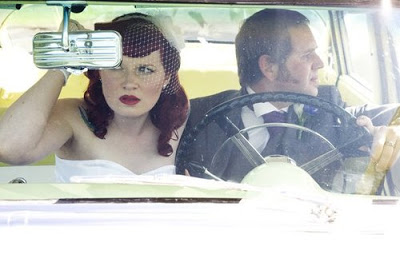 This is one of many True Story interviews in which we talk to people who have experienced interesting/amazing/challenging things. This is the story of Sarah and her 'secret,' preemptive wedding to get health insurance
Tell us a bit about yourself!
My name is Sarah, and although I currently live in WI, I grew up in a small farm town in MI. I'm 25 years old and I currently work in marketing for a candy company. In my spare time, I love hanging out with friends, taking dance classes and spending time outdoors before winter hits!How did you meet your husband?
I know it sounds crazy, but we actually met in elementary school – we grew up in the same small town, although we didn't start dating until he was out of high school (he's two years older than me). We were in similar social circles growing up, but I didn't know him as more than an acquaintance until some mutual friends set us up during my senior year of high school.
How did you come up with this idea?
My husband and I relocated to WI about two years ago, and the move meant leaving the low-income health insurance program that he'd previously been covered under in MI. He's a bouncer, so he's never been offered coverage by an employer. When we realized he'd be without coverage, we ran the numbers and found out that it would be about $300+/month to get him decent insurance – which we definitely didn't have!
At that point, we'd already been together for about 5 years, and getting married was definitely in the plans for both of us. The only thing that was keeping us from doing it was that I wanted to have a traditional wedding and we didn't have the money to do it at that point.
How did your 'husband' react when you approached him with your idea?
Honestly, he was on board with it a long time before I was. We'd talked about it jokingly for awhile, and we had some friends that had done the same thing, so it wasn't really a new idea for us. But while he comes from a very non-traditional family, my upbringing was a lot more conventional, so it took me some time to warm up to the idea.
Tell us about the 'wedding'!
Well, for the "real" wedding, we met two of our close friends and the judge at an art museum in our city, and did the ceremony on the top of a 3-story glass staircase. It was quick, but nice – afterwards, we went out for sandwiches and then my husband went to work later that night.
About a month ago, we had our "fake" wedding, where we did a traditional ceremony and reception with about 100 guests. We did the whole thing – I wore a white dress, he was in a tux, plus we had the full bridal party, DJ, caterer, photographer , etc. that you're supposed to have at a wedding.
Really, both weddings were very meaningful for me, but for different reasons. At the "real" wedding, it was nice to feel like we were getting married for ourselves – like we weren't wrapped up in the whole "wedding fever" thing that seems to take over some couples and make them forget that the marriage is what's important, not the wedding itself. At the "fake" wedding, it was great to have that recognition of our relationship from all of our friends and family members and to be able to celebrate with them. I actually feel very fortunate to have been able to experience both aspects of the wedding process.
What were the logistics surrounding this?
In our city, you have to apply for the marriage license about a week before it can be issued, so we had to go down to the City Records office to apply ahead of time. At the "real" wedding, our friends signed as witnesses and then the judge filed the license – just like what would happen at any wedding in the city. We do file joint taxes, we've changed our W-4s and done pretty much all the other legal stuff you're supposed to do when you get married – just a lot sooner than most of our family members know about.
I did wait to change my name until after the "fake" wedding, and I'm still going through that process. What a pain in the butt!
How much money do you save doing this?
If we hadn't gone on to have a full wedding, we would have saved a pretty huge amount of money. There were some expenses for the "real" wedding – there are fees to get your marriage license, a fee for the judge to come perform the ceremony, plus the cost of the rings. But overall, we spent under $1,000 – and about half of that was just to buy this ring that my husband absolutely loved.
Do any of your friends or family know about this?
Some do and some don't. Because we live about six hours away from all of our extended family (seriously, they're ALL within a 2 hour radius of the town we grew up in), there wasn't a lot of risk of them overhearing anything or running into someone who knew. All of our friends in WI know, plus a few friends from our hometown – which made the "fake" wedding a little nerve-wracking. I was definitely nervous that one of our WI friends would drink a little too much at the reception and give it away!
Could you get in trouble legally if his employers found out?
Legally, we're fine, since it was always our intention to get – and remain – married. His employers don't have an issue with it, since they don't offer health insurance in the first place. I was initially concerned that mine would, since we pretty much got married to take advantage of that specific benefit, but it wound up not being a problem. I'm not sure if there are any insurance fraud issues that could pop up for total strangers getting married, so it's worth a check beforehand if anyone is thinking of doing that.
Do you have to do anything to maintain the facade?
Because we're an actual couple, we didn't have to pretend to be into each other when we really weren't, but we did have to be careful about certain things to keep our families from finding out. Like, if we were going home for a holiday, we'd both take our rings off a few weeks ahead of time to get rid of the indentations they leave and so that we weren't constantly fidgeting with our fingers. We also practiced calling each other "my boyfriend/girlfriend" (and later "my fiancé" after we announced our "engagement") before going home, because we were both so used to calling each other "my wife/my husband".
Have you ever felt any guilt about doing this?
It was hard not to tell my mom and sister, because we're all very close. They both would have been fine with what we did, but we decided right off the bat that it would be easier to keep things straight if we set a blanket, "no family knows" policy. Plus, I wanted them to both have the full, exciting experience of being the maid of honor/mother of the bride, which they both loved.
I did feel some guilt about lying to them, but ultimately, I feel like we made the best possible decisions for us as a couple. It's not a path I'd recommend to everyone – and I definitely don't advocate strangers getting married for the benefits – but it's worked out well for us.
Would any of you ever get married for insurance purposes? Any questions for Sarah?