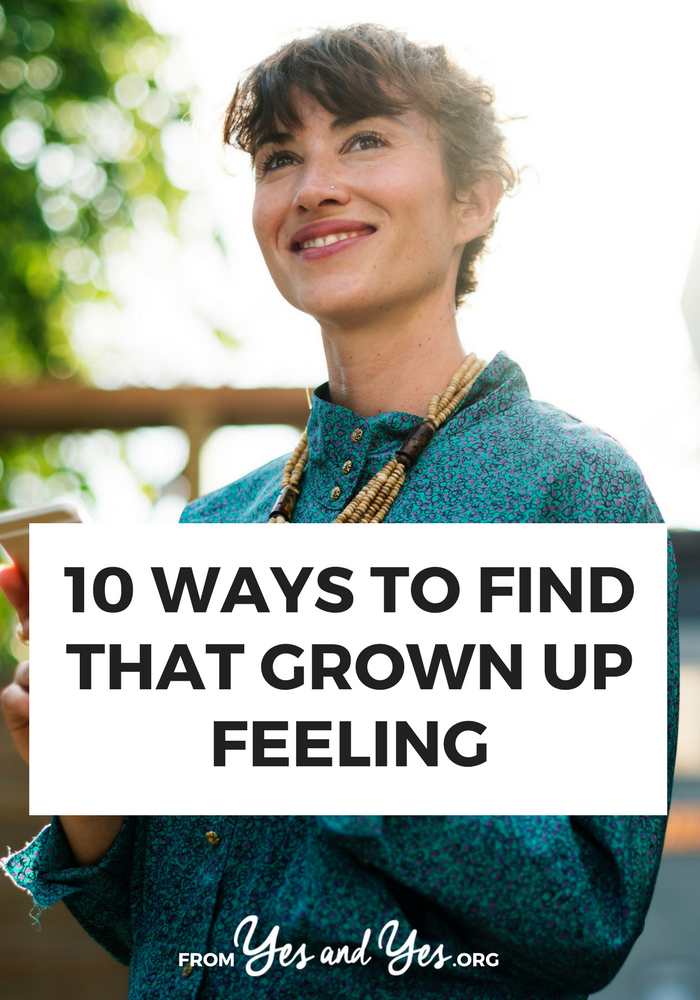 This fantastic guest comes to us from the always-awesome Ashe of Dramatis Personae fame.  She writes about style, fashion, indie businesses and life on the regular.  Go say hello!
In my own reflections, I've decided that being "grown up" is part action and part appearance or "fakin' it" (and at almost 25, I'd gauge those to be 40% action & 60% appearance/"fakin' it").
Here are 10 things I do when I want that grown up feeling
10. Invest in "real" night clothes.
No more oversize t-shirts that I've had since 7th grade (and are holey and covered in bleach). Sleeping is one of my most favorite parts of the day; why shouldn't my night clothes be given the same regard and thought as my day clothes?
To begin with, I ordered
this
lovely Kimono. I love the combination of a stylish design and comfortable fabric.
9. Invest more in "real" art work.
Having real art (accept no generic substitutes!) in one's house makes them feel grown up. Etsy is an easy way to find original art pieces or prints for a very affordable price. For me, my investment mostly moves in the direction of actually framing the current pieces I own! Like with mattes!
You can also find great, affordable art at around the holidays or the end of the semester at art schools. I like Minted and Art.com, too!
8. Develop an enchanting home aesthetic.
Growing up, my mother always had a design for each room of the house, and to this day, she still does. I'd like each of my rooms to reflect an aura and energy; currently, my kitchen is the closest to having such balance.
Things to get rid of– unsavory piles of magazines falling off of broken bookshelves, a lack of bed frame (!), and pack rat habits. These can be rectified by small and cheap purchases, and my home will feel a million times better. Your home is a reflection of you– organized chaos can be charming, but think of the chaos it brings in to the rest of your life! Here are 11 ways to make your home feel happier and more like you.
7. Shop smart.
With all of the green movements going on, it's grown up to shop smart. For me, it's about investing in higher quality products, with the knowledge that I'll get more use per dollar from it.
Picking up disposable items for my life is becoming unappealing, and for those reasons, I have become disinclined to want to even shop at all!
Rather than buy two pairs of cheaper shoes, knowing I'd wear them out in a year (as they're practical shoes, which means regular, hard wear), I bought: new winter boots and new black flats (my others had holes in the bottoms). Hopefully, the cost per wear on both pairs will make them well worth the higher cost.
College and living post Hurricane Katrina made it very easy for me live financially foolishly. In the next few years, I'll be hoping to settle in to a wonderful city, buy a home/apartment or car, and start paying off my student loans.
And to do this, I need to eliminate my credit card debt and start living below my means. Much of this will relate to smart shopping and generally decreasing my consumption in general.
5. Manage your time better.
No more procrastinating until the last minute on those tasks I do not want to do! No more being called inefficient! I need to learn to prioritize and plan and better manage my time. Here's productivity advice from a type-A Virgo!
4. Write more – like with a pen.
Ever noticed how good grown-ups have great etiquette? I'd like to cultivate myself so that I write more letters, send more cards, remember to send "Thank You" cards rather than emails.
3. Buy more fresh flowers.
Maybe this is an aesthetic cultivated by watching too many movies, but there is something refreshing and adult about having lots of fresh flowers in my house.
Trader Joe's regularly sells $5 bouquets and if you buy a cute little bud vase with a small neck, you only need one flower to 'fill' it!
One of the most terrifying things in the world is doing something on your own; whether it's going to dinner, out to a movie, or on a trip, company is often the preferable way to go.
However, despite our best friends and partners, being independent enough to say, "I will eat lunch on my own," shows that we are comfortable, secure, and confident with ourselves. Bonus points if you can do it without shoving your nose in a book!
1. Learn to say "Thank You" gracefully.
Personally, I have a horrible time accepting gifts, compliments, favors, relationships, etc. It's just a matter of being stupidly independent at times. But there is something lovely and mature about being able to accept these things in your life and say "thank you."
It may seem more endearing, humble, modest to stumble around for the words or try to casually brush it all off, but it's more respectful and heartfelt to give a "thank you" instead.
So how about you? What gives you that grown up feeling?
P.S. How to make friends as an adult + How to (at least start to) get your finances in order