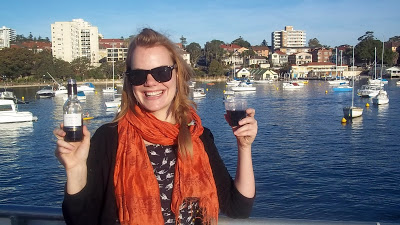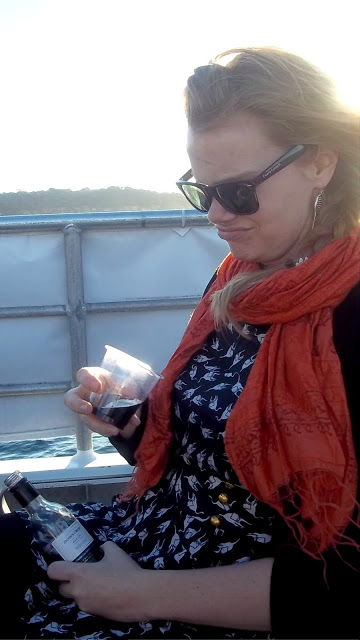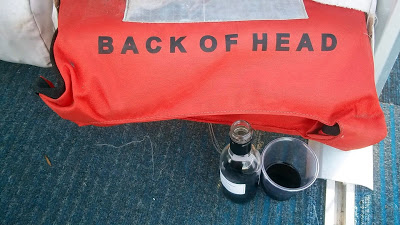 Here's is something you should know about my 32 New Thing list, friends.  Sometimes, I just get so excited about crossing things off said list, I will jump at any opportunity to do so.  Regardless of how suitable the opportunity is.
A few weeks ago, I was visiting friends in Sydney and we decided to take the ferry to Manly.  Minnesota isn't exactly rife with ferries, so I saw this as a chance to drink wine on a floating vessel.  We were so keen to do this that we splashed out on the fancy ferry and shrieked (at 9:00 am) at the poor ticket seller"Is there a bar on board?!""Yes."
"And does it have wine?"
"Does the bar on the ferry have wine?  Yes, it does"
(Here you can imagine his eye-rolling over two shrill Americans asking dumb questions about getting drunk on a 20 minute ferry ride on a Sunday morning..)
But because we're laaaadies, we saved the wine-drinking for our return voyage at 5:00 pm, when we each plunked down $7 for a mini bottle of wine and a plastic cup.
Now, friends.  I know nothing about wine.  Nothing.  I know it comes in red and white and I know that I don't like the white kind that makes me jaw bones hurt under my ears.
But I do know this.  The wine I bought on that ferry was quite possibly the worst wine I've ever had.  It tasted like vinegar mixed with dish water.
And sadly no views of the opera house or sunsets along the harbor could make me finish that glass.  Sad trombone!
I am, however, clever enough to realize that not all wine on every boat can be bad.  So I will happily continue to jump at the possibility to imbibe aboard whenever possible.

Have you ever ate or drank anything special on a boat?  (In my initial fantasy, I was drinking a nice Shiraz on a yacht with a bunch of attractive people like a scene out of The Talented Mr. Ripley.  Except without that whole messy sociopath Matt Damon thing)