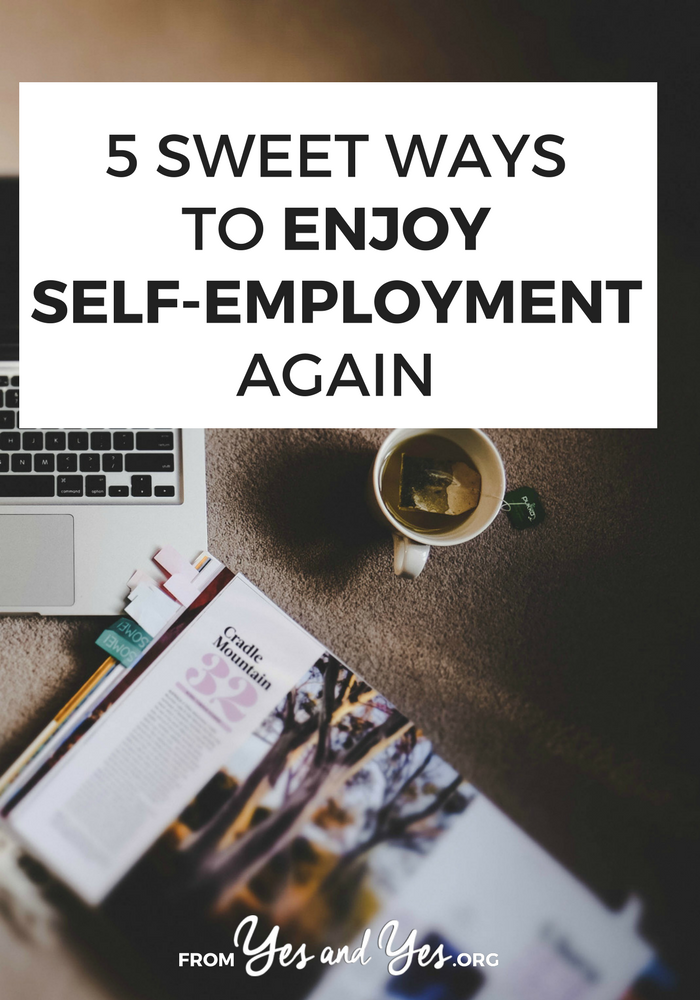 Self-employment isn't always easy, is it? We spend years chasing the dream and then we get bogged down in invoices, client management and working from a messy dining room table.
But it's possible to enjoy self-employment again! Really! Julie has been self-employed for 20+ years (!!!) and today she's helping us fall back in love with working for ourselves.
5 ways to enjoy self-employment again
1. Write down your goals, desires and dreams for the next year of your business
Go ahead, we'll wait…
Do you have an anxiety-inducingly long list in front of you and no idea how where to start? Perfect, you did it right!
Go through that list and pick out something that seems really juicy and break that task down into itty bitty baby steps that aren't quite so intimidating. Stop focusing on the rest of the list and just focus on this new relaxing list.
Here is an example from my personal list:
Redesign my store web site home page 
Email web designer and schedule time to start project 
Find five web sites that have a look I admire 
Go through three magazines and cut out pictures that have the feel I want 
Ask two friends what they would like to see on my home page 
Make a list of my changes 
All of a sudden that task seems totally doable. Do one of your baby steps today!
2. Make your work space sparkle and shine
I think it's super important to have a designated work space that is uncluttered and full of inspiration. This one is simple: clean up your mess. For some reason, when my work space looks pretty I make more money.
It could be Feng Shui, or it could be that when our spaces are cleared we feel good. When we feel really good people want to spend their money with us. Make a
vision board
for your business and hang it somewhere front and center where you can get inspiration and re-focus from time to time.
3.  Surround yourself with successful people 
It's great if you have a huge group of friends that party all night and go to their desk jobs all day, but now is the time to expand your circle to include as many people as possible that are doing what you want to do. I gave this suggestion to someone once on a consulting call and she was sure she couldn't do it because she lived in a small town and there simply wasn't anyone around that inspired her.
I had her send emails to three people that she looked up to in her field. She sent simple emails that were along the lines of "Hey, I think what you're doing is awesome", which is a very non-intimidating way to send an email. She now has a circle of online (super inspirational) friends that she checks in with regularly. Reach out to one person today!
4. Get over your fear of self-promotion
I understand, it's scary and intimidating. Today is the day to practice talking to yourself in the mirror about what you do. Come up with your 2-3 sentence cocktail pitch about your business, make it fun and enticing.
"I am a personal trainer" is very unexciting and I would not want to hire you. "I am a personal trainer and I mostly work with new moms who are trying to get their abs back!" would make me want to hire you and/or tell some friends.
5. Turn your computer off, put your phone on silent, and engage in some self-care
When we are starting a new business or trying to run a business it is very easy to put our self care on the back burner, when in reality that should be at the very front. Always, always, always make time to do something for yourself daily. It could be as extravagant as a pedicure or it could be something as simple as taking five extra minutes in the morning to close your eyes and breathe.
Because honestly, if you are following the first four steps then you will soon be lost in a sea of business and opportunities. If you don't stop to admire yourself, relax and enjoy the process then what was it all for?
If you've been self-employed for a long time, how do you stay excited about it? How do you stay fresh? Tell us in the comments so we can try your tips!
P.S. How to beat self-employment burnout