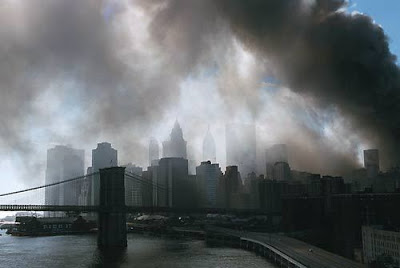 On September 11th, 2001 I was a senior at the University of Minnesota, Morris.  I had completed all the classes for my English degree and was filling time with a directed study on Britney Spears (yes, really) and a modern dance class that I attended sporadically.  I lived in a old blue house on the west side of town and spent evenings bicycling down the old two-lane high way that threaded out towards the prairie.
I heard about the planes while walking through the student center that morning and I assumed people were talking about the plot of an over-blown Nicolas Cage blockbuster.  But when I walked into my dance class and our teacher told us about what had happened, I remember thinking.  "What?  This can't be real.   The weather is so nice today.  I'm sitting on this lovely, green campus in the middle of the country, drinking coffee out my travel mug.  In New York, people are jumping out of buildings.  This isn't real."
We all went home and hunkered down in front of our televisions.  I cooked apple butter with apples I'd picked earlier that week and stood over the stove, stirring and feeling guilty that this was my life.  I also felt guilty that I somehow wasn't "upset enough" about this.  Or I wasn't upset in the "right way." 
I didn't cry.  I didn't question the innate goodness of humanity.  I felt sad and disappointed and I emailed the one friend I had who lived in New York.  I wondered about what would happen to our country and, apparently, I cooked apple butter.
What were you doing on 9.11?  How did you feel about it?  Do you ever worry that you're not responding "correctly" to disaster?