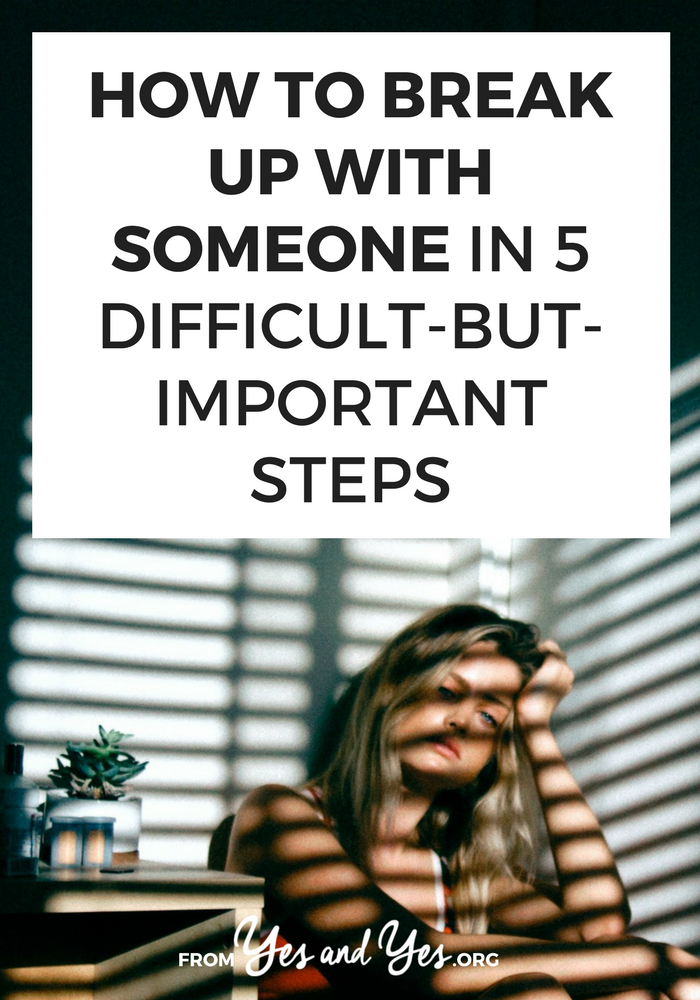 This guest post comes to us via the lovely Danielle Dowling, professional soul sister and relationship re-mixer. She writes about break ups, make ups and lots of other things three times a week on her blog. Pop over and say hi!
So you're over them, huh?
Ka-put.
Finito.
Sayonara.
An impending breakup is encroaching on the outskirts of your thoughts. Your intuition is telling you—it's time.
The single most important thing you need to know: You have permission to go.
The truth of it? Breakups are hard. Heartbreak is part of the human experience of loving and being loved. Chances are that both of you know things have been far from ideal lately.
But maybe you sense they still have hope and the idea of slicing their self-esteem in half has you second-guessing "the talk."
Reality check: It's a part of life, and you can't prevent your partner from getting hurt.
Being in a relationship is a choice, and just as you made a choice to begin a relationship, you can make the choice to end it.
There will be hurt feelings. There will be disappointment.
But, really? You're giving them the gift of freedom and the opportunity to find a partner who will celebrate them for who they are – with no amendments and no tweaks.
And what about you? Yeah, you. Remember her?
You deserve to have what you want. Click To Tweet
You want: eye contact, smiles, crazy passionate sex + laughter? You want: emotional support, loyalty + chemistry? No problem. It's yours.
Right after this breakup. If the relationship you are in has fallen short it must die in order for a new love to be born.
How to break up with someone in 5 difficult-but-important steps
1. Find someplace private to have this conversation
In private tell your partner you'd like to have a serious conversation. If he asks "what about," say you have decided that you need to end the relationship. It's best to be straight forward.
Like ripping off a band-aid. Do it quick. Get the information on the table.
2. Have this conversation in person
If you've been on six or fewer dates you have a free pass to call instead. Otherwise, suck it up, honor the relationship you had + schedule a date to meet. (Do not just ignore them or disappear–it's rude and bad karma.–who wants that?)
3. Hold your ground
It's possible they won't want to break up and they'll attempt to convince you otherwise. There are real reasons why you came to this decision. Stay firm.
It's not fair to go back to dating someone just because you feel guilty or "bad for them." This would be a waste of everyone's time + a form of self-sabotage. Choose to embrace the transition + stay focused so you can bypass the muck and mire of flip-flopping.
4. Stop making excuses
Does he have an important interview next Thursday? Milestone birthday coming up or a parent who is ill? The timing not working in your favor, huh?
Feeling a little guiltiy about wanting to run for the hills? There is never a good time to leave, and the sooner you do it, the sooner you both can get on with your lives. It's that simple.
5. Now leave each other alone
Why do we love violating this rule? There is no to fall down the rabbit hole of frustration than insisting on trying to create a friendship out of a failed relationship. It's a bad idea and it's hard on everyone. If possible, don't talk about 'staying friends.' If you're meant to cross paths again one day- you will. Love your ex enough to leave them alone.

How do you go about ending a relationship? Are you good or bad at breakups?
P.S. If you have a habit of dating unsuitable people, this might help. And it's free!