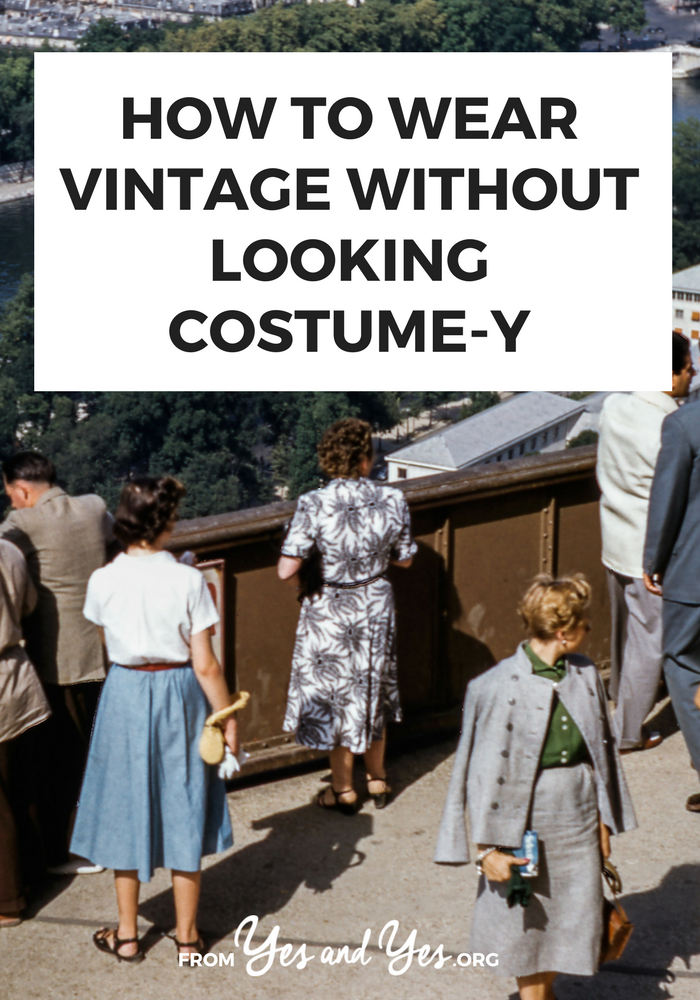 Not sure how to wear vintage in an everyday, wear-it-to-the-office way? I brought in vintage expert and dealer
Tina Poppy
to show us how!
---
Vintage clothing stores are awesome. Unique, gorgeous, high-quality clothing!  For (usually) less than you'd pay for a new dress at Target!  But one of the problems I often see with vintage stores is that they're often confused with "party stores." Some of them even have new Halloween or stripper-related items (seriously) on one side of the store, and vintage clothing on the other.
But vintage clothing is, at its most basic level, fashion. And, at its best, it can be the key to being the best-dressed person at work, at cocktail hour, and at your next special event. So let's figure out how to separate the Halloween costumes from the timeless pieces.
Let's wear vintage the way it was meant to be worn – for anything and everything – without looking like we took a wrong turn on our way to Aunt Sally's "Retro Disco Dance-Off".  Here's how!

How to wear vintage without looking costume-y
Choose pieces that remind you of current trends
All major design companies have buyers who search out unique vintage pieces in order to copy and remake the prints, silhouettes, and styles. So, if you see something you like in a magazine or store, chances are good that it is based on a vintage style.
If you want to get fancy about it, make a note of the current fashion trends you like, and then search out those things at your favorite vintage clothing store.
Choose shapes that fit your body
We all have our own body shape. So own it! If you're not crazy about your hips, try a 60s a-line dress that will fit you more closely in the bust and then flare out from there. If you're proud of your waistline, show it off with an hourglass shaped dress or a 50s party dress with a nipped waist. Examine your closet for the things that make you feel the best, and then search out things of a similar shape or silhouette.
It's important to note that with vintage, you can sometimes wear shapes you can't wear with contemporary clothing. Why? In the 50s and 60s (and earlier, of course), patterns were based off actual PEOPLE – not just a computer program made to mimic what looks good on a hanger.
Choose quality fabrics
A lot of vintage clothing makes me swoon because of the quality of the fabric. Nowadays, most things are made with "semi-synthetic" fabrics like modal and viscose rayon. These fabrics don't breath or wear well.
I bought one piece made of modal – I washed it once, it pilled like crazy, and it went to Goodwill.  I prefer natural fabrics like wool, linen, and cotton.

That's certainly not to say that no polyester or rayon or acrylic is of quality. Polyester seems to last forever, and it cleans really easily, so I often turn to my 70s jersey-knit nylon or poly dresses for dance parties or nights out where I'm trying to cut loose a little and might spill all over myself.
But, the point here is that vintage gives you the opportunity to have a much higher-quality fabric than you could with a contemporary piece of the same price range.
Mix eras
Everyone says, "Don't wear head to toe vintage." But, that's not entirely true. Just mix your eras! 70s wide-legged denim works really nicely with 40s blazers. High-waisted bottoms of any era can go with lots of 40s-50s tops. Poufy 50s skirts can be tempered by a tailored 70s blazer. These are just a few examples, of course – just mix it up!
Most importantly, be yourself!  As with any shopping, you've got to stick with the golden rule – buy what you like and wear it with confidence.
Do you wear vintage?  How do you style it so you don't look like an extra on Mad Men?