Name: Tanesha Awasthi
Age:  Old enough to know what works for my body and what doesn't
Location: San Jose, CA
Online haunts: my blog, my twitter, my facebook
Could you tell us three reasons you're awesome?
My mission is to help women build a healthy relationship with fashion and getting dresses, I support fashion designers making clothing in extended sizes, and I made it to Fashion Week with six months of starting my blog.
What is the last item of clothing you bought?
A yellow/mustard colored blazer from Zara on 5th Ave. in NYC.
Tell us about a favorite childhood memory about your clothes.
I remember when my mom let me pick out my own outfit or the first day of pre-school: a baby pink Levi's jacket and white flare Levi's jeans, black mary-janes.  I cried when my pants got dirty on the playground!
What is your best thrifting score?
A vintage Louis Vuitton bag for $37.99, which I turned into a clutch due to a broken handle.

What are you wearing right now, as you type this?
High-waisted, wide leg black slacks, an olive green and black, sheer, polka dot top with a bow, an over-sized Michael Kors rose gold watch, an onyx stone cocktail ring, leather and gold statement necklace, and black pumps with lace applique.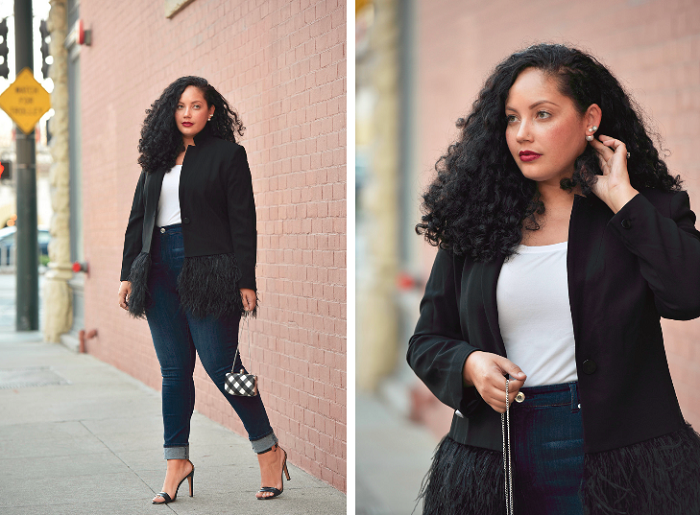 What is the item of clothing you most covet at the moment?
Cropped slacks! It's so hard for me to find a great fitting pair, due to my height (I'm 5'10") and my body-type (hour-glass/pear).
Could you tell us your top three style tricks/DIYs?
1. When you can't find anything to wear, wear what you feel most like yourself in.
2. When you need to add some va-va-voom to your outfit, add a waist-belt to show-off that waist to hip ratio!
3. Don't be afraid to try skinny jeans! Paired with a blousey top and open front cardigan, they can be super flattering.
Thanks so much, Tanesha!  Do you guys have any questions for the lovely lady?