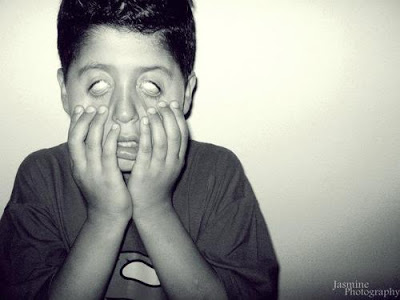 As we're heading into Halloween season, I am forced to face the fact that I am a total, total scaredy cat.   I will travel through Nepal, by myself, on the back of a motorcycle, like no one's business.  But if you try to make me go to a horror movie?  I'll probably cry and throw up.Where did this all start?  Let's analyze my ridiculous childhood fears, shall we?The imaginary tiny fox that lived between my bed and the wall. My stuffed animals were
informed of this fact and warned to stay awake and watch out.
The music box Christmas angel
that my mom took out every holiday season totally had it in for me. I
was convinced that something horrible and irreparable is happening
everytime it slowly wound its way around, clinking out 'Silent Night.'
My story record about the squirrel
who couldn't find where he buried his nuts. It prominently featured
wind noises which terrified me to my tiny core. I remember feeling
afraid even when I held the record sleeve in my hands.
The basement.
For duh. However! Ours was rendered significantly more terrifiying by
the fact that the VCR's clock reflected into the window, creating the
illusion of glowing greens eyes staring at you as you tore down the
steps and across the linolium to get to the light switch as fast as
humanly possible.
The tall arborvitae that stood on either side of our front steps.
They were huge and bushy and perfect for scary killers to hide behind.
To complicate matters, our outdoor light was motion sensitive, so you'd
have to complete the long sprint up the sidewalk, leap up the steps
(past the arborvitae housing monsters) and frantically wave your hand in
front of the light before you were out of the dark.
Just to be clear: I'm still kind of afraid of those trees.
What wound you up as a kid?