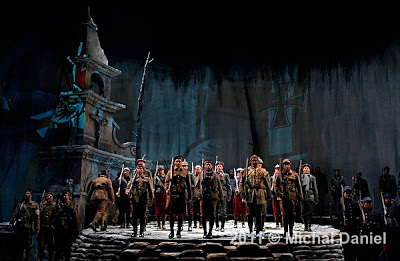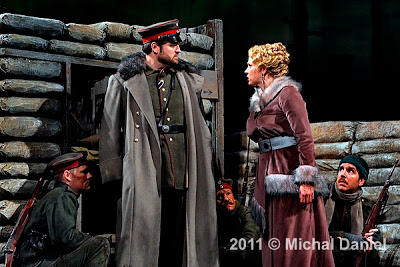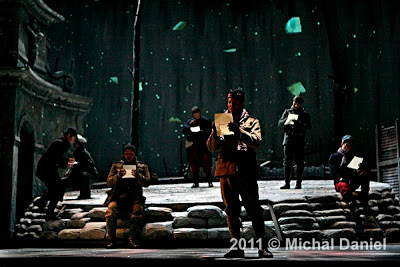 Prior to November 10th, my only experience with opera was watching a telecast in a rainy park while I was visiting a friend in Philadelphia.  Truth be told, we were more interested in our sandwiches and the dog on a neighboring blanket than we were in Carmen's treachery.
Nonetheless, I jumped at the chance to attend The Minnesota Opera's world premier of
Silent Night.
  I could see the inside of the opera house!  I could practice my German! I would wear that awesome vintage cape-let my grandma gave me!
Silent Night
is based on the screen play
Joyeux Noël
and the story of World War I's western front when the Scottish,
French and German officers defy their superiors and negotiate a
Christmas Eve truce. I certainly did not anticipate getting so wrapped up in the story what I would actually clutch at my armrests when the main character crept out of the trenches and started singing a Christmas carol.  Weep!
If you, too, are new to opera, here are a few things I discovered:
1) You don't have a wear a vintage cape-let to fit in
In fact, you could probably just wear a cute dress and boots.  Or dress pants and a sweater.  Or a cute red vintage dress with blue tights and a fake fur coat.  It doesn't really matter.
2) It doesn't matter if you don't speak Italian/French/German
That's why there's a screen with captions above the stage.

3) Wear a good 'sitting' outfit
Because that business is looooong.  Now is not the time for control-top tights and that super fitted vintage dress.

4) Yes, they really do sing that high.  And yes, it is crazy impressive
Would it have shattered a crystal glass?  Perhaps I should have smuggled one in and found out!
Have you ever been to the opera?  What "fancy, cultured" things intrigue you?