Looking for a travel guide to Malaysia – land of beaches, multiple languages, and amazing architecture? I brought in KL local
Deb
to share her best Malaysia travel tips with us: where to go, what to do, what to eat and how to do it all cheaply!
---
Must go in Malaysia
The Petronas Twin Towers
These bad boys were the tallest building in the world for six years and they are spectacular. Cabbing there is easy enough but on a shoestring you can catch a train from the KL Sentral train station. Be sure to catch the towers at night – I'd recommend the epic view from
Skybar
at Traders Hotel (budget travellers will love the lack of cover charge, anything-goes dress code before 7pm and 2-for-1 cocktails for ladies).
Batu Caves
A short bus or train ride our of the city, this limestone hill and cave temple boasts the tallest statue in the world of Lord Murugan, a focal point of Hindu festival of Thaipusam and home to so many monkeys you won't believe. Keep an eye on your belongings when around them though as they are known for snatching baby bottles from babies and are skilled in the art of drinking/eating anything.
Melaka
A two-hour bus ride out of KL, this quaint town is compact and buzzing with the best Malaysia can offer. Make sure your camera is fully charged and if possible head over on the last weekend of the month because they close Jongker Street for a wicked night market where you can buy anything from sweet treats, antique buttons to fake MAC make-up and potato chips on a stick.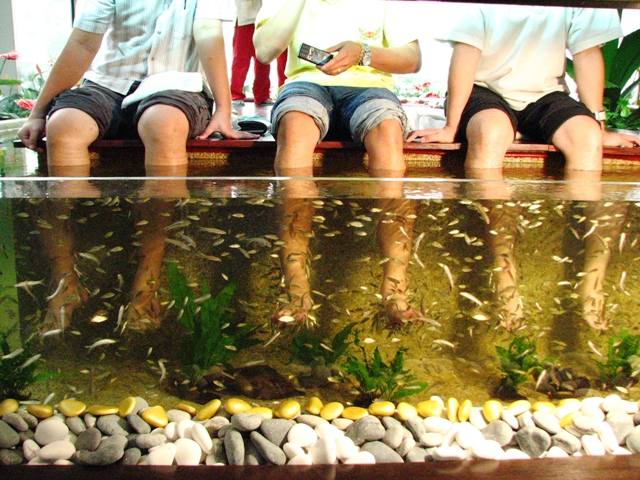 Must do in Malaysia
Fish spa
Not two words you'd normally string together, fish spas are a normal addition to most mani/pedi spots here. Basically, you put your feet (hands too if you like but that's a different kind of fish) into a pond where little fishies nibble away at dead skin. Make sure you plaster any blisters though and be warned, it tickles!
Petaling Street
Essentially the Chinatown of Malaysia, this is your one-stop-street for all things bootlegged or pirated. Knock-off Tiffany jewellery even come in the signature green pouches and gift boxes.
Low Yat Plaza
Here is a shopping centre dedicated to all things digital (and a great place to leave the boyfriend while you shop). Whether you're after a new camera (complete with warranty) or need a new external hard drive, you are guaranteed a bargain here as long as you're willing to haggle.

Must eat in Malaysia
Roti Canai
Essentially an Indian-style pancake, it's a snack or meal depending on what filling you ask for. For instance, a regular one with no filling would come with a dhal or curry sauce to dip which is a common Malaysian breakfast.  Or you could also ask for one filled with 'Kaya' or coconut jam which is great for tea time or even one with onions for dinner.
Chicken Rice
Rice cooked with ginger and garlic topped with either steamed or roasted chicken, three-layered roast pork or 'char siu' (barbecue pork), it's a common Chinese dish that isn't too unfamiliar or exotic for someone new to Malaysian cuisine but still packed with flavour.

Nasi Lemak
A common Malay breakfast, directly translated it means 'fatty rice'. Usually served wrapped in a banana leaf and brown grease paper, the rice is cooked in coconut milk making it fragrant and rich, and teamed with half of a boiled egg, roasted peanuts, crispy anchovies and a spicy 'sambal' sauce. Go easy if you're not into seafood!
Cultural tips for Traveling in Malaysia
Malaysians are a friendly but shy people so learning to say 'terima kasih' (thank you in Malay) and smiling will get you far.
English is commonly spoken but few Malaysians will ever say 'I don't know' if you ask them something so be sure to take what they tell you with a pinch of salt.
Malaysia is a multi-cultural nation so be aware and considerate of each culture's quirks, no matter how weird.
Cheap travel tips for Malaysia
The bus system can be a tad unreliable but the train and monorail system are cheap and cover a centralized area. All cabs (except the blue corporate cabs) are also a good way to get around but make sure to ask the cabbie if they know how to get where you want to go and if they'd use the metre before getting in.
Airbnb is usually cheaper and more authentic than a hotel or hostel. Here's an entire apartment with an amazing view for $44 and here's a four-bedroom apartment with sea views in Melaka for $34 a night. If you've never used Airbnb before, here's a $40 credit towards your first booking!
Any Malaysian travel tips to share?  Questions for Deb?
P.S. How to live out of a suitcase – glamorously