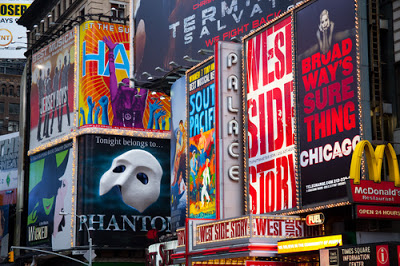 This is one of many True Story interviews in which we talk to people who have experienced interesting/amazing/challenging things. This is the story of Michelle and her Broadway dream that never quite happened.

Tell us a bit about yourself!
I'm 33 ½ and I'm from "Lawn Guyland" (aka Long Island, New York) originally. However, I've lived in New York City for the past 15 years, and can say I'm a proud Brooklyn homeowner! For fun I play my pink ukulele Lucille, imbibe with my friends, watch TV marathons with my husband see lots of musicals and comedy shows. For work I'm The When I Grow Up Coach, working with creative types to help them devise the career they think they can't have – or discover it to begin with! It's amazeballs.

When did you begin to dream of being on Broadway?
I was Annie-obsessed from when I saw the show at the age of 3-ish, and my Broadway dreams weren't too far behind. I did my first show at the age of 6, where I got to play a bunny rabbit in Snow White. I only had one line ("It's a girl!"), but I was hooked!

How did you go about trying to make those dreams happen?
I performed, auditioned, and took classes whenever/however possible. I did my first professional show (aka I got paid for it) in 10th grade, got accepted to spend half of my school day junior and senior year at a performing arts high school (think "Fame" but on Long Island), and got into NYU's Tisch School of the Arts for musical theater early acceptance. I took years and years of dance/acting/voice classes and spent tons and tons of money on said classes plus all the extra necessities – headshots, websites, demos, tap shoes, yada yada yada – for, oh, 20 or so years total.
Did you ever feel like you were close to 'making it'?
Yes and no. Being accepted to NYU's prestigious program – if my memory serves, they took 60 people out of 600 who auditioned – felt like a golden ticket at the time, and I thought that it was a guarantee of sorts that I Can/Will Do This. Of course, while I got great training there and was certainly a huge pull on my resume, it wasn't A Guarantee at all. I pounded (my head against) the pavement for years and even had a manager at one point, but my other close calls (with agents and Off-Broadway gigs and great reviews in trade papers) never panned out/led anywhere. So while I always felt like I was making progress, I still felt like my dreams of Broadway weren't within close reach at any point.
I'm sure you've seen people less talented than you get cast in parts you auditioned for. How do you get past something like that?
It's interesting that you bring this up, because 9 times out of 10 I would never see who actually got cast in the part I was up for. I mostly auditioned for out-of-town regional theater, and in the days before everyone and their Mom (performers, theaters, you-name-it) had a website and a YouTube channel, you just wouldn't know who got the part – all you'd know is that it wasn't you. It's very hard not to take the rejection personally, although after a while all you can do is focus on doing the very best job you can in that audition room. Nothing else is under your control, so you have to let it go.
When did you decide to throw in the towel on your Broadway dream?
There wasn't one particular incident, but I think the voice in my head that whispered, "This isn't what you wanna do anymore" started after a series of gigs that I really wanted, that I came really close to getting, and that I didn't get because – wait for it – I was so unique they didn't know what to do with me.
It was tough to stomach that I went in there, gave it my all, presented myself totally authentically, was different from the others who walked in the room, and it still didn't get me the part(s). That happened twice in one week, and that was super tough to take. Also, push came to shove when my live-in boyfriend and I broke up, and I made the choice to live by myself in Manhattan. My expenses more than doubled, and it was eye-opening to me that I made that choice as opposed to, say, sharing a room with 1 or 2 others to keep my rent super low. I realized then that acting might not be what I wanted to do as a grown-up.
Do you feel like there's a reason Broadway didn't work out for you?
I think I wasted a lot of time trying to blend in. It's what I was taught in every class – wear muted outfits so not to distract from your face, start your audition with "the pretty song", etc. It took me years to realize (a) that wasn't me and (b) that wasn't ever what I was cast as. By the time I threw those rules out the window and embraced what I got hired to play– the loud, funny, broadly comedic roles – I already had tons of pavement behind me. Not to say that it was "too late", but it certainly took a toll on me by then. Also, I heard from lots of people, "You're a character actress! You'll have an incredible career once you turn 40." As someone in my early-mid 20s who was getting cast as a teen, that was infuriating and totally disheartening.
How did your friends and family feel about your decision to leave Broadway?
My family members and long-term friends were totally supportive, and I think a bit relieved. None of them came from a performance/creative background, and just knew that it was "a hard life." They didn't want that for me.

What are you working on now? How do you feel about it?
I actually just started taking ukulele lessons, and am loving learning an instrument as well as being able to sing on my own terms. I also got asked to be part of a cabaret show, so that's happening for one night only this month (exciting!). Other than that, my creative outlets are really whatever I do for my business, and I love pulling in my skills/background as a performer to write (I have a literary agent and am working on a book proposal), speak (I've presented at SXSW and the Etsy Success Symposium), and promote my stuff (my e-course launch came with an original song and a music video to go along with it). While I do miss performing in a show – working on material, being part of a cast, etc – it's totally OK that it's not currently a part of my life.

What advice would you give to others who are chipping away at a dream that might not happen?
I just wrote a whole blog post on this, but I can simplify it by saying: Keep at it and stand behind it 1000% as long as it makes you happy. That's when everything is worthwhile and fruitful, and there are no regrets. Just be aware of the seed that starts being planted that says you're no longer happy, and give it its due. See if there's anything you can change to get back on The Happy Track, and if not, start exploring other options. It'll be a dark time, but I promise (promise!) you that there is something else out there that'll make you happy – it's just a matter of finding it.

Thanks so much for sharing, Michelle!  Have any of you had to walk away from dreams?