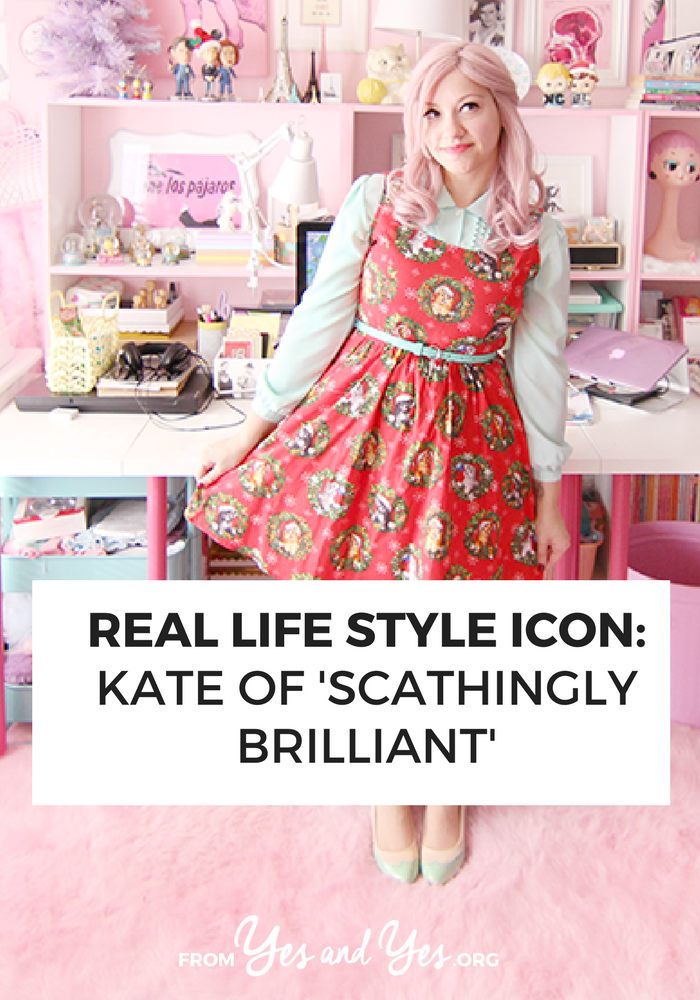 Name: Kate Gabrielle
Age: 25
Location: Earth
Online haunts: blog // shop / twitter
Three reasons that you're awesome:
1. I can wiggle my eyebrows and make them dance to music
2. I am unbeatable at Clue
3. I can recite the children's book "The Fish Who Could Wish" from memory
What are you wearing right now, as you type this?
A cream colored lace dress with a gray v-neck sweater and black tights.
What's the last item of clothing you bought?
This dress. The colors and pattern make me so happy! I can't wait for it to get here!
What's the item of clothing you most covet at the moment?
This is absurdly specific, but I really, really, really want a dress with a classic 50's fit and flare shape in an all-over photographic print
fabric. It's eluding me, though, so I might end up making one myself!

Tell us about a favorite childhood memory about your clothes.
I lived for mismatch day at school! Once a year in elementary school, you wore the craziest combination of prints you could possibly concoct. It was so much fun! I think grown-ups should have a mismatch day, too!
What is your best thrifting score?
The thrift stores in my area carry mostly 90's polyester power suits and mom jeans, and charge twice what they were worth 20 years ago… so my thrifting scores are usually etsy or ebay scores! My all time favorite find is this mint green vintage 50's dress with a matching bow belt that was only $20 on ebay!
Could you tell us your top three style tricks/DIYs?
1. Wearing things backwards! Once you remove the tag, almost anything is reversible!
2. Tucking dresses into skirts! It's especially perfect for dresses that are too-short or too-tight on the bottom.
3. Bright lipstick. Whenever I'm feeling blah, bright lipstick never fails to pick me up! I like hot pink now, but I had quite an affinity for blue when I was a pre-teen. I hope desperately that no pictures exist to prove this, though!
Thanks so much for sharing, Kate!