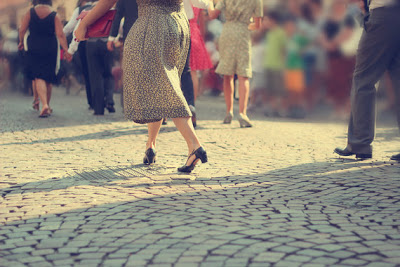 Happy weekend, friends!  What'd you get up to?  I saw a show at The Guthrie, caught up with The BFFs, went to a wedding and bought a Groupon for flying lessons (!!!)
But let's talk about you!
I wrote a guest post for Roots of She about how we should stop pretending it's always easy.  (And how I should stop wearing makeup to the gym.)
Do you ever have an awesome idea but aren't sure how to make it a reality?  Elise tells you how.
When I was in India for six weeks, I lived for street food.  Here's how to make Pakoras and green chutney at home.
Dealing with taxes when you're self employed is crazy-making (which is why I lovelovelove Fox Tax).  Kyla shares some awesome insights into what she learned about tax time after her first year of self-employment.
Drawing with leaves.  Cute!
Who needs lemon curd when you can have passionfruit curd?!
This is a fascinating interview with a woman who admits she's racist but wishes she wasn't.
"I just have these thoughts," she said, almost whispering into my ear. I
felt like she was confessing as if I were her priest. "My mind just goes
places. I can't control it. I know it's wrong but I can't help myself. I
say, Don't think like that! But it's what people told me when I was
younger."
Want to move to NYC and make it as a writer?  Here's
what it cost eight different lady writers
to do just that.One of the things
I do professionally
is help create and manage blogs for companies.  Dear corporate world and companies everywhere,
this
is what a well-designed, beautifully curated corporate blog looks like. (I didn't work on this, but I wish I had!)  Full of useful, well written content, beautiful photos and very, very few knock-you-over-the head-buy-our-stuff references.
20 things to stop apologizing for.
Someday I will evolve out of my go to messy bun "hair do" and try this.
John Cleese tells you five ways to make your life more creative.
Yes.
The people that get to the top of the success staircase first are the
ones that keep moving their feet even if given the chance to ride an
escalator. An opportunity to rise to the top should be used as a way to
climb faster, not as a chance to relax on the ride up.