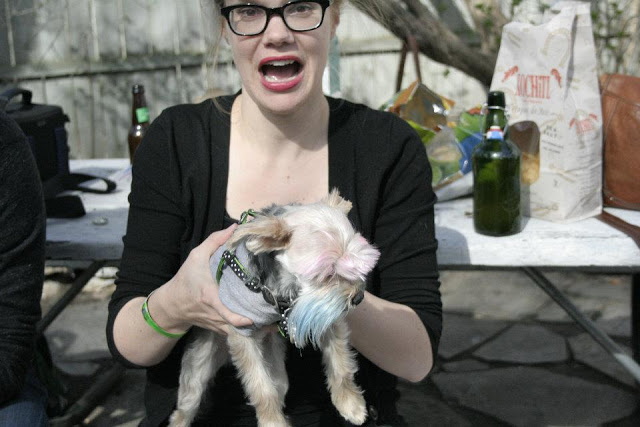 This is an unflattering photo of me holding a tiny dog.  I actually like this dog significantly more than the photo suggests.

Friends.
  Yesterday
I cheekily bribed you
into sharing your opinions of my blog in exchange for an ebook.  I bet you think that ebook is awesome (rather, I
hope
you did) but I'd venture the guess that I actually came out ahead in this deal.I found out that apparently everybody misses
Dear Dude
and
Those List Posts
(noted!) and more than that, the resounding cry was:

1) "Why are you you letting so many other people write for you?"
and
2) "We like you!  Don't be so shy!  Why don't you write more about yourself?"
Guys, here are my (many and varied) deals.

* I think being a good conversationalist is one of The Most Important Things Ever. 
And in my mind, being a good conversationalist means asking people questions about themselves, talking about things that interest them, and resisting the urge to dominate the discussion with my Opinions About Cat Videos.  On some level, I guess I've applied this to
Yes and Yes
.  When people ask me what I blog about, I usually mutter for a few seconds and then say it's more of an online magazine than a personal blog.
* We've all encountered who bloggers talk about themselves too much. And who do it poorly. You know what it sounds like.  Run downs of trips to Target.  Overly detailed descriptions of weekend brunches with their friends we don't know.  Huge lists of the books they're reading and the TV shows they watch.  OMG photos of their lattes with hearts drawn in the foam!  I live in fear of being that blogger.
* Sometime I feel weird that 10,000+ people read the things I write. When I meet people for the first time and they say "Oh!  Aren't you Yes and Yes?  I read your blog!"  and then I blush and say "Gosh!" and think "Oh God.  Have they read the post where I wrote a haiku about getting a Brazilian?  Are they aware of my deeply dorky affinity for anthropomorphism?"  And I made an active choice to put that information out there.  And I stand by it!  But sometimes I feel weird about it.
* When you put something on the internet, it lives forever.  I mean, unless you delete it.  When I started this blog four years ago, I lived with my then-boyfriend and mentioned him regularly on the blog.  We went through an awful-ish break up which spawned one of my most popular posts.  Of course, now that's ancient history and we've both moved on to partners who are much better matches for each of us.  But I feel (perhaps ridiculously) that that break up Was A Big Deal.  And I think I feel that way partially because I told you guys about it.  And sometimes when tough things happen, you want to forget them as soon as possible.  And if everyone keeps talking about it, it's a lot harder to do that.
* I have witnessed first hand the power of The Mean Internets.  I very, very rarely receive negative comments on Yes and Yes.  And if I do, they're usually in the form of "Uh, what's up typo?" (which is more helpful than negative.) However.  Close blogger friends of mine have been targeted by Get Off My Internets.  And receive hate emails.  Like, in their inbox!  Like, a stranger took the time to find their contact information and compose a hateful email and send it!  Who does that?
So, as a defense mechanism of sorts, I started writing fewer and fewer personal posts.  Because who cares if someone leaves a mean comment on a post about animals in buckets? But if someone leaves a horrible comment when I talk about my relationship with organized religion?  Well, now my day is ruined and I've temporarily lost faith in humanity.
* I'm really busy.  And I like to spread the gospel of other awesome writers and bloggers.  As you guys probably know, in addition to Yes and Yes, I ghost write/edit/consult/content manage for other blogs and people.  And I have a crazy busy social life, a handsome dude, a cat, and another six week trip on the horizon.  Also: whenever I find a blog or a writer or an Etsy shop that I feel the world needs to know about, I Have To Tell You About It.  And usually that takes the form of guest posts from said awesome people.  Because I simply don't have time or energy to create new content seven days a week, 365 days a year – but I want you to have access to new content seven days a week, 365 days a year.  Conundrum.  While I am a Virgo and an eldest child of Germanic heritage, I'm not quite that productive.
So that, dear readers, is the deal with that.  I can't thank you enough for all of your kind, helpful, funny insight and for making Yes and Yes part of your day.  The list posts are coming back, I've got a new Dear Dude writer on the line and I'll try to stop being The Internet's Shyest Blogger and actually tell you more about myself and what I think.
I will not, however, be posting photos of my lattes.