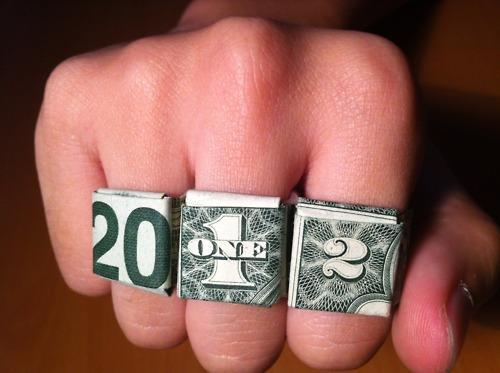 This is one of many True Story interviews, in which we talk to people who have experienced interested/challenging/amazing things.  This is the story of Yael and her amazing debt-repaying super powers.
Tell us a bit about yourself!
I'm 24, newly-married and dog-parent to the cutest (and rowdiest) beagle mix around. By day I work in marketing/communications in Canada's capital, and by night I write about married life and food, read 'til my eyes hurt, and watch tons of movies (I'm a fanatic).
Before you started repaying your debt, how was your relationship with money?
I like to tell myself that before moving out and going to school I had a good relationship with money, but I know that's not true. I grew up in a lower-middle class family and often didn't have or get the things my friends did. So when I started working as a teenager, and when I eventually got loans for school, I went a little crazy with the spending. New clothes, new laptop, new camera – not to mention I had no concept of saving. I don't like to think about how much better I could have handled things during those few years. It's depressing.
Exactly how much debt did you have? And how did you get that debt?
When I graduated college in May 2010, I walked away with $11,674.93 in student debt, and a $1,500 bill on my credit card. After all the spending I did when I first received my loan, I ended up running out of money to pay my bills towards the end of the school year, so I had to put things like cell phone bills and groceries on my credit card. I was living with my (now) husband, and he wasn't making much money, so it definitely wasn't a great point in our life together.
Why did you decide to pay off your debt so quickly?
There's a few reasons:
1. I saw how miserable debt had made my mother.
2. I realized how much interest I would be paying if I took the full 9.5 years I was allotted (it would have nearly doubled my total).
3. Dave and I wanted to get married and buy a home sooner rather than later.
So tell us! How did you make this happen?!
My financial education seemed to happen all of a sudden, all at once. It was like I woke up one day, as graduation and the real world loomed, and finally realized how perilous my situation was. A couple of months prior Dave had proposed, so we were also starting to think about marriage, a wedding, and a home together. I feel like a switch flipped in my head.
I busted my ass (pardon my French) looking for a job after I graduated, and was lucky enough to land a contract with decent pay after about two months. At that point, I had roughly four months before I needed to start making payments towards my student debt. So I decided to tackle my credit card first, and managed to pay it off before November 2010. Then I focused on the almost-$12,000 I owed. I scrimped and saved wherever I could to put roughly $300 each month towards the total. Whenever I got a little extra cash (in the form of a tax return or a tax credit), I would put all, or almost all, towards my debt. At the same time I was saving approximately $100-$200 each month towards a home.
My biggest break came when my contract expired in September 2011 and I was offered a contract position with a sister organization at a significant pay increase. It was also the biggest make-or-break moment for me. I could have easily kept up with my $300/month payments and put the rest of the money towards fun, but I chose not to. With my husband finishing his second and last year of school, and his student debt looming, I decided I had to be debt-free when he graduated. I felt like I had no other option if we wanted to survive on our own. So, I buckled down and found a way to double, and sometimes triple, my monthly payments. It was brutal, I'm not going to lie.
Then along came January 2012, and I realized I only had three months left on my work contract, with no future job in sight and debt still to be paid. All that money I had painstakingly saved over the course of a year and a half? I had enough to pay off the remainder of my debt (about $3,000), while still keeping a small cushion in case of unemployment. So, I took a deep breath and paid it all off.
As of February 1, 2012, I was officially student-debt-free (15 months after I started), and now only owe $200 on my credit card. It's a beautiful feeling.
What sorts of compromises/sacrifices did you have to make in order to pay off this debt so quickly?
I think the biggest thing we sacrificed (although we still managed to make it beautiful) was our wedding. We were married in September 2011, while Dave was starting his last year of school, and I was ending my first contract. The only reason we didn't end up at the courthouse was because a generous relative gave us a small amount of money, which allowed us to have a small morning wedding. I realize I could have scaled back my debt payments to have a more "wedding-y" wedding, but we loved our handmade day, and I am now debt-free, which is huge.
Other than that, we cut out almost every luxury you can think of. Pretty much the only times we had dinners out or went to movies was when we had gift cards from birthdays or Christmas. We canceled our cable and simply watched movies or downloaded TV shows. We shopped at second-hand stores for clothes, and only when we really needed to. We went to the library to borrow books and movies. We scaled back our grocery-shopping, and became fans of coupons and sales. We went without a car (we still don't have one), and relied on public transportation, our bikes, or rides from our mothers to get around. The only trip we've taken in three years was to Montreal, which is two hours and $70 away.
Basically, we learned to live as simply and cheaply as possible.
Were there any tools or resources that you found particularly helpful?
My calculator.
I did read a little bit about paying off debts, and different methods to do so, but I find I work better when I do things my way. So, at every paycheck I would sit down with my calculator (or rather, pull up the one on my computer), figure out what I needed to pay my rent, bills and groceries, and see how much was left. From that I would put whatever I could afford over $300 towards debt, save a small chunk, and keep the remaining dollars for "fun".
How have the people in your life reacted to all this saving and scrimping?
I think a lot of people didn't understand when Dave and I said we couldn't afford to do something. They knew I had a job that paid a decent salary, so why couldn't I afford a night out at a bar? What they didn't get was that almost every dollar I made was going to debt and savings – which was more important to me – so I only had a couple hundred dollars to play with every month. And we needed haircuts or hole-less shoes more than takeout or a trip out of town.

How is your life different now that you're out of debt?
Well, it's only just started, but I feel like I can breathe a bit better. Of course, almost all of the money that was going towards debt is now going towards a down payment on a house, so I'm still not (letting myself) see much of it, but I like knowing it's there in case of an emergency. And it's nice to be able to say things like "babe, I'm treating us to a movie/dinner".
What advice would you give to others looking to get out of debt?
Figure out how much you make, figure out how much you owe, then determine your priorities. Do you want to pay off the smaller amounts in full first, or do you want to hit the big debts hard? Learn what kind of interest rates you have and how they're applied to your different debts – it may help you figure out which ones should be paid off first.
Cut back on unnecessary spending (on things like booze, takeout and clothes). Learn how to have fun at home. Go to a friend's house, or have friends over instead of going to a club. Dave and I play boardgames and complete puzzles for fun, and we've learned to love cooking (with inexpensive ingredients). Our group of friends loves to play hardcore charades and other silly games, too.
But most of all, prioritize. Sure, I really really wanted to go on a vacation (hell, even to get out of town), and I really really wanted a car, and I really really wanted to be a carefree 23 and 24 year old, but I knew that indulging now would put a damper on the bigger dreams I had. More than a vacation and a car, I wanted a house, and I wanted the weight of owing The Man off my shoulders. Now here I am, 24, debt-free (except for that pesky $200), on track to having a car in the next six months, and a $15,000 down payment by this time next year. And all of that accomplished on my own, without even my husband's help.
Thanks so much for sharing your story, Yael!  Do you guys have debt?  How are you working to repay it?