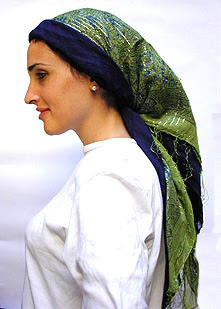 This is one of many True Story interviews in which we talk to people who have experienced amazing/interesting/challenging things.  This is the story of Sara and her faith.
Tell us a bit about yourself!
I'm an aspiring social worker, chef, photographer, and super-mom who is currently stuck working part-time for an insurance agency while I'm in school. (Don't pity me too much. My boss is nice and the hours are flexible!) I'm 24 and am from Baltimore, MD, as is my husband of 4.5 years, and have a 4 month old daughter.  In my spare time (HA!), I crochet and read food blogs.
For those of us who don't know, what are the basic tenets of Orthodox Judaism?
It's tough to pin down "basic tenets" of Orthodox Judaism.
Orthodox Jews primarily believe that the 613 commandments (yup! 613. Not just ten. The ten commandments are some of the most important ones, but there are 603 more. For a full list, look here ) communicated in the Torah are still binding and relevant in today's world (except for the ones which CAN'T be performed without the Beit Hamikdash (or The Temple). This is what sets us apart from other Jewish sects, such as Reform and Conservative, which believe that some, if not all, of the commandments no longer apply (or perhaps never did).
The closest and easiest way to explain what Orthodox Jews believe would probably be the Rambam's (Maimonides) 13 principles of faith. You can read the full list on Wikipedia.
The tl;dr version? One omniscient, omnipotent, omnipresent, eternal, all-encompassing G-d, who rewards the good and punishes the bad. Prophets are great, Moses was the greatest. The Torah (and the laws set down therein) will never be changed. The Messiah will come, and one day G-d will revive the dead.

What are the biggest misconceptions about orthodox Jews?
Probably the same misconceptions that are held about many religious groups. People just tend to have a stereotypical image of what a religious person is like, and with Orthodox Jews the image is similar, just dressed a little differently. But obviously, as with any group of people, we're varied and unique individuals.
Another one might be that Orthodox women are repressed and disrespected (similar to the thoughts about Muslim women. Why do all religious women have to constantly make this argument?). Personally, I've never felt repressed or disrespected, but I suppose everyone has their own perspective. In actuality, Orthodox women are just as much a part of the community as men. There are extremist groups, as with any religion, who try to cut women completely out of the public sphere and relegate them to a second class status. However, it is generally agreed by the major Jewish leaders that this is not appropriate.
How would you define your relationship with your faith?
I would say we are, in many ways, inseparable. Judaism is deeply ingrained in my identity. While I definitely maintain individuality, I can't imagine who I would be without that part of me. Many of the laws of Orthodoxy which some may describe as extreme (such as the prohibitions against non-married men and women having physical contact) played immensely important roles in developing my understanding of myself. Without those boundaries, I may not have been able to separate out what makes me "Me".
Have you ever questioned your faith or considered another religion?
Of course I've questioned my faith! I'm a thinking, intelligent human! (I suppose that's always up for debate, though.) When times have been hard, I've wondered if God was having a good laugh at me, or if he was even there at all. Ultimately, He always came through in some way or another. I can't say I've ever considered any other religions, though. Judaism is the only one that ever made sense to me.
Is there a large orthodox Jewish population in your city? How do people react to your faith?
Yes! Baltimore actually has one of the largest and oldest Orthodox Jewish communities in the country. (I believe it comes after New York and LA? In terms of population, not age. The oldest synagogue in America is actually in Newport, RI.)
In my (admittedly limited) experience, most people don't react much to my religious affiliation. It could be because I live in an area where Orthodox Jews are common. The main reactions I've had have come from non-Orthodox Jews. Because most non-Orthodox sects believe on principal that the practices of Orthodoxy are unnecessary, many people have made some insensitive and disrespectful remarks to me over the years. But overall, I find that the people around me are respectful of my beliefs and practices, even if they don't personally agree with them.
What does your faith bring to your life?
It brings meaning and perspective, of course. But it also brings me community and a sense of safety. Believing in G-d, specifically as He is portrayed according to Judaism, helps me to deal with big and small struggles.
What advice would you give to others who are interested in exploring orthodox Judaism?
It depends on what your interest is. If it's academic, Wikipedia is actually an excellent place to start. It gets into the nitty-gritty in a pretty non-biased manner. Neither for, nor against. Just the facts.
If your interest is more spiritual, Aish.com has a wealth of articles which explain Jewish belief and relate personal stories which can be very helpful. Chabad.org is another great resource, and they can also get you in touch with local Rabbis. If you've just got some questions, though, AskMoses.com lets you ask questions directly to Orthodox Rabbis.