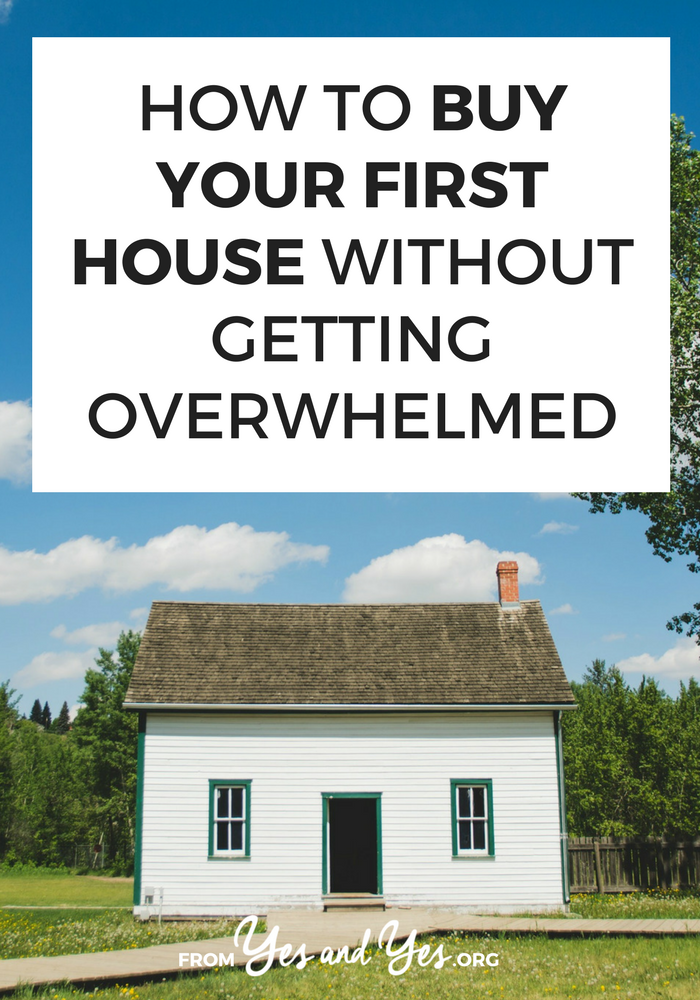 Are you try to figure out how to buy your first house? It can feel totally overwhelming! Mortgage rates and closing costs and inspectors, oh my!
Thankfully, smarty pants and home-owner
Liz Giorgi
is here to help us out!
---
We've all watched the home shows, which make buying a home look like choosing a pair of jeans: you try on a bunch and one will be "just the right fit" for you.
It's not a huge surprise that TV oversimplifies the process, but it also gives you false expectations. When you're buying a house, these are the questions to ask yourself to find a home you love. (Even if it's not love at first sight.)
How to buy your first house without getting totally overwhelmed
The first question to seriously ask yourself is: why do I want to buy a house?
At first, I really wanted to have complete control over my place. I felt I was old enough to make decisions about paint and shelves and art. My landlords were always nice, but every single one had their own quirks and working through them felt laborious to me.I also wanted to be able to control my living costs. My favorite apartment ever was located near the river in Minneapolis, but the rent went up by at least $100 every year. After a few years, it was getting unaffordable and unsustainable. These days, I know my monthly mortgage payment is always going to be the same.
The second big question: how long do I want to live here?
If you're looking for a place to hunker down for the rest of your life, then you want to have your changing lifestyle in mind. The things you want and need in a place at 25 are probably going to be drastically different from what you need at 45.
I've learned this lesson the hard way, because I currently live in a townhouse and while I loved not having to mow a lawn for the first four years, these days all I can think about is a hammock and a yard.
Now, you need to start thinking about the money.
Before taking the step of choosing a realtor and meeting with a finance expert, take a hard look at whether you are ready for the financial commitment of owning a home. When you own a home, you also own its problems.
I still love the freedom of making choices about my home, but a lot of home ownership isn't about choices – it's "that's broken and needs fixing." A broken washing machine is my problem and there isn't a landlord I can call to fix it.
When it comes to the money, here are some things to just accept and move on with:
You can afford what you can afford.
You don't want to be house poor.
You can save money to change paint, flooring and light fixtures in time. You don't have to do it all right away.
The housing crash taught a lot of Americans a really tough lesson, but it's worth repeating: you shouldn't buy a house to make money.

Instead, buy it because you want something to call your own, to put a roof over your head and make a warm nest for yourself and the people you love. In the end, you'll never regret having a place to watch movies with your favorite people.

Start by making a list of MUST-HAVES that CAN'T BE CHANGED.
What should be on this list? You can always buy new carpet or get stainless steel appliances – don't put these items on the list. You can't, however, magically create a larger backyard or move a house from one neighborhood to another – these items should be on the list.
This list should guide your decision making.Be warned: It can be really easy to fall in love with a house 30 miles from your office because your money goes a lot further towards the kitchen of your dreams when you're further from the city.
Trouble is, you'll be kicking yourself when you're sitting in traffic five days a week completely unable to enjoy that kitchen. Trust me, follow your list!
Next, make a list of deal-breakers. 
Here's what my deal-breakers were when I started looking for a place:
I won't live in a really old, inefficient home.
I can't live in a home smaller than 1000 square feet.
It would be impractical to have a home without a garage.
Pretty simple, right? You wouldn't think this would narrow down your search that much, but it really, really does.
Now, you might be saying: "but stainless steel is a MUST HAVE and if a house doesn't have it, it will be a deal breaker for me." That's fine, but if you are buying your first home and you live in a major metropolitan area, you WILL pay a premium for things like that. Oftentimes, that premium isn't worth it.
Now, start looking at houses!
When walking through homes, I tried to think about how the life I live everyday would look in this place. I tried to imagine myself watching HBO in the basement and what it would be like to type up blog posts in the office. The more you can envision yourself in a place – the more likely you'll start to love it.
Eventually, it should come down to a combination of things: the home you choose should include your MUST HAVES – PLUS you should feel at least a little excited about living there. I found a townhouse that made the cut and I know I made the right choice, because I'm still excited to come home every day.
Share your house-buying tips on the comments!
P.S. 11 ways to make your home feel happier + more like you