Jaime Warburton is a writer who lives and teaches in Ithaca, NY. She also blogs for Ecorazzi and is the founder of Eat for Joy. Make her smile by reading a poem or petting a pig!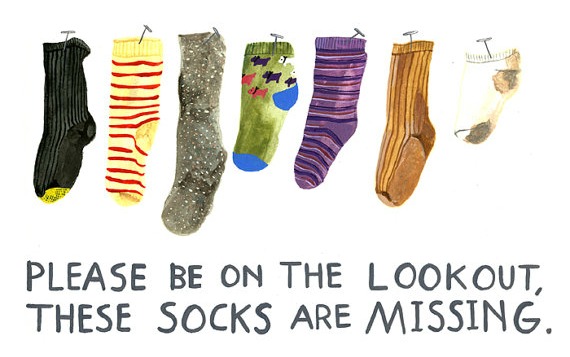 It's not news that a creepy dryer monster sneaks into your house and steals socks when you're not looking. But what to do with those sad divorcees, your socks sans mates? Do they really deserve to be thrown out just because their partners were abducted – or, okay, destroyed by your uneven walking style?
Take solace in these quick upcycles and save your single socks from a lifetime of refreshing their eharmony pages. Grab a needle and thread and begin.
Kneesock or Over-the-Knee Sock: Baby Legwarmers
It's a fact that babies hate pants. That's okay: they can just wear legwarmers. Diaper-changers agree.
Depending on the baby's leg-length, you may be able to get two from one sock (definitely, if over-the-knee). If not, remember that babies are cuter mismatched.
Materials: Broad elastic
Cut off the foot and the tight top (about a one-inch band, usually) of your sock. You'll be working with the long, tube-like section. (Cut sock in half shortwise if you're making two.) Take about six inches of lax elastic and stitch into a circle. Fold the raw sock edge over elastic before hemming with large, contrasting-color stitches. Caution: when stitching, ensure that you're only sewing sock-to-sock, not catching the elastic.
Stuff a baby's little sausage legs right in.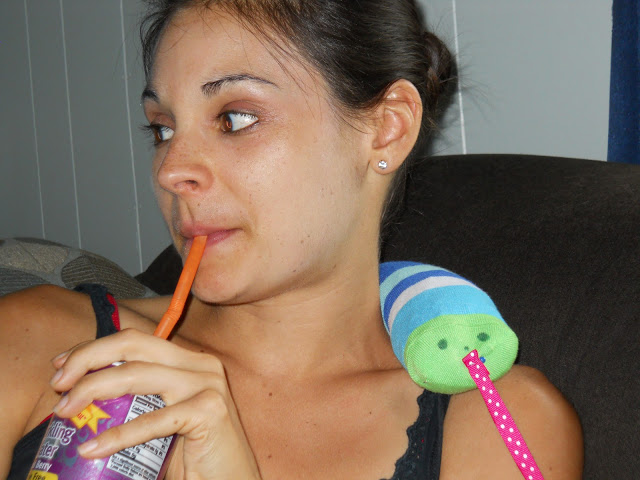 Soccer/Athletic Sock: Bed/Shoulder Warmer
I am always cold, unless lying by a pool in 90-degree weather. But even if you're not as lizard-like, you will appreciate this guy in your wintertime bed or draped across shoulders after a day of too much Interneting.
Materials: Uncooked rice (try basmasti), felt
Sew a big felt eye and floppy tongue onto the toe-tip. Fill your sock with rice, leaving enough room at the open end to tie a firm knot. When microwaved for about a 1m30s (your machine may vary), your sock friend will retain and share its heat and aroma. Knotting instead of sewing the end allows you to replace the rice should your warmer start to smell burnt from overzealous zapping.
Ankle Sock: Monsters!
I don't know about you, but I like to make adorable physical replicas of things that make me cranky, like, say, progesterone. Then their little snaggle-toothed faces make you forgive them.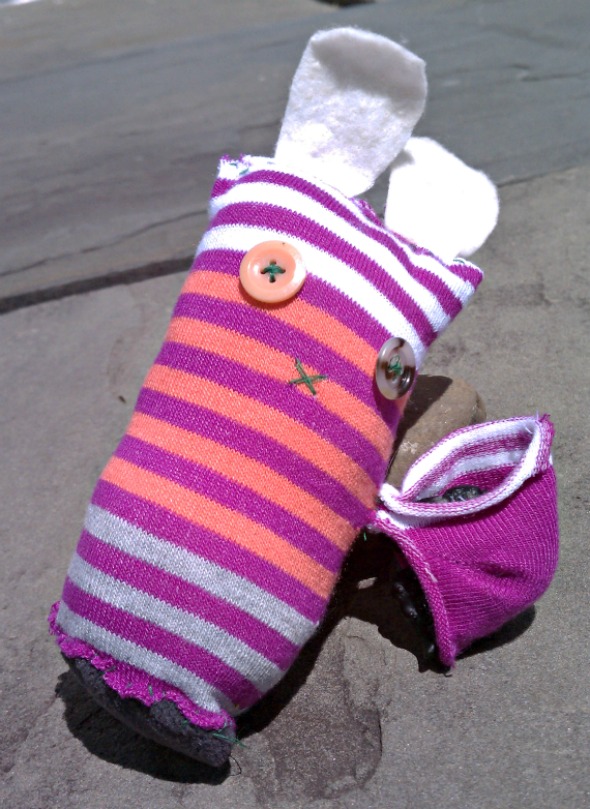 Materials: Polyfill, felt, buttons.
You'll be working with only the foot portion of this sock, so cut off the toe, heel, and any portion above the heel. Make your monster's face first: try button eyes and a big X nose, maybe a felt snaggletooth and tongue. Cut a circle of felt and sew it into the bottom of your tube so that your monster has a flattish bottom. Then stuff him as round as you want. If you want ears, pin them between the two folded-over top edges of the sock material before sewing the closure.
Kid's Sock: Change Purse
Kids' socks may go missing more than any other kind of sock. Fortunately, these change purses make great gifts.
Materials: Small coin purse frame, available at your local craft store.
Using yarn or two strands of embroidery thread, sew the frame onto the opening of the sock. Use fabric or hot glue first to increase sturdiness. Adventurous crafters can also line the sock for reinforcement, but a single-step process works.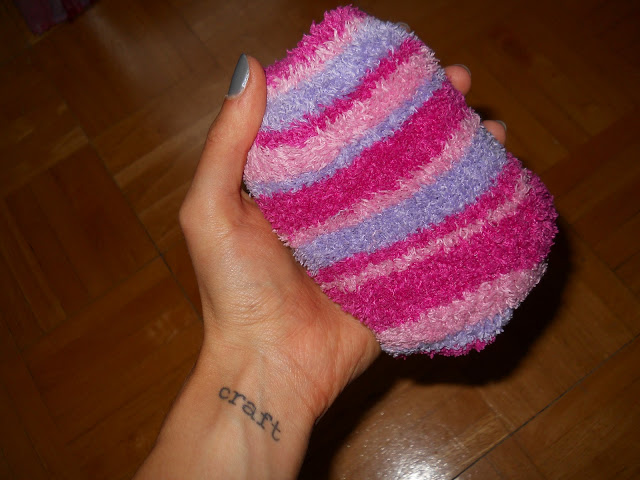 Bed Sock: Soapy Scrubber
My mother believes in slathering one's feet with Vaseline and then encasing them immediately in fuzzy socks, the whole combo to be worn to bed. Unfortunately, I can't do this without feeling like my feet have been turned into pork chops. So her gifts of bedtime accessories quickly become bathtime accessories.
Materials: Bar of soap
Push soap well into the toe of your sock. Cut off the remainder, leaving about an inch. Sew tightly right against the soap's edge and again at the tip. Make a small hole in the space between hem, and thread through a tripled length of non-wool yarn; tie in a circle to make a convenient loop for hanging (your scrubber, not your mother).
What do you guys do with your orphaned socks?print by kelly lasserre, for sale here