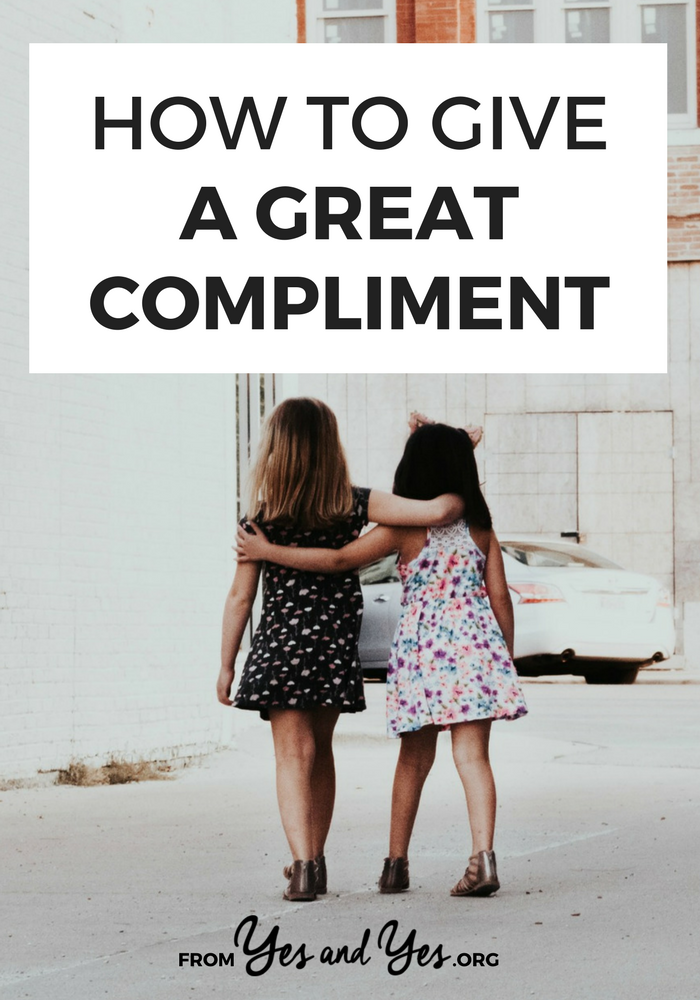 This guest post comes to us via Erin at Gingero.us.  She drinks too much coffee, runs for fun and watches nerdy space dramas with her pile of furry animals while dual wielding delicious burritos.
I was out with some friends to celebrate a birthday. I wore a new dress that I'd picked up at H + M a few days earlier. I thought I looked a little gangly and I'd done something new with my hair that I wasn't super happy about. I was standing around awkwardly, feeling very self-conscious and wishing I'd thrown on jeans and a t-shirt instead.
Just then a group of three women walked by, arms linked, chattering happily. As they passed us, one of them veered towards me, grabbing me by the elbow and with sincere enthusiasm said, "Your figure is uh-mazing!" I blurted out a surprised "Thank you!" as she and her girlfriends continued on their merry way.
Made. My. Night.
Now that's a lady who knows how to cheer someone up. With one compliment she managed to assuage my insecurity and left me feeling pretty damn fabulous. Wouldn't we all like to do that for someone? Yes, I think we would.
There are lots of reasons to compliment someone. You admire something about them. You'd like to brighten their day. You don't know them very well and you'd like to connect in a way that says, "I like you! Let's be friends!" Those are all great reasons.
We suck at giving compliments. We don't give nearly enough of them, and when we do it can easily go all wrong. The truth is, paying someone a good compliment is not always simple if you're not accustomed to doing it.
We may think that we sound insincere, accidentally say something that sounds vaguely insulting ("Your hair looks so much better that way!") or chicken out completely for fear of sounding silly.
But practice makes perfect. The best way to get better at giving great compliments is to practice by giving lots of compliments.
What? No, I'm not suggesting you give an insincere compliment just for practice. What I am suggesting is that everyone (yes, everyone) has some positive traits that are compliment-worthy. Figure out what they are and tell them about it!
Dishing out awesome compliments does not come naturally to me, but I want to be better at it, and so I've started using this simple formula that makes it easy to flatter someone without sounding like an ass.

Here's how to give a great compliment:
[how you feel about the thing] + [what the thing is] + [a reason why it's great]
For example:
[I really love] + [your style of painting.] + [The colors you choose are so emotive!]
Of course, there are lots of other ways to phrase a great compliment, but this formula is a great start when you're working towards being a first-class complimenter.
"You look fantastic in that dress. That color palette is so flattering on you."
"I am so impressed with the party that you put together. The food was amazing and we had a really great time."
"You did really great work on this project. It's obvious that you put a lot of time and effort into it."
Lastly, make sure your compliments are really compliments.
If you're complimenting someone on something they've changed, be sure that you're not poo-pooing their previous efforts. A compliment that makes someone feel bad is not a compliment at all.
"Your hair looks so much better that way!" is not a compliment, because it implies that you thought their last haircut sucked. A better option might be "That haircut looks great on you. Those bangs really make your eyes pop!"
Likewise, instead of saying "Your artwork has really improved." you might say, "I love the style you're painting in these days!" Isn't that so much nicer?
So there you have it, friends. Go forth, start dishing out some awesome compliments and enjoy the warm, fuzzy feeling that comes from making someone's day.
Are you good at giving out compliments?  What's the best one you've ever received?  Once, someone said "Sarah, it would never occur to you to be anyone other than yourself, would it?"  Annnnd, I chose to take that as a compliment.
P.S. 14 ways to show your friends you love them.