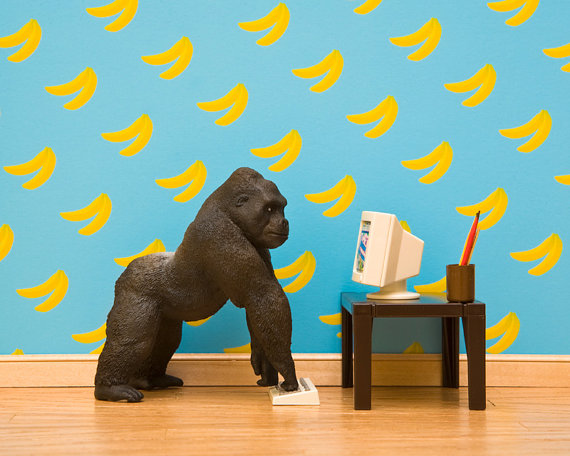 I contributed to the
$100 Change project
.  For $100 you get 100 daily prompts, 3 live webinars, 4 exclusive video interviews, 1 beautiful digital guide and 1 scholarship opportunity.  Pretty good deal, eh?Don't you love/hate it when you find an Etsy shop that consists exclusively of All The Things You Want?  That's how I feel about
Love Sexton
and
Illuminance
.
I do not have children.  I'm not even sure if I want them.  That said, I think that helicopter parenting is patently un-awesome.  Apparently, if you're a helicopter parent and you want to change, you can learn to 'unparent.'
Set reasonable, consistent rules and stick to them even if they're
unpopular with those expected to abide by them. "It is not the best
thing to try to keep your children happy all the time," writes Gerber.
"That is not the way life is."
Maggie is trying 1,000 different fruits.  What fun!How easy is it to fake being psychic?  Or what if you are?
I am not a clairvoyant. It turns out that there's no big secret—you can see the future too. You just have to know where to look.
A tumblr devoted to Anne Shirley and Gilbert Blythe.  Sign me up!
Three recipes I can't wait to try: lentil 'meatball' in lemon pesto, balsamic roasted roots in spinach sauce, emerald salad.
A gorgeous essay about … jetlag?
Fascinating!  An interview with a woman who was a secretary at Playboy magazine in the 1960s.
All the secretaries dressed very nicely, conservatively. Some spoke with
the accents of their homes, Bronx, Brooklyn. I had no accent, so it was
always assumed I was English! I had fun, Jessie, dated a lot, so many
wonderful dinner dates. The date always paid, Dutch treat was unheard
of—at least by me. Joan and I saved a great deal of money on food.
Whaaaat?  8 Affordable Castle Hotels?
I think being open about money is super important.  I love this piece on xoJane: Show us your debt!
If you're working on a bucket list but can't think of enough things, check out this one. (I like number 4, 21, 49, 53)
Hook up culture is good for women.  Discuss.
You guys already know about Cats For Gold, right?
image by jeff, for sale here