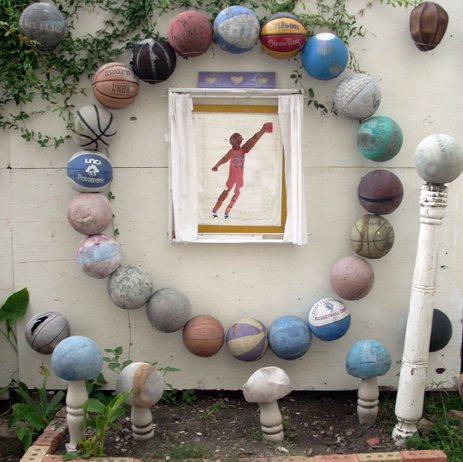 Hi there! I'm Julie and I live in Shanghai officially but am currently visiting Minnesota for some late summer enjoyment. I've soaking up as much blue sky, fresh air, reading next to a lake time as I can, getting inspired for the next round of art-by-mail I'll send.

YALO GALLERY
: The image above is one I uncovered while reading about the women of the Yalo Gallery in Mississippi awhile back. The women are inspiring, and the image evokes a lot of memories for me, having grown up with three older brothers obsessed with basketball, and the colors and circles put me in a summer sunset mood.If you read my blog, you probably know that Terry Gross is my hero. I
recently listed to a collection of John Updike interviews she re-aired
. I enjoyed his voice and his crisp description of small town life so much that I started reading his memoir Self-Consciousness. The title is just right–he captures well how we become aware of ourselves as we move from childhood to adolescence to adulthood.
I've recently become obsessed with the "Dear Sugar" column on The Rumpus and its author, Cheryl Strayed. First I listened to her memoir, Wild, which led me to Dear Sugar, and a new book of the columns Tiny, Beautiful Things. Here's a great interview with her in bitch magazine.
Speaking of reading, The 88 Books that Shaped America.
Though I'm in Minnesota, I haven't forgotten all the great people back in Shanghai. Two of the sweetest folks I've met there are artists Ben of Red Clay Rambler, and Nicole of Brut Cake. Check out the podcast they did together.
It's gonna get cold soon for those of us on the northern part of the globe, you know it is. Might I suggest you cozy up to the television with the loveable Louis C.K.'s show Louie (be warned, he swears! But damn does he have a big heart and man is he funny) or one of my favorite discoveries of the year, The Conversation? Sit on a virtual couch with Jane Fonda, Sarah Silverman, Melissa McCarthy–it's so great!
Or perhaps the end of summer just leaves you wanting to gaze at all thinks dreamy and pretty. If so, head over to dullDiamond.
Or visit Michelle's shop and dream of saving all your pennies for a back-to-school splurge of a splurge of a splashy summer-colored dress. It warms my heart every time I see it, reminds me of taking in some sun on the beach somewhere lovely.
In addition to reading like a bookworm while home, I'm finally trying out the Julia Cameron Artist's Way Morning Pages thing. Have you ever tried this? So far I think its pretty great.
If you don't know musician and songwriter Lucinda Williams yet, don't waste any more time! No one captures the heartache and longing of the last long shadows of a late summer afternoon quite like she does. "When the muse hits me, or the mood, or whatever it is, I get my guitar and I empty it out."
Lastly, the best thing about the end of summer, the weird and giant and wonderful being that is the Minnesota State Fair. Check out the Giant Sing-Along.