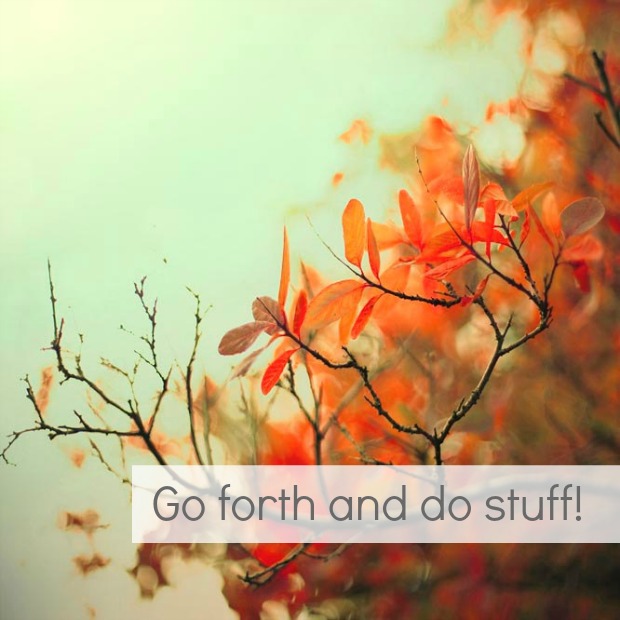 Let's put away those lists that include training for 5ks and "eating kale."  How's about an Autumnal To-Do List all full of awesome.

Here's what's on my list:
Soup is healthy and cheap and crazy easy to make. And isn't it lovely to stand in a fragrant kitchen stirring something as the sky begins to darken? I think so. I'm currently obsessed with
Cashew corn chowder with cilantro cream, White velvet soup, and Celery bisque.
Sure you could layer up and stay warm with a black camisole or something flesh toned, but why do that when you can stay warm and look awesome by layering polka dots? Or stripes? Or a ridiculous novelty print?
Yes, I know it's Pumpkin Spice Latte season. But, let's step away from the flavored coffee for a moment and consider some Sinful Cider.
Or an After Dinner Mint. Or some Mulled Wine.  Not that you can drink any of those over your lunch break the way you would a flavored coffee.  OR CAN YOU?
The one who spent the extra time helping you understand fractions. The one who told you that you should go to grad school. The one who read aloud to the class – in 11th grade. As a former teacher and the child of two teachers, I cannot overemphasize how moving it is to get a thank you from a student. If you only do one thing this Autumn, let it be this.
A million studies by a ton of clever people tell us that learning new things is good for us. It's good for our relationships, it prevents dementia, and it's just plain awesome. Why not drop $70 on two months of fun? Spanish! Belly dancing! Stained glass making! Aura reading! You'll be smarter and more interesting. Promise.
'Tis the season for snuggling. Have a good cuddle with your lover, your pet, your BFF, or your little niece. Don't have any of those? Volunteer at an animal shelter or foster a pet and get in some high quality spooning time.
It's hard to get excited about mellow, indoor, softly lit music in the middle of July. But it's perfect for the Fall! (And it can be surprisingly affordable!)  Get dolled up, read up a bit on the piece you're seeing, and bring some cash for a Hot Toddy during intermission.
What's on your Autumn To-Do list?
photo one by racey tay, for sale here // photo two by Monica Pinto, for sale here // photo three Not Dressed As Lamb // photo five by native bear, for sale here // photo six by Martin Wunderwald, for sale here // photo seven by just a moment, for sale here // photo eight by hi happy panda, for sale here