This is one of many Real Life Style Icon interviews, in which we talk
to smart, funny, interesting women who also happen to dress really,
really well.  And then when they're not looking, we "borrow" that
sweater.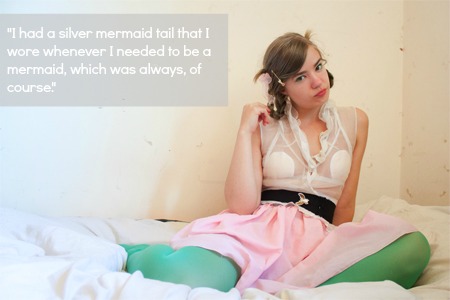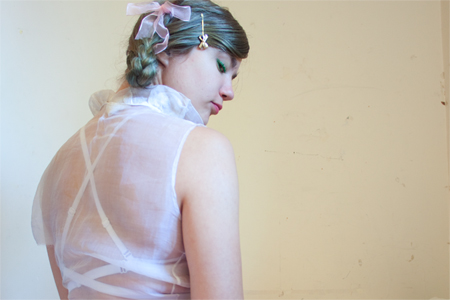 Three reasons that you're awesome:
I am smart, creative and like to think critically and keep an open mind.
What are you wearing right now, as you type this?
A pink organza skirt with black laser cut details, bee knee socks by Happy Socks with pink details and a La Fille d'O see-through bra (an essential part of my outfit) layered under an oversize pink knit sweater.
What is the last item of clothing you bought?
A delicately knitted lemon yellow cardigan that coincidentally perfectly matched my outfit of the day and it was glorious.
What is the item of clothing you most covet at the moment?
Never thought I'd say this but I am not coveting anything right now! I've been given so many things as of late that I feel completely satisfied, a little overwhelmed but mostly spoiled.
Tell us about a favorite childhood memory about your clothes.
One of my mother's friends, who was a fashion designer, once made me a silver mermaid tail that I wore whenever I needed to be a mermaid, which was always, of course. It made me realize that dreams can maybe not become real but at least you can pretend to in your clothes.
What is your best thrifting score?
All of my thrifting scores are amazing but I have to mention my first thrifted item because it was my first step to finding who I was sartorially and otherwise too! It's a knee length velvet leopard coat and it symbolizes everything who I was, am and will ever be.
Could you tell us your top three style tricks/DIYs?
Safety pins on everything! Safety pins to keep things together, safety pins for clothes that are too big or too small, safety pins for putting cute stuff on sweaters, safety pins for attaching collars, safety pins for everything and more!
I make puffy a-line skirts all the time because they are adorable and don't take more than half an hour tops. I wrote semi-clear instructions on it here!
And lastly, good taste is a myth.Thanks so much for sharing, Eline!