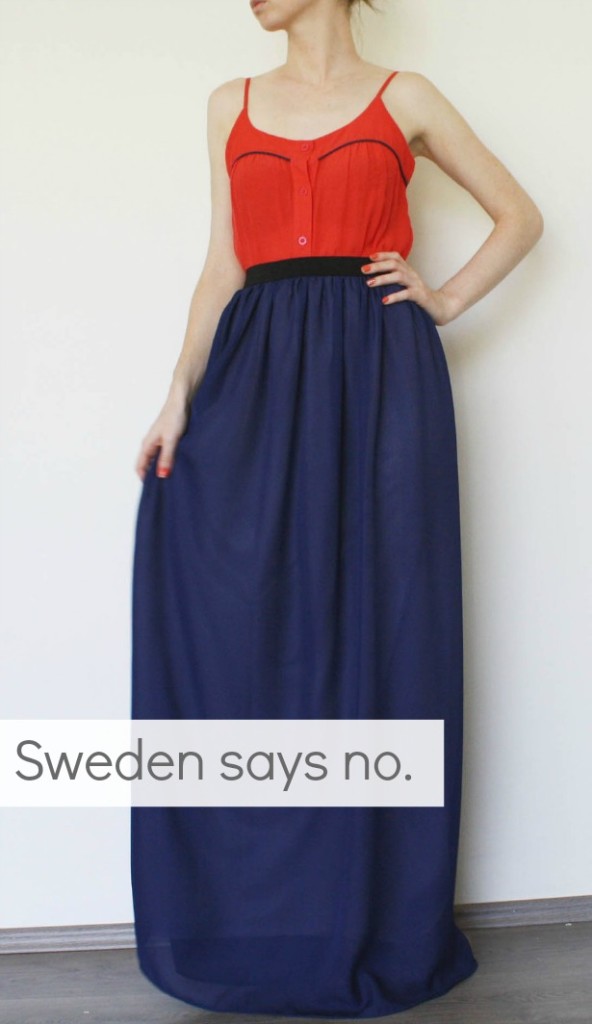 Gather round, friends. For I am going to tell you two stories of fashion and culture and my (apparently) very fragile ego and sense of style.
Story 1

It's 2012 and I'm visiting Stockholm for the first time.  I've packed for six weeks and six countries using only a carry on.  I have successfully convinced myself that even with my extremely limited wardrobe I can keep up with the painfully good looking, insanely fashionable inhabitants of this, one of Europe's most stylish cities.  Integral to my tiny wardrobe is a grey jersey maxi skirt: comfy, layerable, trendy.  Right?  And the first time I wear it in Stockholm, I realize that absolutely nobody else is wearing maxi skirts.  None of the fashionable women in Sodermalm.  None of the girls on the metro.  None of the cuties at the club.I continue to wear mine (because I only have, like, three clothes) but instead of feeling "on trend" I feel sort of dumpy and mum-sy.
Story 2
It's 2006 and I'm traveling through Italy, stuffing my face with gelato and teaching English at a summer camp for Italian kids.  At a weird little shop in San Remo, I see a pair of harem pants and buy them as "a joke," mostly to wear while I sleep or ride trains for hours and hours.  But.  Once I get to Milan, I see every fashionable Italian girl and her friend wearing harem pants.  Maybe they're not a joke?  Maybe I should wear mine all the time, too!
On the last leg of my trip, I spend a week in New York.  While riding the subway, a stylish woman approaches me and asks where I got my pants.  I nearly turn inside out with pride and say "at a weird little shop in Italy."  I become convinced that I'm Carrie Bradshaw.  I proceed to wear said harem pants every summer for the next five years.  Until they finally become fashionable in America.
So let's peel back those layers of neuroses and navel gazing for a minute and examine this.
* I'm not really blowing anybody's mind with the 'realization' that fashion is 100% imaginary and just an arbitrary set to tools and measurements that we've all agreed on (or been informed of).  Said tools and measurements change every few months and we (usually) scuttle along behind, trying to keep up.
* The World of Fashion has decreed some places and cultures more fashionable than others. New York, Tokyo, Stockholm, Paris, you're in.  Any place in Midwest America, you're out.  Bolivia, Laos, you're not even on the map.
Apparently, this means that I'm embarrassingly influenced by what those attractive Swedes are wearing.  I want to dress like The Cool Kids!  I want to belong to the tribe of attractive, stylish people! 
And I can apparently I can gain entry into said tribe by giving up on my maxi skirt.
When I had this realization I was surprised and, honestly, a little bit disappointed in myself.  I've always liked to follow fashion trends – at least a little bit – but I'd like to believe that my sense of style is based more on what I know looks good on me.  Clearly, I'm way, way more influenced than I'd like to believe.
But in an effort to give myself a bit of slack I also realize that very few among us would wear something that absolutely.nobody.else is wearing.  You probably wouldn't wear your yoga pants to a club.  Or a ballgown to coffee with friends.  Your fashion sense has probably changed a bit since 1998.  Right?
What about you?  Are there things you wear that are patently 'out of style'?  How would you feel if you arrived in a city you perceived to be 'stylish' and weren't dressed 'appropriately'?  How much do trends influence your style?
maxi skirt by mabel collections, for sale here