I'm not really a stuff-haver. At least, I don't really enjoy having stuff for the sake of it. Don't get me wrong, I will very happily have cheese for the sake of it. I'll own three gajillion bangle bracelets and wear most of them, but stuff? I'm not really into it. In a perfect world, I would live the William Morris quote "Have nothing in your house that you do not know to be useful, or believe to be beautiful."
But I'd like to amend that quote to include "things filled with memories." Really, I've spent much of the last year attempting to incorporate some of my favorite, most remember-ful pieces into my apartment. I love being able to pad through my space, knowing that I'm surrounded by things that my parents and grandparents loved. I like snuggling under a blanket I bought in Vietnam and drinking out of a coffee cup I bought in Louisiana.
It's just making them look good alongside my Pier 1 sofa that's the challenge.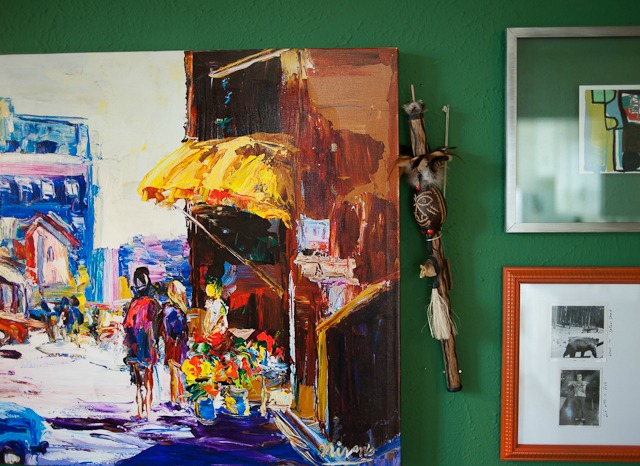 I bought this blow dart gun at a floating market in Amazonia. I was 22 and teaching English in Rio Grande du Sol, Brazil and had booked a package tour through the rain forest. You can see a piranha head all tiny and bitey in the middle of it. It really is a properly functioning blow dart gun! In the orange frame are two black and white photos: one of Dad Von holding a prize fish and one of a bear in Yellowstone.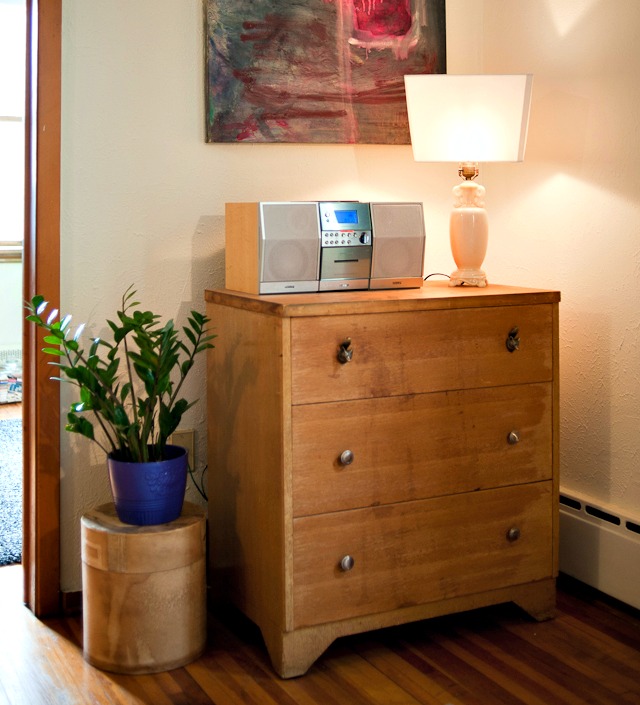 This dresser was used in my grandpa Larson's clothing store for years. My great-grandpa Gustav was a tailor who opened a men's clothing store and passed on the store to his three sons, who passed it on to my uncle. Isn't that lovely? The lamp sat on my grandma Von Bargen's sewing table for ages.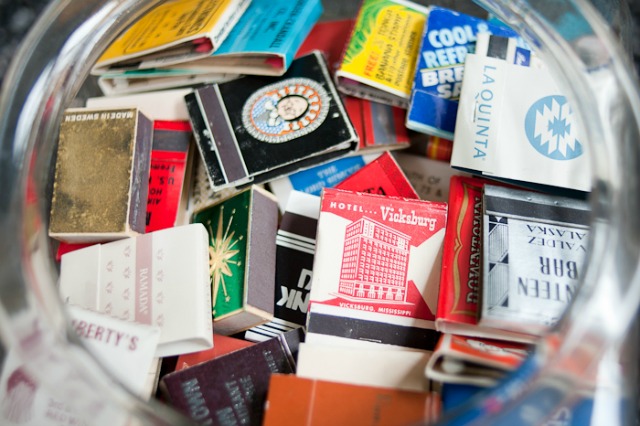 My grandpa Von Bargen collected matchbooks over 20+ years of travel. I love having a paw through these and imaging my grandparents exploring the world.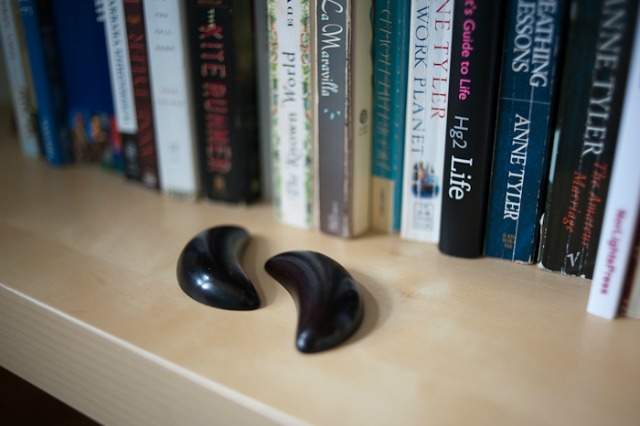 Like many an English major before me, I spent a year and a half teaching English in Asia. I loved (almost) every minute of it. My apartment was right around the corner from a tiny temple. These little wooden moons are used to tell your fortune – you think of a question and toss them. Depending on how they land, you have your answer. Unfortunately, I have no idea which landing position corresponds to 'yes,' 'no,' and 'try again later.'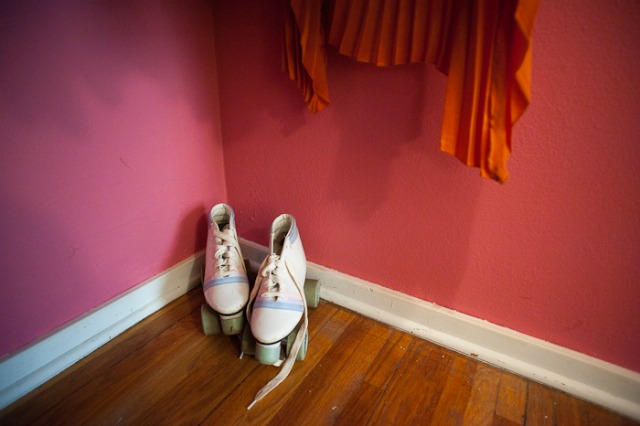 I grew up deep in the countryside. Like, dirt road countryside. So when we got our driveway paved, I saved my allowance for months so I could buy myself these roller skates. I have fond, fond memories of clacking slowly (and badly) up and down the driveway while I waited for it to be 3 pm so I could watch Scooby Do.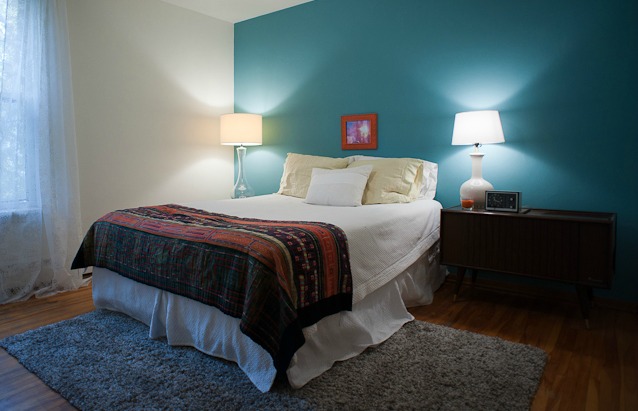 That crazy embroidered blanket at the end of my bed? It was hand dyed and stitched in Sapa, Vietnam where I bought it for $12. My friend and I booked tickets on the overnight train from Sapa back to Hanoi and I spent most of the ride trying to make myself comfortable, sleeping in jeans, covered in this blanket. I'm totally afraid to wash it.

Do you decorate with mementos and family artifacts? How do you incorporate them into your decor? Feel free to link to photos in the comments!
All photos by Meredith Westin