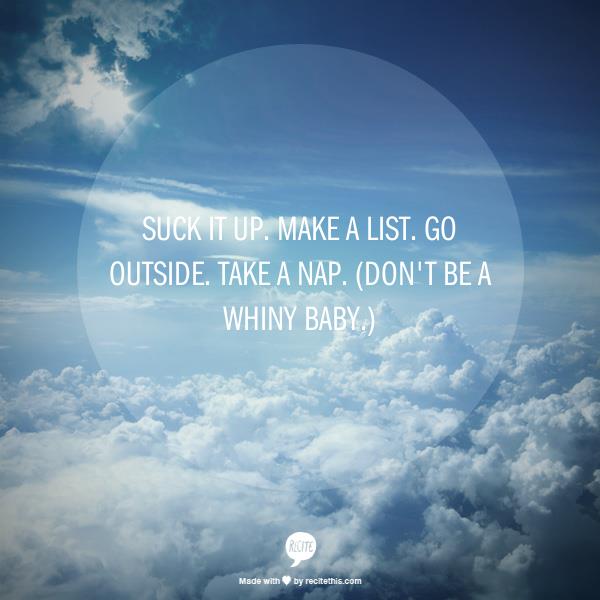 A friend once joked that I should be a life coach. I said that would be a terrible idea because I'm way, way too much of a hardass,
and if I had a "manifesto" it would look like this.
If you celebrate Christmas, I hope it was a good one!  I spent mine in South Dakota with my family, eating IHOP.  That sounds totally depressing when I type it out, but let's not underestimate how much I like their 'loaded baked potato' soup!
Anyway.  Links for you!
It's not like I was born with magical powers that allow me to tackle anything you place in front of me or something, it's just that I TRY. I see things, and I wonder how they are made. If somebody else could make it, what's stopping me from learning how to as well?
25 ways to make your life better immediately.  (I particularly love 3, 4, 5)
Yes.  Fairytale treehouses from around the world.
I love these light bulbs and these clever nail files.
For dorm-room-dwelling readers (or lazy cooks) cooking and baking with your microwave.
Things I want to cook: red onion jam and buttermilk biscuits with mushroom gravy.
If you're a freelancer, do you have contracts with your clients?  Here's why you need one and what it should include.
Need more evidence that life as a cat is awesome?
So, so funny.  The 101 best tweets from women this year.
Someone accused me of spending too much time on the Internet. I don't know what to say. I am so full of emoticons right now.
A subway car packed with balloons and a train car used as a church.
The relationship between Morticia and Gomez Addams is one of my favorite marriages ever seen on film.  I loved this post about why the Addams Family is awesome(ly feminist)
There are no mother-in-law jokes, both take responsibility in raising the children, and have a very healthy sex life. So many stories have the love story end at marriage, or have the couple grow to loathe each other over time. Just think of it – a loving marriage was groundbreaking.
Fascinating!  Did you know that Robert Downey Jr is 5'7″ and Emilio Estevez is 5'4″?
Hope you had a great weekend!