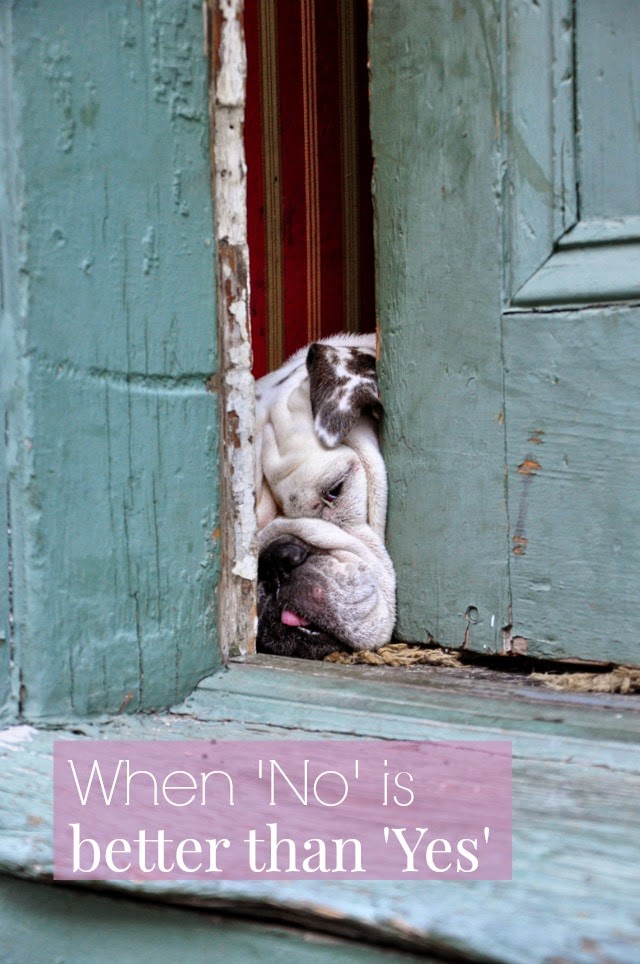 Dear Sarah,
Your blog is about saying "Yes" to adventures in life and great opportunities. I was wondering if you could share what you've had to say "No" to in your life and why you said no to certain situations/opportunities/friendships/relationships etc? Sometimes, at least for me, it's helpful to hear what boundaries others have set to craft their lives and why.
– Carleen

Funnily enough, a few friends refer to me as "The One With Boundaries."  I have no idea if this is a compliment but I'm choosing to interpret it as one.  While I'm (obviously!) a positive, yay-saying lady, I also have approximately zero tolerance for bullshit and I work to add awesome and subtract foolishness from my life.
Here are the things I say no to.  With gusto!
People who engage in the same damaging, negative behavior repeatedly and then complain about the outcomes
It is 100% none of my business if you're broke because you can't control your online shopping.  Or if you got fired from another job because you're always late.  Or your car broke down again because you (still) haven't had that noise checked out.  None of these things make you bad person or a bad friend.  We all make mistakes.However.
If you want to spend our time together complaining about bad things that have happened to you – things that have happened before and should not come as a surprise – well, that's not particularly enjoyable or enriching for anyone involved.  I want to spend time with people who inspire me.  I, personally, do not find repeated bad decisions inspiring.
Drama
Random, crazy, difficult things happen to all of us.  But some people seem to invite the crazy.  Clients who are late or mean, friends who do crazy, drunk things or yell or cry or throw things?  Nope.  I am too old for that ish.  Really, anyone over the age of 22 is too old for that ish.  I will happily be Facebook friends or see-you-at-the-party friends with a Drama Inducer, but that's about as far as I'm willing to go.
People who complain constantly about things they have the power to change
We'd all like to change certain things about our lives – our bank balance, our weight, our job, the people we live with.  And it's human nature to vent from time to time.  But when someone complains every Friday about being broke while drinking three $12 cocktails?  Or never-endingly snipes about his roommate but refuses to talk to him or kick him out?  It bums me out.
Non-exclusive romantic relationships
For every thing there is a season, and I'm not in that season of life where I'm interested in dating someone who wants to date other people.  If I like you enough to date you, I like you enough to date just you.  Dating multiple people works for a lot of folks – I'm just not one of 'em.  I'd rather spend my time + energy on one person and one relationship than spreading myself thin with several dudes I'm lukewarm about.
Having a data plan on my phone
Does it strike you as ridiculous that a professional blogger can't check email from her phone?  Fair enough.  But, it's not an exaggeration to say that I'm addicted to the internet, and one of the ways I curb that is by making my phone an internet-free zone.  Plus, it's super annoying when you're trying to have a deep and meaningful with your friend and she's googling "Grumpy Cat + Santa hat." I would be that friend.  We're all better off when I can't get online from the nail salon.Taking on clients I wouldn't be friends with
Of course, this doesn't work out every.single.time but I try to limit my clients to people I'd want to meet for coffee or who appreciate my taste in stinky cheeses.  I want to build my proverbial 'tribe' of like-minded awesome people whose products I, myself, would use.
Interacting with clients anytime after 6 pm CST or on weekends
Nope. If I'm feeling really twitchy, I'll respond to their email (because I love an empty inbox) but schedule the email to send at 8 am the next morning.  I don't want to create the expectation that I respond to emails at 9:30 pm on a Friday night.What do you say 'no' to?  How do you set boundaries in your life?