This is one of many True Story interviews in which we talk to
people who have experienced interesting/amazing/challenging things.
This is Rachel's story.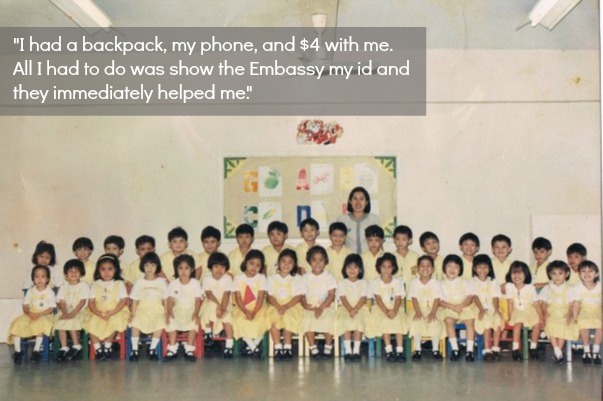 Rachel in the front row, on the right.
Tell us a bit about yourself!
I am a 23 year-old indie jewelry artisan residing in Sunny California! I am finishing up my degree in Education and minoring in Psychology online. If you can't find me, I'm probably at the local Starbucks planning my next big adventure. I am a guilty overachiever, fluent in 4 languages, including American Sign Language!
What were the circumstances that lead to your father kidnapping you and bringing you to the Philippines?
As are most cases of abduction, my father kidnapped me after my mother divorced him and won custody. I found later that my father's reasons had to do with my mom's culture and beliefs. It was one of the major reasons for the divorce, and it was why he decided to kidnap me. I was three years old. He did not want me to be raised by her and that was that.
The only consolation that my mother had was knowing that my dad and I lived with my grandparents (my dad's parents). The investigators in charge of my case had warned my mom not to go after us because there was a high risk of her getting killed. My dad had hired highly-trained bodyguards and was himself trained in martial arts and firearms. My mom had my address but was helpless.
Growing up in the Philippines, what did your dad tell you about your mom? Did you have any idea that you'd been born in America?
I always knew that I was born in America. I had memories of Disneyland and Chuck-E-Cheese, and I had some memories of my mom and my family here. I am also very fair skinned and obviously Caucasian. At school and among my playmates I was known as "kana", short for Amerikana.
As a young child, my mom had been in nursing school and worked full time. I was used to not seeing her for days at a time. I can recall a specific time where I asked my dad why we were "here" (The Philippines) and why mom wasn't. He simply said "We live here now. Your mom doesn't want to live here." I don't remember much after that.
When did you find out about your mom and the kidnapping?
My dad is pretty proud of the fact that he beat the system and kidnapped me. He reiterated the story countless times. I know how it happened in details, and it matched up with what little memories I had of the event.
I started to yearn for my mom around age 10; around the time I got curious about make-up, boys and got my first period. I was not comfortable talking to my dad about these things and my step mom was "strict".
Did you try to contact your mom at all? Why did you decide to leave the Philippines?
I never got any of the mail that my mom would send me. One summer day when I was 8 years old, my dad was out of the house and I found a bright pink envelope in the pile of mail sitting on the piano. I rushed to open it when I saw my name plastered across the front. It was a birthday card, but more importantly it had a phone number. I can recall the words "call collect" and that's exactly what I did. I grabbed the phone and dialed. I heard a familiar voice and whispered "mom"? I heard crying, "baby"? More crying. My dad walked through the door and I hung up.
I remember the first time my dad really hurt me. I was in 5th grade and failing Filipino class. I got my finger pricked by a needle. Later that week, I had stolen from his coin dish and got beaten with a rod. I was a pretty stubborn child.
Once in high school I struggled to sit in my chair from all my bruising. I stood in the back of the classroom all day long.
I finally got in contact with my mom through e-mail when I was about 13. I think I got her e-mail through Yahoo! People Finder. We communicated about once a month, behind my father's back at first. When my father had found out, he was not angry. Looking back, I think he was scared.
Tell us about the day you left the Philippines for America.
That is a-whole-nother story to tell! Story short: I left in the middle of the night, when my dad was asleep. I had to travel from my island to the mainland (Manila) where the American Embassy is located. I had a backpack and my phone, and $4 with me. All I had to do was show them identification and they immediately helped me. They contacted my mom for me and took it from there.

What was it like meeting your mom for the first time?
Mom picked me up from the airport along with my sister, a cousin and an aunt. I immediately knew who she was the moment I saw her, and she knew me as well. That moment is indescribable. I just remember lots of tears– lots and lots of happy, frustrated tears.

What's your life like now? Do you have a relationship with your Dad?
It actually was very hard to build a relationship with my mom—and we are still struggling— but we are struggling together. I would say that in spite of what happened I am doing quite well. Even I am surprised at this fact, but I do have a relationship with my dad. He is, after all, my father and he did raise me. This does not mean that all is well and dandy. I still wake up screaming in the middle of the night, full of fear. I think I always will be haunted by what happened. However, I am consoled by the fact that my father can never ever step on American soil. The court has made sure of that, or he will face life in prison. It is on those nights that I have to go back to square one and forgive him for everything all over again.
I could not have had the strength to forgive my father if it were not for my faith. For that, I am very grateful.

What have you taken away from this experience?
Oh my goodness, I do not know how to answer this question! This experience has left me with PTSD, Depression, and constantly questioning my self-worth. I have so many issues that I am working on. However, I have also found that I am a very emotionally strong person because of all this. I am very quick to stand and defend the oppressed, I do not tolerate any abuse of any kind and I have been forced to become a mature person.
Thanks so much for sharing, Rachel.  Do you guys have any questions for her?