This is a (semi) regular series in which we visit the homes of stylish friends and drool over their design. You can see previous tours here.  These photos originally appeared on Lauren and Kevin's house tour on Apartment Therapy; photos by Carolyn Purnell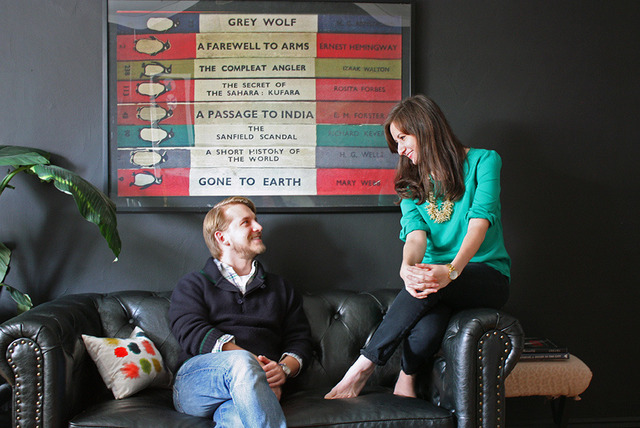 Length of time in home: 3.5 years
I share my home with: My future husband, Kevin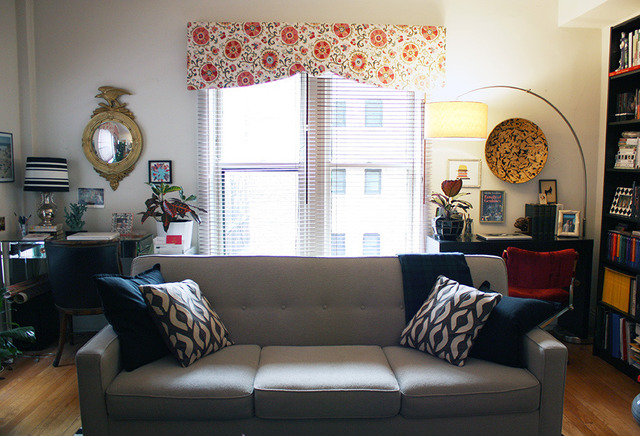 What are the three things you love most about your space? 
Ours is a corner apartment about two blocks off Lake Michigan, and we get amazing amounts of daylight. That's probably what I noticed most when I first looked at the place! Another thing I love is that it's definitely a vintage Chicago apartment, which are like the ones I grew up in (lots of crown molding, crystal doorknobs, hardwood floors, etc). I can't stand newly-built boxes with no personality! The other thing I love is its size; It's a one bedroom, so it's not huge, but it's large enough that Kevin was able to move in after I lived here for about a year. We both fit quite comfortably.
What's the strangest place you've found stuff for your home?
Oh man, I'm a bit of a treasure hunter, so we have things from all over the place, from alleys to Anthropologie! Most of my favorite little trinkets and other pieces that add character are from thrift stores or antique shops, though. Here in Chicago, there's a thrift chain called Village Discount, which, depending on the location, can be a total mess, but I've found some great scores!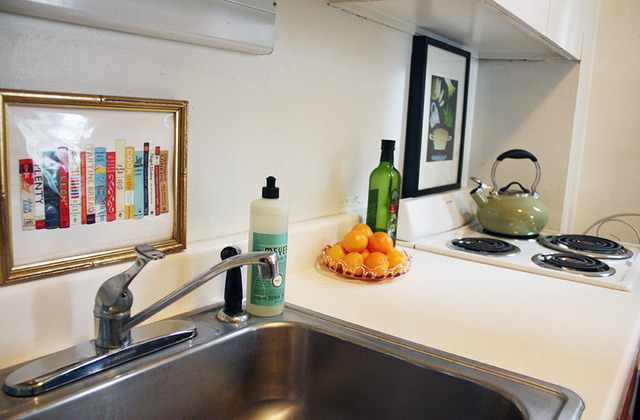 What's the least awesome, must-work-around aspect of your space?
Our kitchen is furnished with really ugly wood laminate cabinets and floor tiles that have seen better days. If we owned the place, I'd love to tear out the cabinets (or at the very least repaint them) and re-tile the floors in there. Also, no dogs. THE WORST!
Tell us the story behind one of your favorite pieces in your space!
The little black gazelle (?) who lives by our television in the living room is named Maurice, and I LOVE him. My parents got him at an antique store when I was young, so I remember always having him in the house and playing with him. When I moved into this place, I asked if I could have him (nope), and I think I ended up taking him home with me when no one was looking. He's been with us ever since, and I'm pretty sure my mom has given up owner's rights.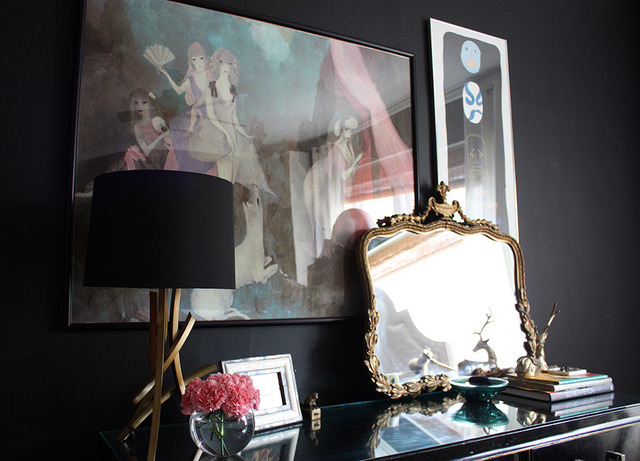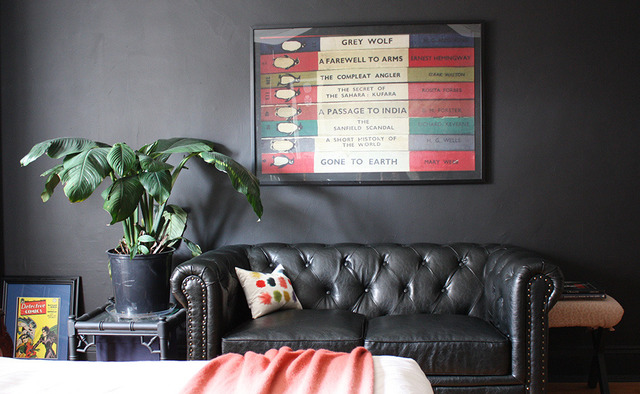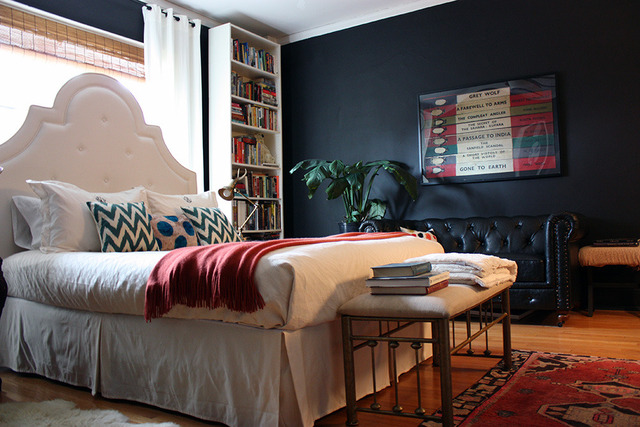 What are some of the DIYs you've tried here?
I did the Suzani print pelmet boxes above the windows in the living room using foam core, batting, fabric, staples and some L brackets for mounting, and Kevin and I both worked on painting and recovering the pair of Chippendale chairs in front of our coffee table. I recently repainted an old white dresser that I bought second hand years ago and moved it into the kitchen to repurpose it as a sideboard and give us some extra counterspace.The project I think I love the most is the Penguin Book art we have hanging above the loveseat in our bedroom. I took a hi-res digital picture, and then had Kinko's blow it up for us. I was so happy when it worked!
What are your top five sources for design inspiration? 
The homes of people I find stylish (e.g. Kate & Andy Spade, Jenna Lyons), store merchandising (at places like Anthropolgie, Kate Spade, Ralph Lauren…), museums, old books, and all the wonderful real spaces shown on the internet.
If you were to name your home ala 'Tara' in 'Gone With The Wind,' what would you name it?
Since starting my blog, we've nicknamed the place "The Rebuildery," since we're constantly trying to fix things up and use what we have to to rework our apartment until it's our favorite place on earth!Thanks so much for sharing, Lauren!