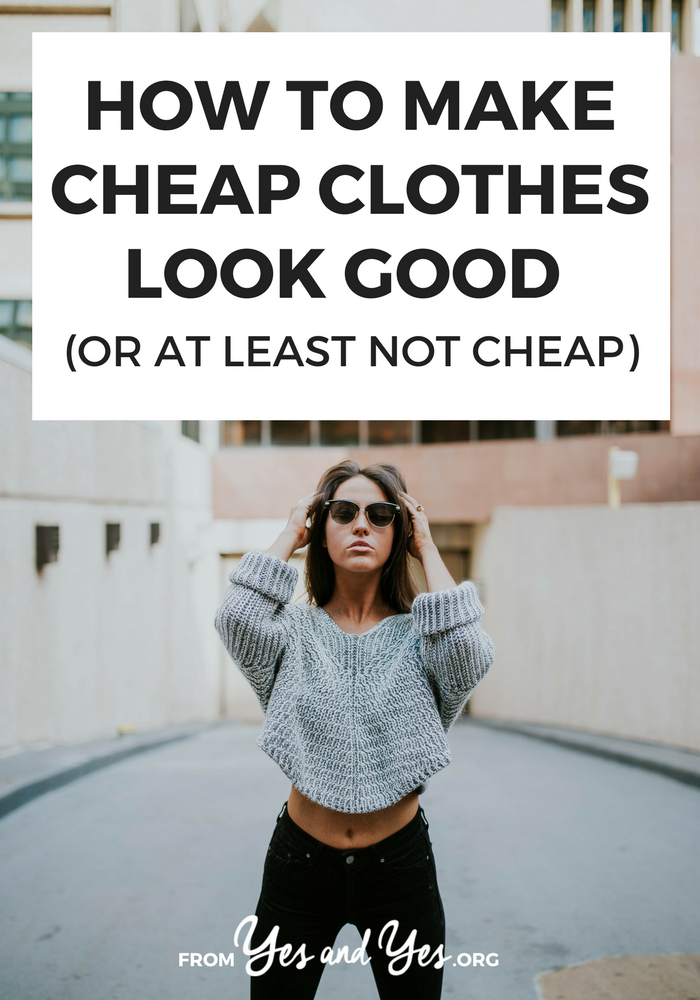 I am a competition level thrifter and bargain hunter.  And because when I'm from the Midwest, when you compliment my coat, I have to tell you that I got it for $12, ten years ago, at the thrift store in Sauk Centre.
I'm fancy like that.
I've also been known to buy the occasional $25 sundress from Target/H&M/Forever 21.  I know that
fast fashion is The Worst
.  And I try to buy well-made investment pieces from good companies or second hand.  But sometimes I can't resist the siren song of affordable, trendy pieces.  SOMETIMES
I JUST WANT TO WEAR NEON
, YOU GUYS.
So if you, too, occasionally give in to cute, cheap stuff and then see a photo of yourself and think "Who's that hussy in the unflattering poly blend?"  here are all my best tips.

5 ways to make cheap clothes look good 
1. Invest in a slip or an inner layer
I think one of the things that separates Cheap Looking Foolishness from Fancy Looking Poshness is lining.

High-end stuff is lined. Stuff from Target isn't. Just go buy a slip (yes, they still make them) and all of a sudden you don't have to wear Spanks and your dress fits and flows so much more elegantly. Try to find a white or neutral slip without any lace – you don't want the texture of the lace showing through the top layer of your $12 dress.
2. Fake leather + shiny metal = no. Canvas + wood = yes 
Pleather is obvious from 8 feet away and shiny metallics look tacky. Matte metal isn't any more expensive (or real) but it looks much nicer. This
 bracelet is only $15 but it looks fancy and like some rich relative gave it to you.
Also: canvas. It always looks posh and it's not expensive. See?
 Wood bangles are cute and make people think you a) bought them in a pricey museum shop b) spent some time in Africa. Can you believe this set of three is $7?!!
3. Take good care of your cheap clothes
These pieces were not built to last. But you can extend their life by:
* Only washing them when they're really, actually dirty
* Washing them inside out, in cold water, and air drying them
* Using one of these fabric shavers. No exaggeration, this purchase will change your wardrobe life
4. Only wear one trend at a time
Oh, this is terribly boring advice you've read a thousand times before. But that's because it's sort of true. You look waaaay classier when you pair your sheer neon top with a black boyfriend blazer and jeans and cute black t-strap sandals, rather than with sequinned dropcrotch pants and those wedge sneaker things. (Of course, 'classy' can be very overrated so feel free to ignore this advice)
5. Shiny hair + lip gloss + clean nails always look good
Your mom was right.

Do you guys partake in cheap fashion?  How do you make your cheaper items look good?
P.S. How to purge your closet without losing your mind