This is one of many interviews in which we talk to smart, funny, interesting ladies who also happen to have amazing style.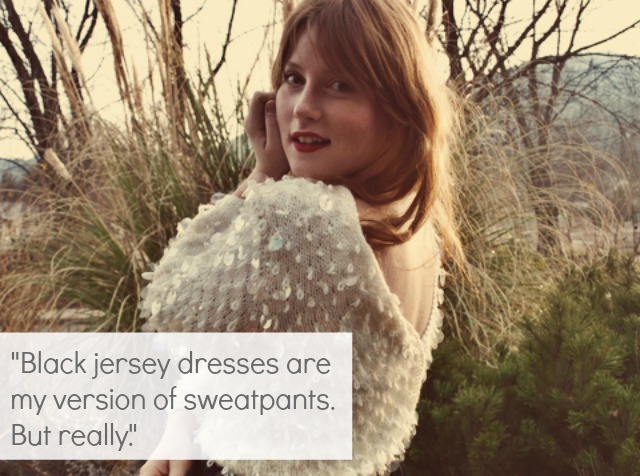 Name:
Alexandra Amarotico
Age:
24
Location:
New York City (for the moment)
Online haunts: 
Blog
//
Twitter
//
Facebook
//
Pinterest
Three reasons that you're awesome:
1. I've spent three years of my life living in Denmark, but then suddenly had to leave due to work visa complications in October. So I filled a few suitcases with clothes and moved to NYC on a wish and a prayer one month ago. Just like that. #awesome
2. I don't own a single pair of jeans. #weird?
3. #iusehashtagsinappropriately #damnyoutwitter #butreallyitsfun

What are you wearing right now, as you type this?
This sweetheart neckline dress from Asos. Black jersey dresses are my version of sweatpants. But really.
What is the last item of clothing you bought?
…. This sweetheart neckline dress from Asos. HA! Along with a silver peplum blouse and a spiked headband of course!
What is the item of clothing you most covet at the moment?
The perfect, over-the-top, flattering, sparkly, long-sleeved New Year's Eve dress. That baby is tough to find, but I'm searching high and low. (Any recommendations?)

Tell us about a favorite childhood memory about your clothes.
When I was little, I would pitch an absolute fit if my mom tried to make me wear pants. Even if there was, say, a blizzard outside. I knew it then – and I know it now – dresses are better, no matter the weather.*
*I tend to be overdressed at every occasion.
What is your best thrifting score?
Could you tell us your top three style tricks/DIYs?
1. Wear clothes, styles, and trends that fit, flatter, and enhance who you are. And dress how you want! Trust me: you'll look better than anyone who's just following the fads.
3. Wear red lipstick! There's a flattering shade out there for everyone. Find yours, and let out your glamorous side!! Nothing amps up an outfit faster or better.
Thanks so much for sharing, Alexandra!