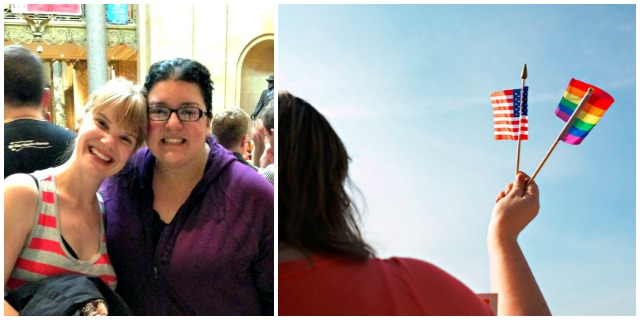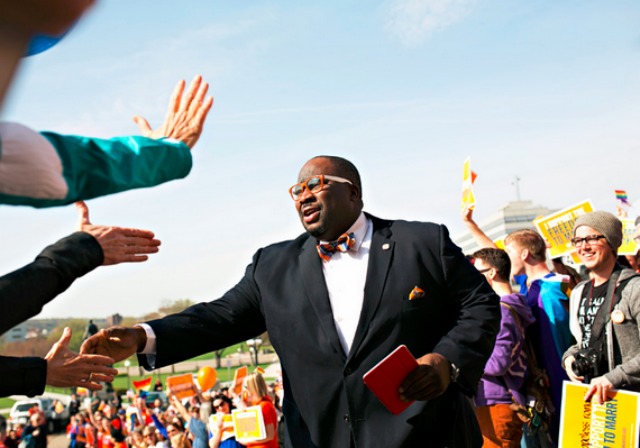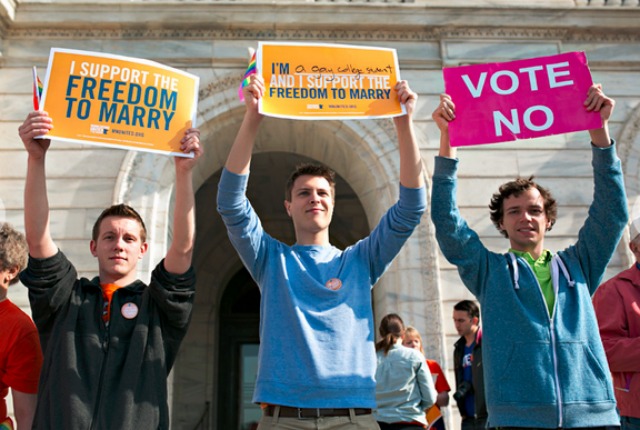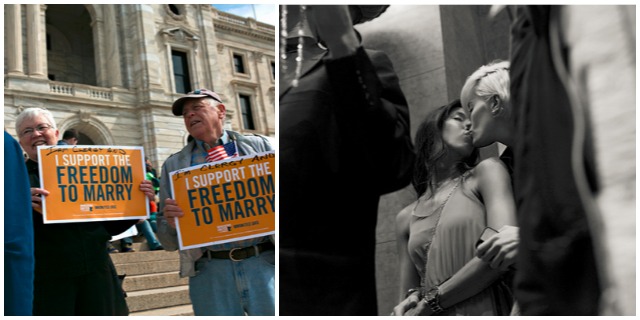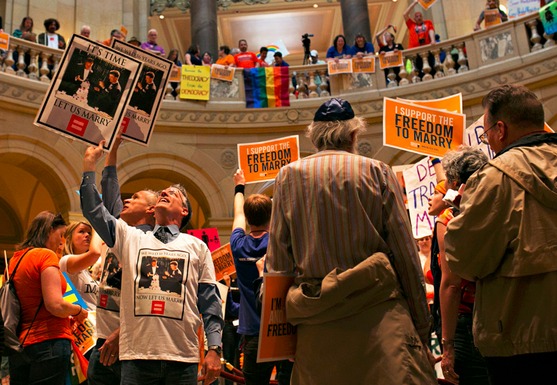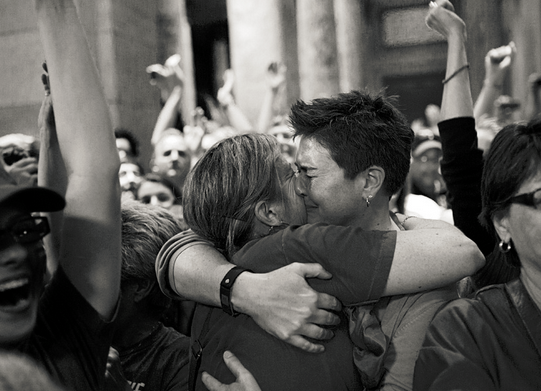 On, May 14th Minnesota became the 12th state to make same-sex marriage legal. 
On May 13th, I met up with my friends
Jess
and
Cadence
at the capitol so we could watch history take place and mingle with all that awesome.
To say the atmosphere was emotionally charged is something of an understatement. There was cheering, impromptu sing-a-longs of
Don't Stop Believin'
and
Seasons of Love
. There was yelling, praying, and watching TV monitors with baited breath.
For a long time, marriage equity has been one of the causes that I hold closest to my heart.  Lots of my friends are gay and, honestly, it seems patently ridiculous that anyone be prevented from making a commitment to someone they love.
Like many of you, one of the ways I stay optimistic is by choosing my battles; I've got three causes that I'm totally committed to.  I've got my window clings, I've got buttons on my hoodie, I donate money, and I can articulately, respectfully argue with you for hours on the topics of LGBTQ rights, refugee/immigration policy (I used to be an ESL teacher), and reproductive rights.
And in a way, I define myself by my stances on these topics. I'm Liberal. I believe that we should help people who need it.  Not everyone votes or donates or thinks the same way I do (which is 100% okay!) and a small part of who I think I am is defined by that difference.
When I moved to New Zealand for graduate school, I was thrilled and surprised to discover that all of the causes that I was so busy crowing about?  They were foregone conclusions
in the land of the long white cloud.  
Civil unions for same-sex
partnerships? Legal in 2004. I never met a single Kiwi who wanted to make abortion illegal or redefine immigration or refugee policies.
And while it was 99% awesome to be surrounded by so many like-minded people, it was also ever-so-slightly weird. You don't want to talk about UNHCR policies? (Though, to be fair, I'm not sure anyone in Minnesota ever really wanted to talk about that either.) We don't need to raise money for Planned Parenthood?
Of course I got over my tiny little identity crisis (mostly because I was too busy going to school and working two jobs) but it made me think about how we tie ourselves to our causes and the ways that we're different.
What are your causes? Do you define yourself by them? Have you ever lived somewhere where everyone is like-minded?
all photos by Cadence Cornelius