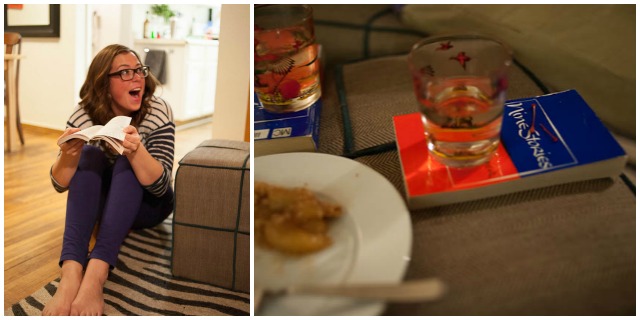 Ummm, towards midnight we ate a whole pie and finished a bottle of whiskey and started talking earnestly about things not related to the book.
Here, I'm making my bossy face.  Also: note how weirdly tiny my hands are!
If you have been reading Yes and Yes for any amount of time you probably know that: 
a) I love J.D. Salinger in a manner reserved for former English teachers and over-achieving English majors
b) I love
themed parties
A few months ago, a friend and I discovered that we were both voracious fans of 
Nine Stories
and joked about creating a two-person fan club/book club.  
And because I'm exactly the kind of nerd who actually follows up on these things, I turned this into a four-person book club/themed dinner
.
Menu:
Green Salad
Curried Tilapia and Plantains with Lemon (inspired by A Perfect Day For Banana Fish)
Tiny Dill Pickles (inspired by Down By The Dingy) 
Manhattans (inspired by everything J.S. Salinger ever wrote)
Dutch Apple Pie (inspired by Teddy) 
Like a good host/former teacher I spent an hour reading analysis of the book and writing (several pages) of discussion questions.  And when my lovely friends showed up, we did my favorite things in the world: eat and drink and talk and laugh and think.  Gosh, it was wonderful! We had so much fun, we're thinking of making it a regular thing!
Do you belong to a book club?  What's the best theme party or dinner you've ever been to?