This post from Mo Cahill of Apartment Dining fame. She'll be introducing us to yummy, lesser-known dishes from far-flung locales. You can follow her culinary adventures on Facebook and Twitter, too!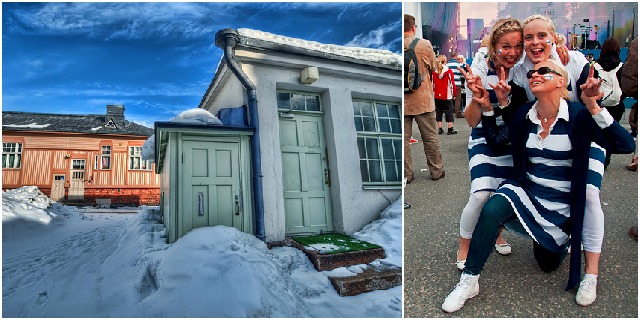 Its stunning landscape. The Northern Lights, craggy mountain peaks, miles of untouched evergreen trees, and pristine icy waters are unlike anything I've seen in person before.
Women's equality. I know it may be a strange reason for tourism, but Finland was the first country in the world to grant women unrestricted rights to vote and to be elected to office. I want to see that society in action.
Reindeer. (Obviously.) The number of reindeer in Finland's northern-most province of Lapland almost surpasses the number of people that call it home, and tourists can take reindeer-drawn sleigh rides through the snow.A trip to Finland is still a long way off for me, but in the meantime I tried making kropser: a baked pancake that can be enjoyed with breakfast or a cup of tea. It's really less like a pancake and more like a light bread pudding with crispy edges and a custardy center. It's often served with berries and powdered sugar, but you can also try it with maple syrup, some lingonberry jam, or a drizzle of honey. It's the kind of breakfast that stays with you long after you've left the house to go to work, whether you're behind an office desk or herding reindeer in beyond the Arctic Circle.
1 ¼ cups flour
½ cup granulated sugar
1 teaspoon salt
3 large eggs
2 cups milk (2% or whole)
¼ cup butter
Optional: blueberries, powdered sugar, maple syrup, honey, or jam
1. Pre-heat the oven to 425 degrees F.
2. In a medium bowl, mix together flour, sugar, and salt. In a separate bowl, beat eggs and milk together with a fork. Add to the flour and sugar mixture and blend with a whisk.
3. Place the butter in a 9" x 13" baking pan, then put the pan in the oven. Watch it closely until the butter melts, then remove the pan from the oven. Carefully turn the pan until all of the sides are coated with butter. Pour the excess butter into the batter and mix with the whisk.
4. Pour the batter into the pan and bake for 30-40 minutes, or until the edges begin to puff up and turn golden brown, like the above photo.
It will flatten out once it cools.
5. Let the kropser cool for 10-15 minutes and serve with your choice of toppings.
Enjoy!  Any Finnish readers out there?  Any other Finnish specialities we should know about?