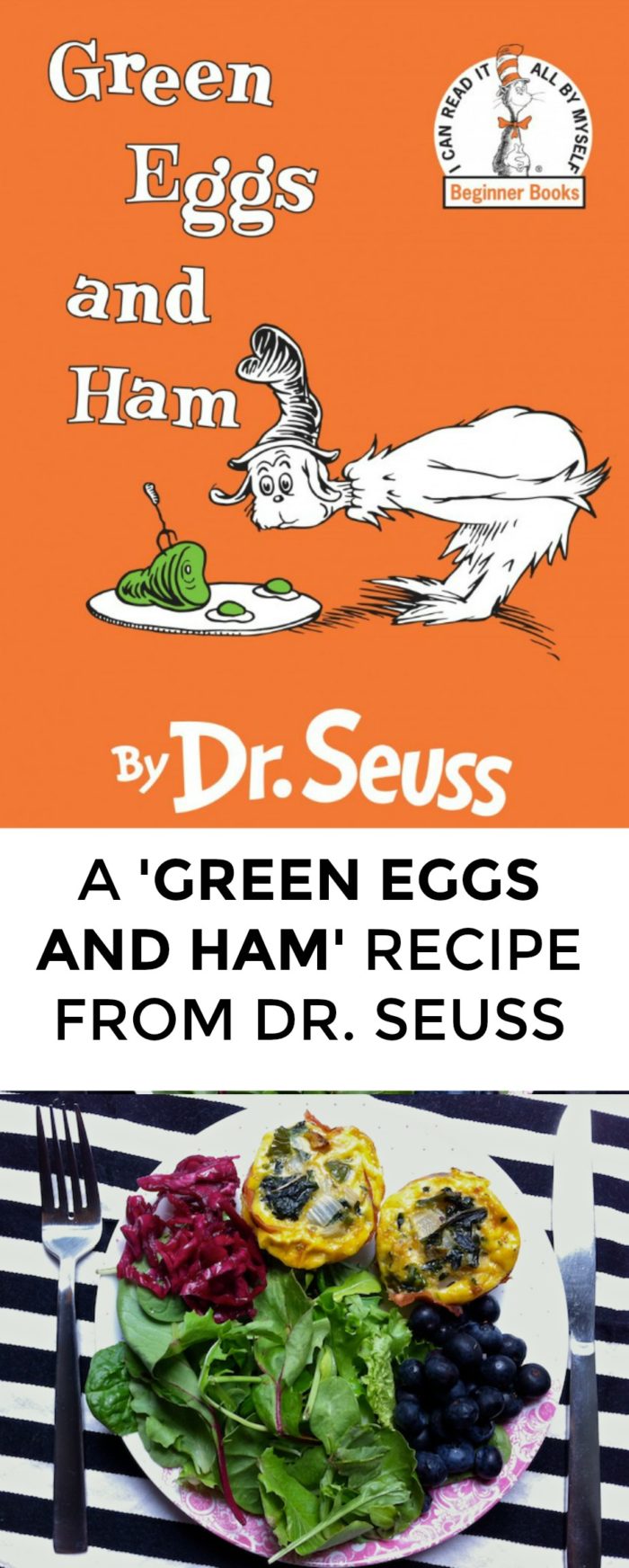 Looking for a good green eggs and ham recipe? One that's not just scrambled eggs with green food coloring? You're in the right place! Read on for a great Dr. Seuss recipe from
Alicia
.
---
Oh, Dr. Seuss! Every one of his books is bright and whimsical, featuring a world that's just a little more colorful than the one we know. From the truffalump trees in The Lorax to the Hoo's loopy hairstyles in How the Grinch Stole Christmas, the elements of Dr. Seuss's world filled my childhood dreams.
In Seuss's Green Eggs and Ham, Sam-I-Am finds himself with one very picky eater. Despite Sam-I-Am's enthusiasm for the title dish, his friend refuses to take a taste. No matter what the weather, the location, or the circumstances, it's just not. gonna. happen.
But taking a good sport bite is just as important a part of childhood as reading books of fairy tales and delightful rhymes, so eventually he gives it a shot. After all his exhortations about hating green eggs and ham, surprise! It's love at first bite.
As a kid, eating breakfast in boxes, boats, trains, and planes seemed like a silly idea. As an adult, breakfast on the go happens all the time. This Green Eggs and Ham recipe is good to go for eating during a commute, before a meeting, while passing through an airport, and anywhere else life takes you!
Ingredients
6-8 oz frozen chopped spinach, defrosted and drained
½ green bell pepper, chopped
½ small white onion, chopped
1 small zucchini, peeled and chopped
salt and black pepper to taste
1 + ~2 tablespoons coconut oil
12 pieces or about 6 ounces prosciutto
8 eggs
optional: herbed goat cheese
Directions
Preheat the oven to 375 degrees Fahrenheit. In a sauté pan over medium heat, melt one tablespoon coconut oil. Add pepper, onion, and zucchini and season with salt and black pepper.
Saute for 4-6 minutes or until onions are translucent, stirring occasionally. Remove from heat and let the vegetables cool.
Grease a 12-cup muffin pan with two tablespoons coconut oil. Be thorough or the eggs will stick like none other. Using one piece of prosciutto per muffin cup, drape prosciutto around the muffin cups so the whole cup is covered. If using goat cheese, crumble into the bottom of the prosciutto cups.
In a large mixing bowl, whisk eggs. Stir in cooled vegetables and spinach. Ladle the mixture into muffin cups, filling ¾ of the way full. Bake for 20-25 minutes or until eggs sets in the middle and turns slightly golden brown.
These breakfast "cupcakes" balance the salty crisp of prosciutto with a boatload of vegetables. You can eat them wherever you please, whether that's a plate loaded with other colorful foods and served at the table, or out of your cupholder on the way to work. There's nothing better than a healthy, easy-to-make breakfast in a compact package.
What's your favorite Dr. Seuss book? We've got recipes from a few more classics coming up along with some recent favorites…what else would you like to try?