This post from Mo Cahill of Apartment Dining fame. She'll be introducing us to yummy, lesser-known dishes from far-flung locales. You can follow her culinary adventures on Facebook and Twitter, too!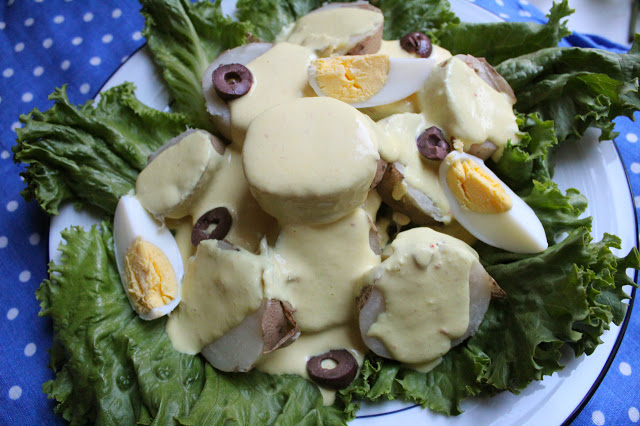 It's the height of summer picnic season, and if you're like me, you may be getting bored with the old standbys: grilled meats and veg-friendly "meats," corn on the cob, and of course, cold picnic salads. They all start to run together in a haze of mayonnaise and Italian dressings, but let me suggest a new option: Papa a la Huancaína.
This Peruvian dish comes from the town of Huancayo, high in the Andes, but it's a standard menu item throughout the country. Served cold, it's also the perfect substitute for your standard picnic potato salad. Instead of coating boiled potatoes with a mayonnaise-based sauce, Huancaína sauce is creamy and spicy, calling for queso fresco, aji amarillo (spicy yellow chile peppers), garlic, a splash of lime, and a bit of evaporated milk. And it's all topped with sliced hard-boiled eggs and black olives.
A word of caution: Depending on where you live, aji amarillo may not be easy to find. I went to a number of chain and specialty markets near my home and could not track them down, so you may need to plan ahead and order a jar of aji amarillo paste online. You could also do what I did and substitute the peppers with red chilis and a dash of tumeric powder. While not authentic, they get the job done.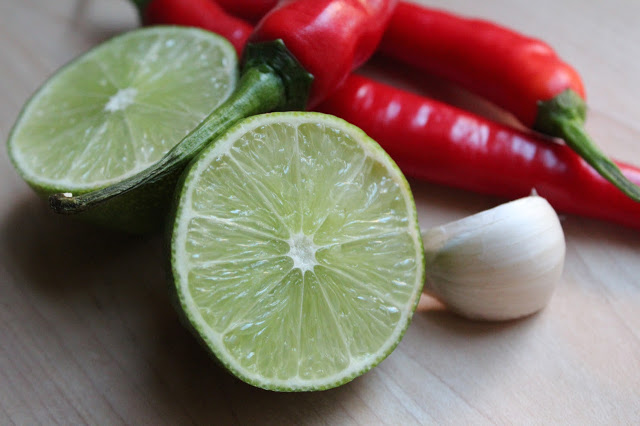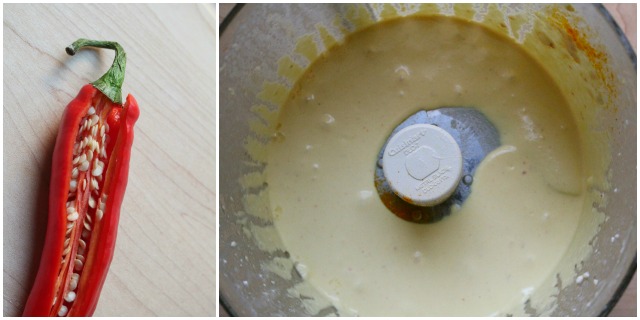 Papa a la Huancaína (Adapted from the Food Network)
Serves 4
6 Yukon gold potatoes or 4 Russett potatoes
8 ounces queso fresco (you can also substitute feta or farmer cheese)
1/3 cup evaporated milk
1/2 cup vegetable oil
3 tablespoons seeded and finely chopped aji amarillo or fresh red chiles
1 garlic clove, finely minced
1/2 lime, juiced
4 large Romaine or Bibb lettuce leaves, washed and dried
3 hard-boiled eggs, peeled and sliced
10 black olives, pitted and sliced (Kalamata or Botija Peruvian olives)
2 tablespoons freshly chopped flat-leaf parsley
Scrub the potatoes clean and place in a large pot. Cover with water and bring to a boil over medium-high heat. Cook for 30 minutes or until a knife slides into the potatoes without any resistance. Drain the potatoes and let them cool slightly. Slice the potatoes into 1/2-inch rounds and set aside.
Combine the cheese, evaporated milk, oil, peppers, garlic, and lime juice in a food processor or blender and puree until smooth and creamy. You should be able to pour the sauce, but if it's too thick, add water, 1 tablespoon at a time, until the sauce is thinned enough to pour.
Cover a platter with the lettuce leaves and top with the sliced potatoes. Pour the sauce over the potatoes. Garnish with slices of egg, olives, and a sprinkling of parsley if you're feeling fancy. Serve chilled or at room temperature.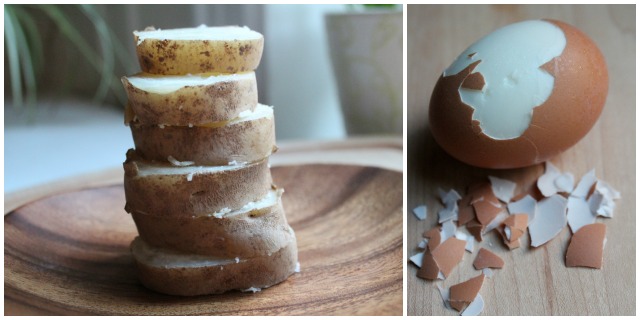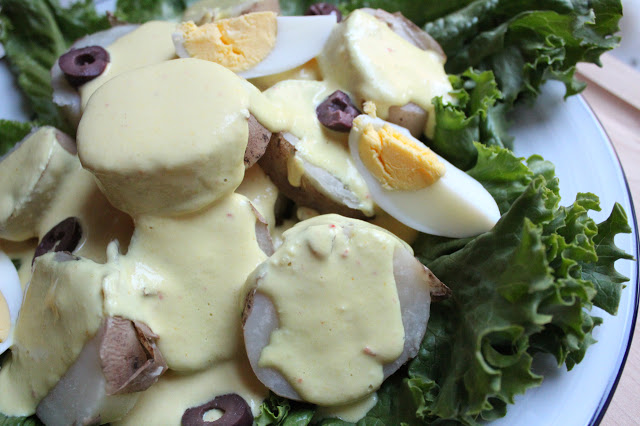 Any Peruvian readers who can share their favorite foods with us?  Have you been to Peru and eating something amazing? 
photos by overgraeme // shared interest // cc