This is one of many True Story interviews in which we talk to people who have experienced interesting/amazing/challenging things.  This is the story of Anna and her sexuality.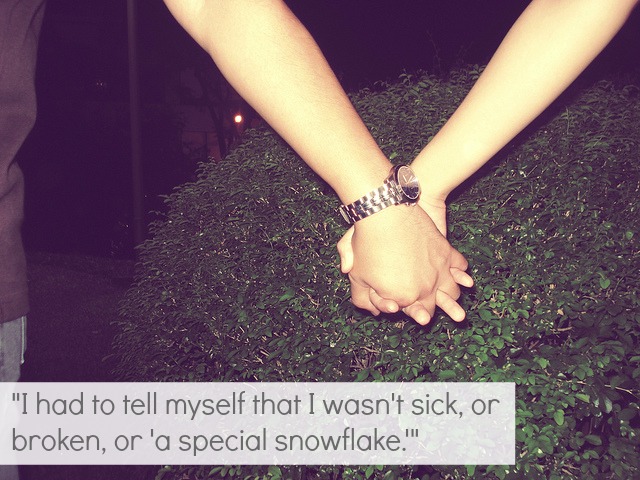 Tell us a bit about yourself!
Hello! I'm Anna (on the internet, at least), I'm twenty-one years old, from Portugal, and as of May 2013, I am about to graduate from my major in Criminology. For fun, I write, wander, take photos, and blog. For the past couple of years, I've also developed a bit of an interest in natural history and entomology – or, you know , bones and bugs.For those of us who don't know, what is asexuality?
Asexuality is, more or less consensually, defined as the absence of sexual attraction. In its broader sense (aka The Asexual Spectrum), it encompasses an extraordinarily diverse group of people – from romantic asexuals (who fall in love – the question 'with whom' will then create romantic orientations), to aromantic asexuals (who do not fall in love), to demisexuals (who only experience sexual attraction once they've established an emotional connection), to grey-asexuals (who experience sexual attraction, but rarely). Right now, I think it's safe to say I fall into the aromantic asexual category.
When did you realize that your sexuality was different from a lot of other people's?
I've never really thought myself capable of having the same type of trajectory my friends had, both romantically and sexually. I've always been wary of my personal space. I have a hard time trusting people, I can't stand being seen out of control, and I grew up a bit of a lone wolf. Looking at this scenario, it doesn't surprise that having a relationship, and a sexual one at that, has dropped to the very bottom of my priority list.
And I'm just going to take a detour here to point something out – you don't need to dislike sex (or the idea of it) to identify as asexual. It's more or else agreed on that sexual orientations should be defined on the basis of sexual attraction, and not sexual action. You can be asexual and have (and enjoy!) sex – just like you can be pansexual and never have sex, to give you a contrasting example.
But back to the story. I grew up thinking that this was all going to change eventually – that I was going to meet someone, and love them, and trust them so much that I would not only let them closer, I would want them closer. That's never happened.
How did you feel when you realized that you were asexual?
I grew into the identity, over the course of a few months. I felt miserable, at first. I knew the word fit me, but there were a lot of misconceptions I had to deconstruct before I could 'wear' it. I had to tell myself that I wasn't sick, or broken, or 'a special snowflake'. It was tough. I'd never noticed I was lacking that 'sexual attraction' thing, until I realized that everybody else had it, and that it seemed to make them happy. From this, I inferred that, not having it, maybe I would never be happy. It felt very serious, very defining, very life-or-death back then. Right now, it just feels liberating.
Have you been in any romantic relationships? How did you navigate those?
I have, before 'asexual' became a household term for me, and it was a bit of an ambivalent experience. I knew what relationships were like, because I'd seen people involved in them. And even if I was never interested in the physical part of the whole thing, I played along because it never even crossed my mind that there was a whole world outside the concepts of romance and sex. I didn't know you could have relationships without them. On the one hand, I wish I'd known. On the other hand, it was kind of a test-drive?
Do your friends and family know that you're asexual? 
I often talk about asexuality online, so everyone who follows me knows – and this includes a few 'real-life' friends. Beyond that, the subject has come up a couple of times, so I've told a few people almost as if by accident. One of my friends had an extremely validating, empowering reaction. Inversely, another one was straight out of a anecdote (you'll meet the right one eventually, you just haven't had good sex yet, but what about orgasms, and so on). It wasn't offensive as much as it was condescending – as if they knew better and I was just pathetically mistaken.
Family-wise, I don't really feel the need to come out. My close relatives know how I think and how I feel, they respect my decisions, and they've never pressured me into dating. I think we've struck a golden balance.
Do you date? Do you have any interest in dating?
Not right now, and I haven't in a while – I've been using that time to hone my idea of an ideal relationship. At this point, I feel like a significant other could add something to my life, but I don't feel like my life is lacking because I don't have a significant other. To use a silly metaphor, it's like I'm already a 100% on my own, and everything beyond that it's a bonus that I can very well live without.
Are you interested in having children or being in a long term relationship? 
Realistically, being a mother is something that has never, ever crossed my mind. Long-term relationships are a bit trickier. In a perfect world, I'd meet a like-minded person to age with, and we would buy a big mansion, drink tea and dance to electro jazz at all times. But then again, that would be a massive bonus, and it's not really something I require to lead a fulfilling life.
What advice would you give to others who have recently realized that they're asexual?
Judging by the myriad of backgrounds and experiences of the asexual people I've come into contact with over time, I think the most important thing might just be to ignore the nay-sayers and to figure things out to the beat of one's own drum. As far as resources go,
AVEN
has helped me quite a lot, with an honorable mention for the
Wiki
. And for those of us who learn better by relating to other people's experiences, there's one of my favorite projects, the monthly
Carnival Of Aces
! But above all things, just remember that you're not broken, and you're not alone. There's a community out there, and we're all willing to help.
Thanks so much for sharing, Anna!  Do any of you identify as asexual?  Do you have an (respectful!) questions for Anna?
photo by camera karrie, cc