This post comes to us via Claire Suellentrop who believes eating well + having an awesome time are not mutually exclusive. Learn to achieve both on Eat Well. Party Hard.  Say hi! Instagram // Twitter // Facebook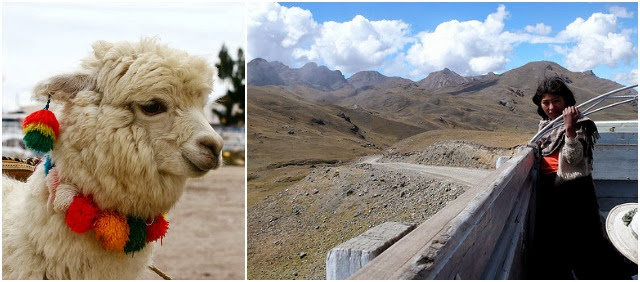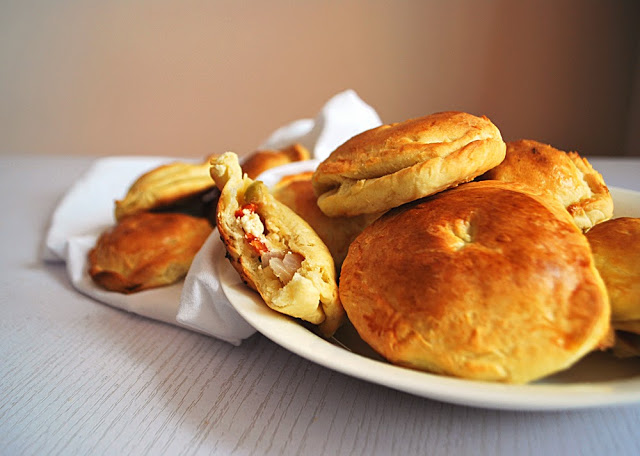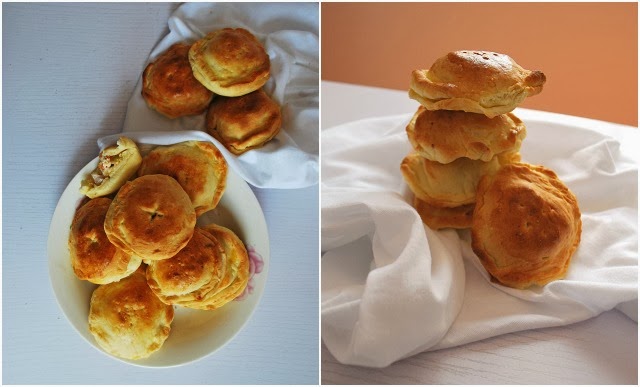 As the days shorten and the chill of fall creeps in, warm dishes begin to find their way into the smoothies + salads + fruit n' nuts routine I've been rockin' through the summer months. Suddenly, no icy cold smoothie is as appealing as piping hot oatmeal, as a velvety bowl of soup or–especially–of toasty baked goods straight from the oven. And these pukacapas, a spicy cheese empanada of Bolivian origin, fit that fall craving bill perfectly.
Though Bolivian food is primarily a combination of Spanish influence and Aymara/Inca ingredients (making it quite spicy!), a later influx of immigrants from Germany, Russia and Poland added some heaviness to the country's cuisine. Indeed, the dough around these little pockets of comfort is reminiscent of something I'd find at one of my (large, über-German) family's gatherings; and though my grandma probably wouldn't love the heat of the filling, it was a hit among my spice- and cheese-loving friends.
Pukacapas
Yields: roughly 14 pastries, with some filling left over
For the dough:
3 c unbleached flour
2 tsp baking powder
¾ tsp salt
1/3 c butter, cold and cut into small cubes
2 eggs
1/3 c milk
1 egg, beaten (for brushing on top)
For the filling:
1 large onion, chopped
1 red jalapeno, minced*
1 green jalapeno, minced* (see note)
1 tomato, chopped
1 green onion, chopped
2 tbsp parsley, chopped
2 garlic cloves, minced
½ c green olives, chopped
¼ c vegetable oil
3 c queso fresco, crumbled** (see note)
Heat oil in a medium saucepan. Stir all filling ingredients except queso fresco into the hot oil. Sauté about 10 minutes, or until veggies are soft. Remove saucepan from heat and stir in the cheese. Set aside.
To make the dough, sift together flour, baking powder and salt. Work cold cubes of butter into the dry mixture fully incorporated (you should see only pea-sized or smaller butter chunks). Stir in milk and eggs, mixing just until dough is smooth. It should be tacky enough for two separate pieces to stick to each other, but not so sticky that it can't be rolled.
Preheat oven to 350 degrees. Turn dough onto a floured surface and roll it as thin as possible, then cut into circular shapes (I used a jar lid for this).
To assemble pukacapas, drop filling by the teaspoon into the middle of a dough round, leaving some space around the edge. Cover with a second dough round and pinch the edges of both rounds together, moistening with a few drops of water if necessary.
Poke a few holes in the top of each pastry to vent (a fork or toothpick will get the job done), then beat the remaining egg and use it to brush the tops of all the pukacapas. Bake at 350 for 20 minutes, or until just golden.
*If spicy isn't your thing, discard the seeds + white insides of your jalapenos
**Making your own queso fresco is super easy, and only takes 15-20 minutes. I whipped up my own batch using
this recipe
.
To make pukacapas more nutritious + vegan, try the following substitutions:
Whole wheat flour for unbleached
Coconut oil for butter
1 tbsp ground flaxseeds soaked in 3 tbsp water for each egg
Olive oil for vegetable oil
Soy milk in the queso fresco recipe (though I can't guarantee the success of this—yet!)
Have any of you guys traveled through Bolivia?  Or does anybody with Bolivian heritage know of any other great recipes?
photo 1 by maja majika // photo 2 by rocco lucia // cc