Looking for a recipe from Midnight's Children to impress your book club? Alicia has us covered!
---
Anyone who has eaten good home cooking knows that the best meal is one made with love. A dedicated cook carefully prepares ingredients, mixing in a pinch of extra special care for those who eat it. The result is a dish that induces sighs of comfort, closed eyes and open smiles, and many compliments to the chef.
There are emotions other than love, however, that can flavor a dish. In Salman Rushdie's novel
Midnight's Children
, several curious characters cook food seasoned with feelings: guilt, stubbornness, rebellion.
"What my aunt Alia took pleasure in: cooking. What she had, during the lonely madness of the years, raised to the level of an art-form: the impregnation of food with emotions."
Saleem Sinai, the protagonist, was born on the exact moment of India's independence. The fortuitous timing of his birth gave him unique telepathic powers which, along with the enormous nose he inherited from his grandfather, make him exceedingly sensitive to these emotional flavors.
Saleem grows up eating his curries of guilt made by his ayah (nanny), just as his mother fills herself with the "fish salans of stubbornness and the biryanis of determination" cooked by her mother-in-law.
As an equal lover of books and food, I imagined recreating the emotion-infused dishes of Midnight's Children long after I closed the book. My recipes would be full of nourishment: compassion, curiosity, joy, kindness.
Today's meal is biryani, a filling curry dish typically made with basmati rice, spices, and meat or vegetables. Biryani is one of those dishes for which every region and wise old grandmother has a different recipe, so I created my own take.
Dried cranberries add a tart hint of excitement, while hearty pieces of chicken reflect steady encouragement and perseverance. This quantity is perfect for a meal shared among friends or a series of leftover meals throughout the week.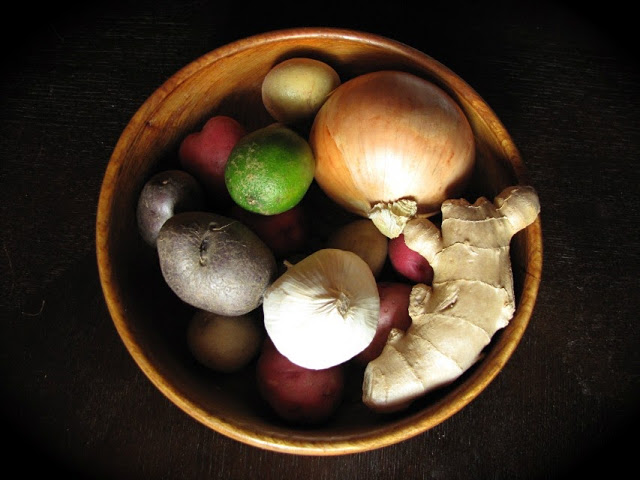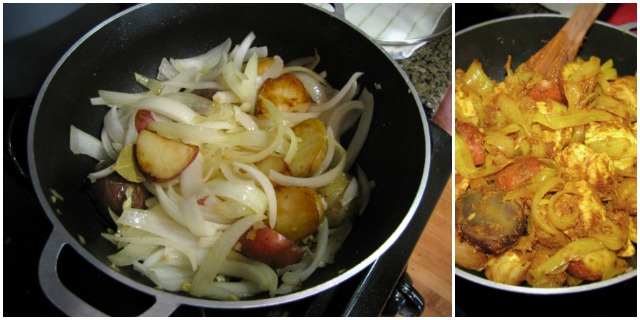 Chicken biryani recipe from Midnight's Children
Ingredients
1.5 cups basmati rice
2 tablespoons ghee or unsalted butter
6 small potatoes, halved or quartered
1 medium onion, sliced
1 bay leaf
2 tablespoons minced fresh ginger
2 cloves garlic, minced
¼ teaspoon ground cardamom
¼ teaspoon ground cinnamon
¾ teaspoon turmeric
¾ teaspoon kosher salt
4 boneless, skinless chicken breasts cut into 2" pieces (about 1.75 pounds)
5 tablespoons biryani curry paste or other mild curry paste
½ cup dried cranberries
3 cups chicken broth
Directions
Soak rice in warm water for ten minutes, then rinse to clear. Drain well.
In a 4-5 quart dutch oven, stockpot, or caldero (what I used), melt ghee/butter over medium heat. Cook potatoes until golden brown, then add onion, bay leaf, ginger, and garlic. Cook until the onions are translucent.
Stir in cardamom, cinnamon, turmeric, salt, chicken, and curry paste. Mix until curry paste evenly coats ingredients, about two minutes. Stir in rice, cranberries, and broth.
Cover the pot and increase heat. Bring to a boil, then reduce heat and simmer for 15 minutes or until chicken is cooked through. Uncover and continue to cook over low heat until liquid is mostly gone. Remove the pot from the heat, cover, and let stand for 10 minutes before serving.
—
In Midnight's Children, a boatman named Tai gives advice to Saleem's grandfather (the original owner of the enormous nose):
"A nose like that, little idiot, is a great gift. I say: trust it. When it warns you, look out or you'll be finished. Follow your nose and you'll go far."
Heed Tai's advice to follow your nose, and season your biryani according to your desires. Enjoy!