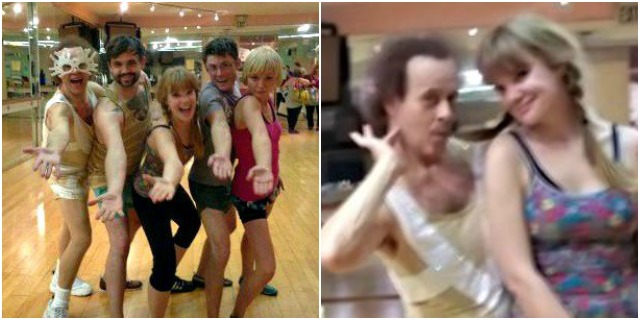 Have you ever had an experience that's so magical and deeply personal that you sort of don't want to talk about it?
The sort of thing that might become less amazing once you write about it online or blather on in a blog post? A once-in-a-lifetime sliver of amazing that might lose its shine if you spread it too thin?
I have.
(I think we all have).
It's taken me almost a year to tell you about this.
Let me begin by telling you that I love Richard Simmons without irony.
That man has changed millions of lives, he's a smart + savvy businessperson, he's kind, he's funny, and he's deeply, deeply himself. If you shit talk
Sweatin To The Oldies
I will cut you.
So, when I discovered that it's possible to workout with Mr. Simmons himself (for $12!!) I nearly wept with joy. That hair! That voice! I was going to witness it in person.
I quite literally planned my trip to L.A. around the schedule at Studio Slimmons.
I should also tell you that the time leading up to my workout with Richard was, well, challenging. October and November of 2012 were two of the toughest months of my entire adult life (and sitting L.A. gridlock while wearing spandex won't do much for your emotional state, either). So when I walked into that mirror-walled studio I was not, perhaps, at my most stoic.
And let us add to this the fact that I don't actually want to interact with people I admire. What if I say something ridiculous? What if they're jerks? I want you to sign my book, I'll shake your hand while I avoid eye contact, and that's the extent of what I'm looking for in a celebrity interaction.
So I was thrilled/terrified when the double doors of the studio opened promptly at 7:00 pm and Richard stood in the doorway – wearing pantyhose, white tennis shoes + scrunch socks, a custom-made snowflake-inspired outfit, and Elton John-caliber sunglasses.
And then I was just 100% terrified as he began working his way around the class, shaking everyone's hand and greeting them one by one.
"THIS IS NOT WHAT I WANT" was the calm, measured recitation of my brain. But thankfully, my friends and I were tucked into a corner and I had time for a bit of deep breathing before Richard reached our little group.
I stood there in braids and Adidias as Richard greeted my friends and I steeled myself to blush and mumble once he got to me. And then he was shaking my hand and welcoming me to class and I was thinking "IT'S ALMOST OVER DON'T BE WEIRD DON'T BLOW IT" when Richard looked me in the face and pulled me to the side of the room.
And just like that, my personal nightmare/fantasy came to life. Richard tilted his head and put his hand on one of my braids and he said "You know what I like about you? You're not materialistic. Your friends and family are what's important to you. That's what I like about you."
"Unggggn." I said.
Richard moved on to say hello to other people and I turned around and dissolved in a pile of snot and tears.
The class, obviously, was amazing. There was techno, there were sings-alongs and kick lines, there was a dance circle, there was a little pseudo-sermon at the end. After class was finished Richard announced that he was ready to take pictures with each of the first-time attendees so I dutifully stood in line, waiting my turn to stand next to one of my favorite humans ever.
And when I did, this is the exchange we had:
"I'm sorry if I was too sassy before."
"Not at all! You were perfect."
"So what do you do?"
"I'm a professional blogger."
"Oh my! Are you going to blog about this?"
"Yes I am."
And then, a year later, I did.