This is one of many True Story interviews in which we talk to people who have experienced interesting/challenging/amazing things. This is the story of Annie and her experiences at Burning Man.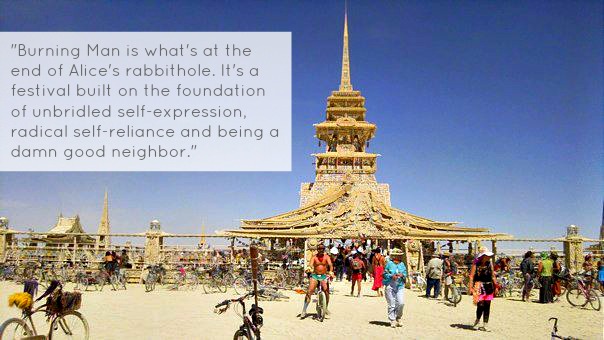 Tell us a bit about yourself! 
Well hello. I'm
Annie "Nibs" Passanisi
(the Nibs stands for "chicken nibbles" a name given to me en route to my first Burn. Long story). I'm 29 and 1/4th years old and my actual job titles include: Executive Chef of
Hungry Entrepreneurs
, Info-Product Sous Chef at Front Burner Biz, Polymathic's entire Department of Glitter and the Original Happiness Advocate. I spend my days connecting brilliant people, nurturing their big dreams and helping them make some well-deserved cashola. I unwind with swingsets, George Gershwin, overly ambitious baking projects, my freaking marvelous chosen fam, my very own personal NerdStud and my step-cat (who is warming to me – I think.)
My very favorite thing to do is sit people down and force them to listen as I go on and on about Burning Man.
For those of us who don't know, what is Burning Man?
Woof. This question is a doozy. For you skim-readers, it's a weeklong party in the middle of the Nevada desert attended by 60,000+ people
For those who want the actual answer, it's what's at the end of Alice's rabbithole. Burning Man is a festival built on the foundation of unbridled self-expression, radical self-reliance and being a damn good neighbor. For a week it's one of the largest cities in Nevada and operates solely on a gift-economy. No advertising is allowed, no sponging off the community, and no judgements (at least that's the goal.)
Why were you initially interested in attending?
At first I had no interest whatsoever in it. A week with no shower? Smelly hippies everywhere. No thank you. But after my dear friend and soul-bro Mark "Gonzo" Stetson said I should consider it, I began doing my research. I watched every youtube video, read every blog. I think what originally appealed to me was how radical everything seemed.Without knowing it, I was aching for something that would drop-kick me out of my cozy post-college/mid-I-know-everything-at-22 nest. I also relished the idea that I could dress like a modern Minnie Mouse and no one would bat an eye about it. Tutus and polka dots galore!
What are some of the biggest misconceptions about 'Burners' and Burning Man?
Probably that we're all hippie dippie druggie dirtball drifter slacker socialist rich kids on holiday. And believe me, there are people that would fit each of those criteria out there. But Burners are among the most creative, resilient and giving people on the planet. It's a required trip for the upper tiers of many innovative companies for that exact reason!Who else would turn an ordinary truck flat into a three story Victorian mansion on wheels complete with saloon girls, a moonshine bar and a sherriff? Would weather 107 degree days and 40 degree nights, clad in gas masks and googles, for months setting up the avenues, the portapotties, the emergency support systems so that everybody else can show up and have a grand old time? Would save up all year to bring thousands of dollars worth of booze, watermelon, or sofas to the middle of the desert to delight their peers? Burners would and they do. I'm not saying there are not bad eggs among us. There are. There are mean spirited folk, frat boys that want to ogle boobs, even the odd criminal in the mix but over all, Burners are sensational.
Since the festival takes place in the desert, how do you stay cool/warm/hydrated/safe/fed?
Remember, even though anything goes at the Burn, common sense still reigns supreme. If you want to free yourself and your mind by diving off a giant bathtub duck, you sure as hell can. But remember, gravity still exists out there and it costs $20,000 to airlift your broken self to a hospital.You absolutely MUST stay hydrated at all times. Seriously. You think you've had enough water? You haven't. Drink more.
Only ingest substances you know you can handle and in doses that make sense for you.
Ladies, 99 out of 100 of the guys you meet out there are not creeps, so let those tatas free if you want to. BUT, I issue you the same warning I tell my friends when they first move to Chicago. Being in dark places alone late at night messed up on something is not smart. Be safe. Take a buddy. Bonus points for a sober buddy.
As for staying fed, that's the easy one. Find a breakfast camp (there are dozens, my favorite is Cock n' Waffle) and shower them with gifts. Befriend your neighbors. Pro tip: go out with a gang you trust. It's one thing to take your wildest pals out there, but bring people you can cry in front of, too. The Burn is intense and these people will help keep you safe, sane, and sheltered. They can also talk you down from a bad trip or a aha moment that rocks your world a little too hard.
Annie and her friends
Tell us about an average day at Burning Man!
Ain't no such thang! The Burn is a fully customizable experience. Whatever you're looking for you can find on any given day. How do you normally vacation? The cafe set can mosey over to Center Camp for one of the most delicious mochas on earth. This is prime people watching and a great opportunity to make remarkable connections. Wanderers can explore. The city is HUGE. Spin in a circle and go in that direction. You'll find something marvelous guaranteed. There's an art tour! There are bars everywhere! There is the most miraculous village where healers offer their services for free while yoga and chanting abound. Think of your ideal vacation day, add a lot of topless people and searing heat, and that's the typical day.
Who would NOT enjoy Burning Man? 
If you don't want your view of the world, the people in it, and yourself to be shaken, don't come to the Burn. It is the most eye-opening experience I have ever encountered and every year is different. Sometimes it is BRUTAL. Sometimes, I cry in my tent and want to go home. You find yourself out there, and if you aren't ready to have some real talk with Y-O-U, don't come.As for the biggies, if you don't do drugs, don't sweat it. You don't have to take acid at the gate. There are entire sober camps, too, if you're trying to stay clean. Swingers and polyamorous types run rampant at the burn, but I'm monogamous as can be, intend to stay that way. And as for the super religious, are you open minded to other points of view? Then come on down. Burning Man is an intensely spiritual experience for some (present company included). Come marvel at nature, what man can create, and how you can contribute to the beauty that surrounds you.
But seriously, don't come if you have breathing problems, bitch and moan when it's hot out, want to mock the hippies, sell stuff, or ogle boobs. Go to Coachella or something for that.
What advice would you give to people who are interested in attending?
Come. if it even remotely interests you, come. If it scares you, come. If you've been dying to come for years, stop whining and just come already. And then come find me, Nibs, at 3:15 and F. I'll save you a hammock.Thanks so much for sharing, Annie!  Have any of you guys ever been to Burning Man?  Any insights to share?