Looking for a recipe from Gone Girl? Want to win book club? Trick question! Of course you do!
Today, Alicia walks us through this excellent recipe, inspired by this awesomely creepy book.
---
I hope you aren't sick of comfort food yet, because that's what I've been dishing up here in Chicago. The highlight of coming home on these cold, snowy evenings has been sitting down to a piping hot meal. After trying Katniss's favorite lamb stew back in November, now I've moved on to a faster (and just as filling) recipe: casserole!
Today's Read//Eat recipe is chicken Frito pie, a dish inspired by Gillian Flynn's
Gone Girl
. If you haven't spent hours on the couch racing through this novel, a chilly weekend day is the perfect excuse. Gone Girl is a psychological thriller centered on the disappearance of Amy Dunne, one-half of a charismatic, seemingly perfect NYC power couple recently relocated to suburban Missouri.
When Amy goes missing under suspicious circumstances, what's for dinner is the farthest thought from her husband Nick's mind. Thankfully the grieving husband has help in the form of Shawna Kelly, an overly friendly search volunteer.
"Oh, you poor man. Well, cold cuts, that won't do it…I make a mean chicken Frito pie. You know what? I am going to put that together and drop it by the volunteer center tomorrow. You can just microwave it whenever you want a nice warm dinner."
Despite Shawna's flirtatious and kind of icky attention towards Nick, I was intrigued by her chicken Frito pie (shows you what a loyal reader I am.) As soon as it came out of my oven, I knew it would be just as good as Shawna promised.
The crunchy Frito crust, topped with sharp cheddar and cilantro, covers a spicy pulled chicken chili concoction that will fill you up on a cold winter's night. After sitting in the fridge for a day, the chili only tastes better when reheated.
"She pulled a cell phone out of her giant chartreuse handbag, laughing. 'Come here,' she said, and pulled an arm around me. 'Give me a big chicken-Frito casserole smile.'"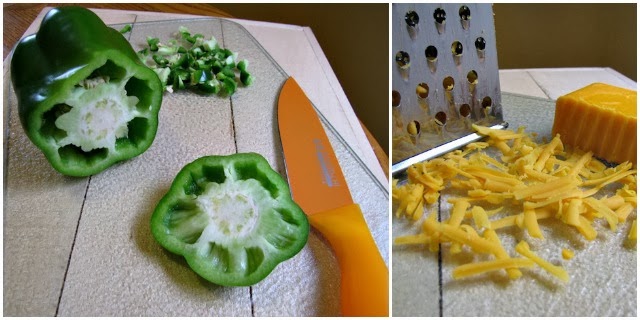 Chicken Frito Pie from Gone Girl
Serves 6-8
Ingredients
1 teaspoon + 1 tablespoon coconut oil, divided
2 lbs. boneless, skinless chicken (I used a mixture of breast and thigh.)
½ teaspoon ground coriander
Salt and pepper
2 cloves of garlic, minced
2 yellow onions, chopped
2 green bell peppers, cored and chopped
1 jalapeno pepper, chopped (remove seeds to reduce heat)
1 tablespoon chili powder
28 oz. canned diced tomatoes
15 oz. can pinto beans, drained
3 cups Fritos original corn chips (swoops, not scoops)
1 cup shredded sharp cheddar cheese
½ cup chopped cilantro, dividedfor serving: 4 oz. plain Greek yogurt or sour cream
Directions
Preheat the oven to 400 degrees Fahrenheit. In a 9×9-in. baking dish, melt 1 teaspoon coconut oil by placing in preheating oven for a minute. Add halved chicken breasts and thighs.
Season with coriander, salt and pepper, then tightly cover the dish with foil and bake for 45 minutes. Allow the chicken to cool, then drain the juice and pull chicken using two forks. Turn off the oven for now (don't forget to preheat later!) or lower heat to 350.
In a large pot over low heat, melt 1 tablespoon coconut oil. Add garlic and sautee for 30 seconds, then add onion and bell peppers. Raise heat to medium and cook until vegetables are soft, then add the jalapeno pepper and chili powder.
Stir in tomatoes and pinto beans, return heat to low and simmer for 20-25 minutes. Add pulled chicken and cook for an additional 5 minutes.
Pour chicken chili mixture into one 9×12" baking dish or divide between two dishes (I used a 9-in. casserole and a 7×5-in. baking dish.) Top with an even crust of fritos and cover with cheese. Bake at 350 for 10 minutes. Let stand for 5-10 minutes before serving. Garnish with ¼ cup cilantro.
In a small bowl, combine Greek yogurt or sour cream with another ¼ cup cilantro. Serve with the casserole.
—
As for Nick and Amy, I don't want to reveal too much…but as the police quickly focus their suspicion on Nick, a compelling and sinister story unfolds.
The perfect facade of the couple crumbles as the novel switches between Nick and Amy's perspectives, revealing a relationship as powerful as it is toxic. Flynn's fascinating storytelling will have you on the edge of your seat until the very last pages.