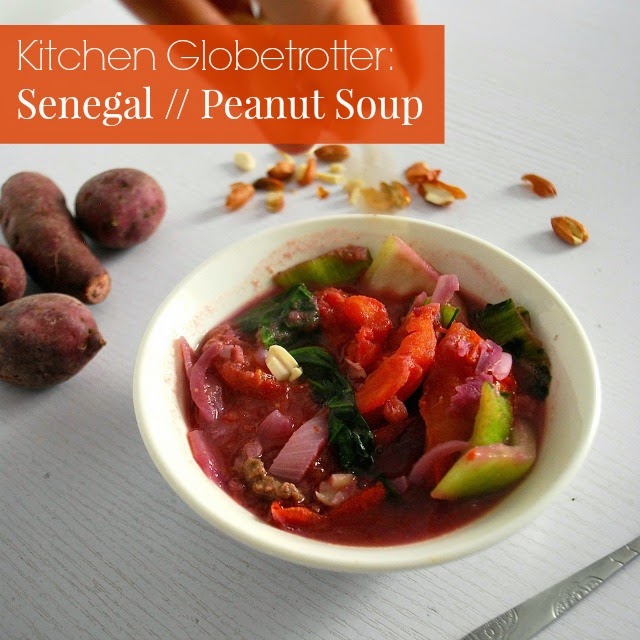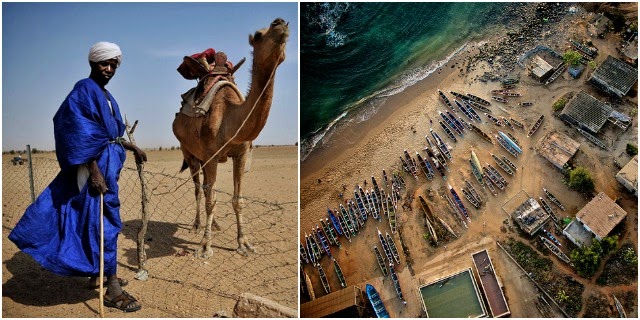 This is one of those "is this actually good for me?" dishes—rich and satisfying from the peanut butter, lightly sweet from the yams or sweet potatoes, and yes, totally healthy to boot (we're talkin' half a pound of greens, y'all).
It's absolutely the peanuts—the cash crop of Senegal, and therefore a staple in the cuisine—that set this dish apart from other tomato-based stews. Were I to give it another go, I'd up the amount of peanut butter to make the broth extra hearty.
To make it a real party pleaser, though, take out the greens altogether (save 'em for a side salad) and add some oomph with a can of coconut milk, which would transform this soup into a super-filling, sweet + savory heaven.
Senegalese peanut soup
Yield: 4 servings
3/4 c shelled roasted peanuts
2 tbsp peanut oil
1 medium red onion, halved and thinly sliced
1 tbsp fresh ginger, peeled and minced
1 tbsp garlic, minced
1 pinch cayenne (more/less to taste)
salt
fresh ground black pepper
6 c water or vegetable stock
2 (1/2) sweet potato, peeled and cut into thick slices OR 2 yams, peeled and cut into thick slices
8-12 plum tomatoes, cored and halved (canned are fine, drain liquid and reserve for another use)
1/2 lb collard greens or kale, washed thoroughly and cut into wide ribbons
1/4 c chunky peanut butter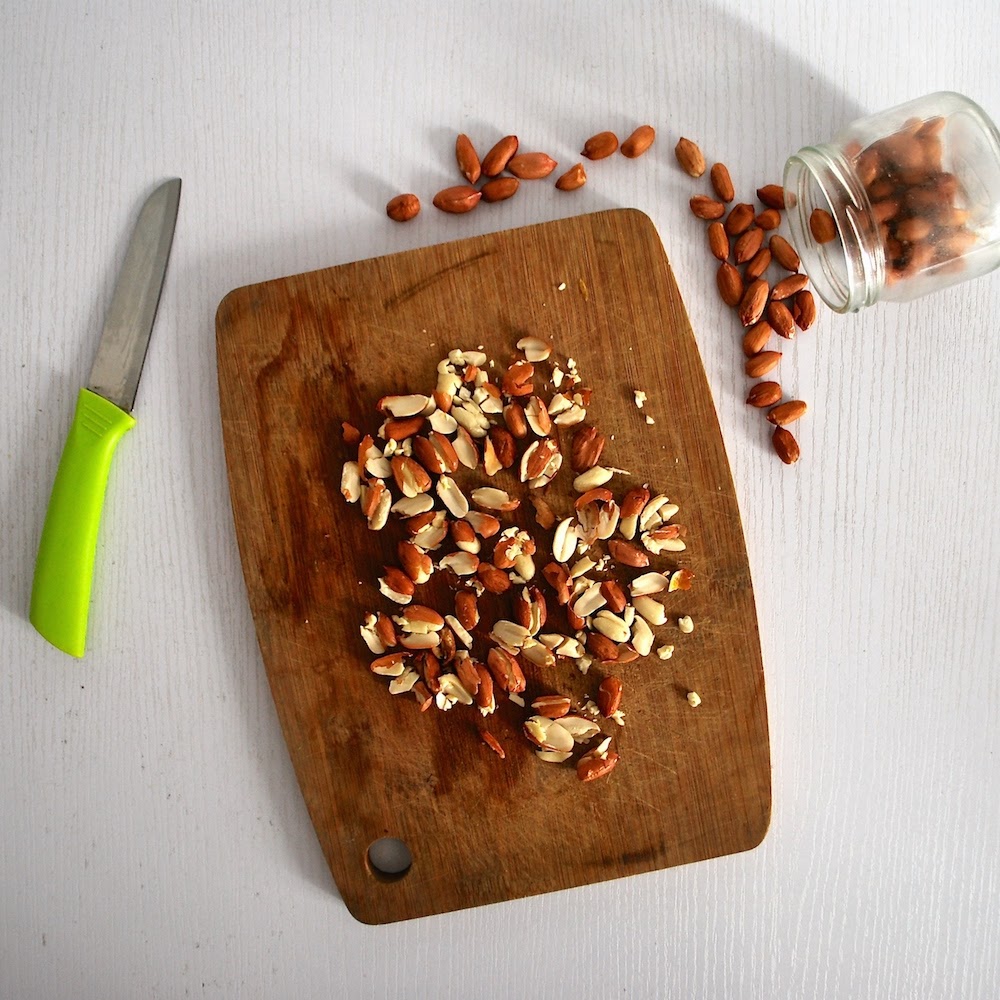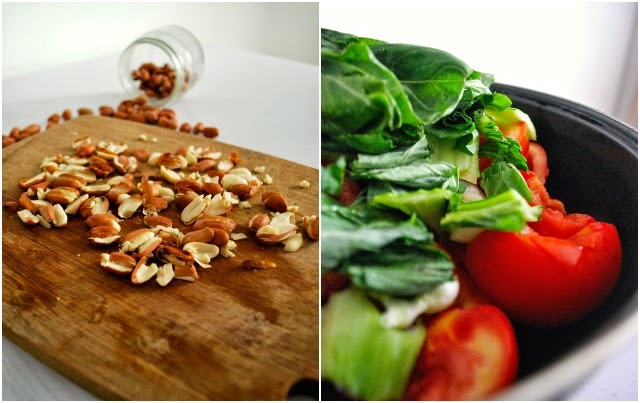 Use the flat side of a wide knife or cleaver or a small food processor to break the peanuts into large pieces.
Put the oil in a deep skillet or medium saucepan over medium-high heat. When hot, add the onion, ginger and garlic and cook, stirring occasionally, until the vegetables are soft, 3-5 minutes.
Add ½ cup of the peanuts and the cayenne. Sprinkle with salt and pepper. Stir in the stock and sweet potatoes, bring to a boil, and turn the heat down to medium-low so that the soup bubbles gently. Partially cover the pan and cook, stirring occasionally, until the potatoes are just tender, about 10 minutes.
Stir in the tomatoes, collards and peanut butter. Cover and cook until the collards are tender, 5 to 8 minutes. Taste, adjust the seasoning, and serve garnished with the remaining peanuts.
Variation: Creamy peanut soup (like velvet, but peanutty velvet): Omit the collards or kale. Then in step 3, along with the peanut butter, stir in 1 cup rice milk, or coconut milk, either made from scratch or canned (use ½ can, slightly less than 1 cup, with a little water). Use an immersion blender to puree the soup in the pan, or cool the mixture slightly, pour into a blender, and puree carefully. Gently reheat the soup, taste and adjust the seasoning, and garnish with the remaining peanuts.Have any of you guys been to (or currently live in) Senegal? Any good recipes to share? 
P.S. Delicious things on toast and Painfully cute food.