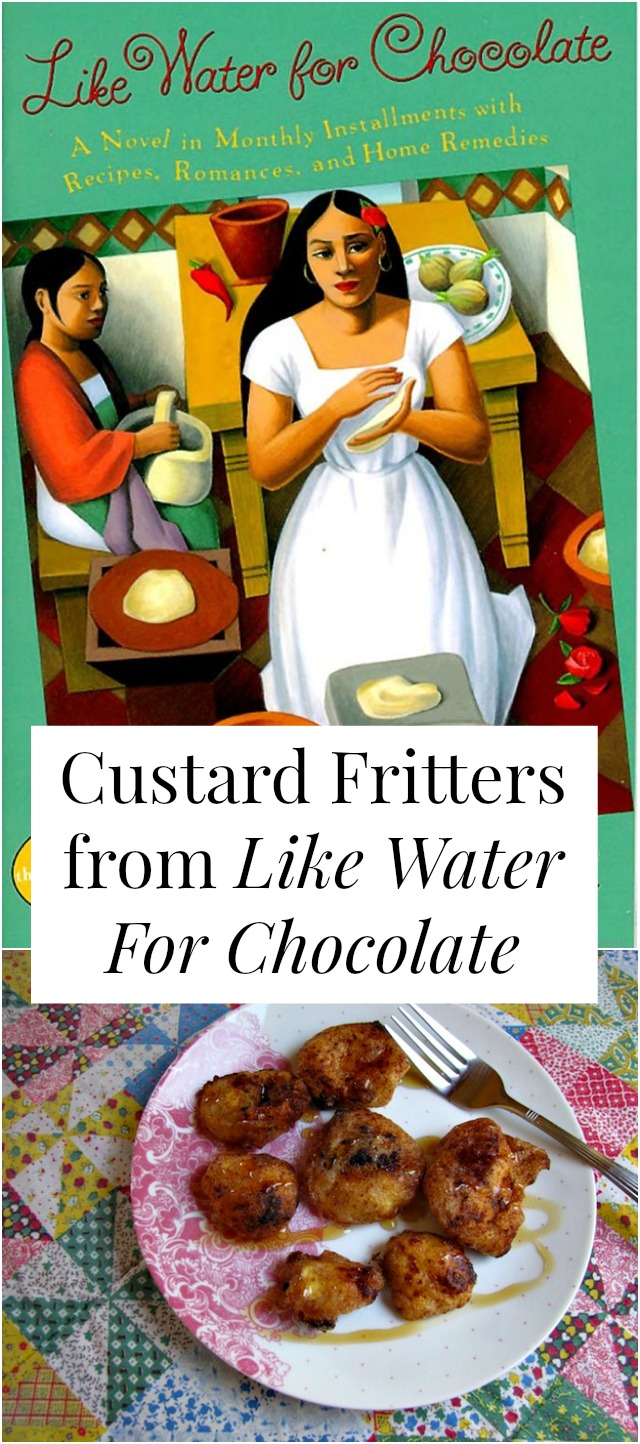 This guest post comes to us via Alicia of Jaybird fame. When she's not making a mess in the kitchen, she tries her hand at home DIY projects and elaborate picnics. Go be friends! Twitter /Facebook.
A simmering tale of passion, Laura Esquivel's
Like Water for Chocolate
isn't your typical love story. Each chapter of the book covers a month whose story revolves around a recipe: quail in rose petal sauce, turkey mole, chilies in walnut sauce. As the women of the story cook, the forbidden love of Tita De La Garza and Pedro Muzquiz weaves its way between the smells of the kitchen and the old family stories.
"…for Tita the joy of living was wrapped up in the delights of food. It wasn't easy for a person whose knowledge of life was based on the kitchen to comprehend the outside world."
Tita, the youngest daughter of the De La Garza family, is forbidden to marry. According to family tradition, she must remain unwed and take care of her mother until she dies. Pedro's love is a wrench thrown in the plans, and so the only way for him to be near Tita is to marry her sister, Rosaura.
As you can imagine, tensions run high in the De La Garza household. Thankfully for the readers, they come out in the kitchen as Tita pours her emotions into every dish. Practically raised by the family's cook, Tita uses cooking to express her stifled love.
Every family member has their favorite dish, and custard fritters are her sister Gertrudis'. Made of fried eggs and cream, the fritters are a hot dessert with a crisp coating and a soft center. Gertrudis can barely focus on Tita's romantic plight as they cook together: "Gertrudis stroked her hair tenderly, but was careful to watch the fritter dessert that was on the flame. It would be a pity if she couldn't eat it. When it was almost starting to burn, she detached herself from Tita and said sweetly, 'Just let me take this off the burner, and then you can go right back to crying, OK?'"
Serves 3-4 as dessert
Ingredients
6 large eggs
1 cup heavy cream
butter to grease pot
1.5-2 cups oil for frying
cinnamon
syrup
Directions
Over a small bowl, separate eggs, letting whites flow into the bowl and putting yolks in a larger mixing bowl. Reserve whites. Add cream to the yolks and whisk until evenly mixed.
Use butter to grease a medium-sized pot, making sure to get the bottom and the first 1.5 inches of the sides. Pour in egg mixture, making sure it is not more than one inch deep (if it is, you need a larger pot or it won't set appropriately). Place over a very low flame and cook until the custard sets, about 35-40 minutes. It will remain soft but, to help it cook along, you can scrape the sides and angle the pan to make sure all the liquid cooks.
Remove from heat and allow to cool for a few minutes, then cut into small squares. In Esquivel's words, squares should be "a size that won't crumble too easily."
Heat oil until sizzling. Beat the egg whites and roll each fritter in egg whites, then use a slotted metal spoon to drop into oil. Be careful not to splash any on yourself! Fritters will immediately puff up and start to turn golden. Cook for 15-20 seconds, flip and cook until golden brown. Repeat until all fritters are done, removing them from the oil to drain on a paper towel-lined plate.
Sprinkle fritters with cinnamon and serve with the syrup of your choice.
Note: to dispose of frying oil, let it cool, then put it in a jar, cap it and dispose of it in the trash. Do not pour it down the sink.
Though you'll have to pick up the novel to learn what happens to Tita's forbidden love, you can enjoy these fritters at home in less than an hour. Buen apetito! Have you read this classic? What was your favorite dish from it?