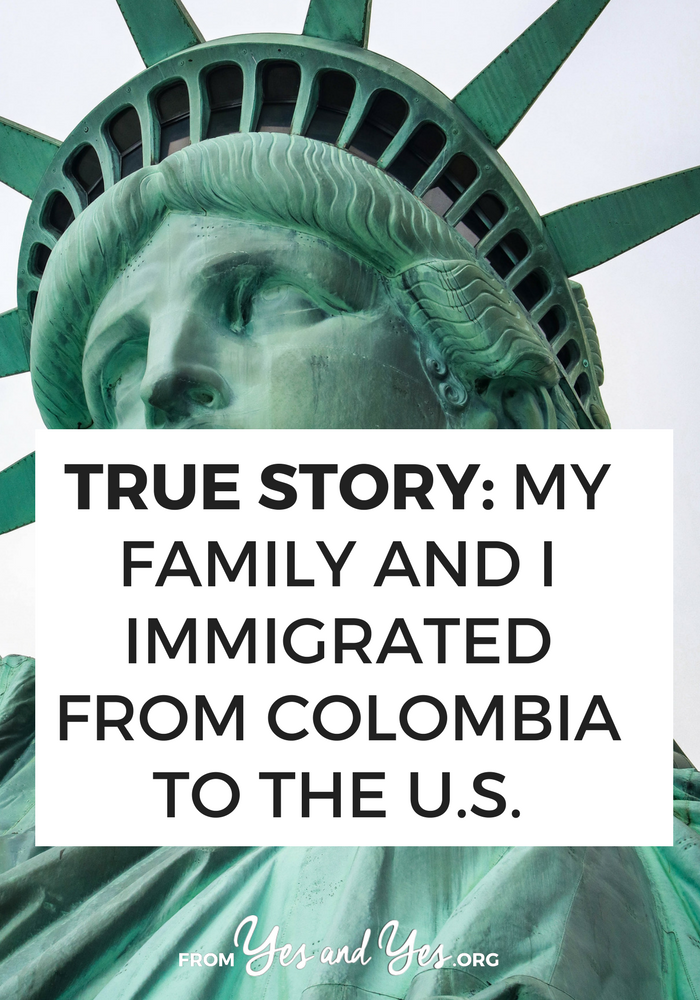 What would it be like to immigrate to America? Particularly if you were fleeing violence in your home country? Today, Annie shares her family's story.
Tell us a bit about yourself!
I'm Annie, a 25-year-old Colombian-American currently living in Utah. I'm a Writing Tutor and do Marketing for some local businesses. I got two B.S.s (Psych & Marketing with a Rhetoric Minor) and am planning on attending grad school next year. I enjoy blogging, daydreaming, working out, watching TV, and mostly staying in. 
What do you remember about life in Colombia?
I remember our home and my wonderful childhood. I wasn't/am not a spoiled brat but my parents always did give me what I wanted when it was appropriate. I got good grades and was one of the best at English – to the point where I sometimes corrected my teachers, who weren't fans.
I also remember my friends and our get-togethers, my crushes, our road trips to go see relatives at Christmastime-New Year's. I remember getting to grow up "with" Shakira, Juanes, and Sofia Vergara, watching American shows (we were big fans!). I rememer having a maid (like almost everyone else), and even starting to talk to myself in what I'm sure was broken English back then, haha.
Why did your parents choose to immigrate? 
Although it's much better now, 80s-90s Colombia wasn't an ideal place to live in. My parents did a good job of sheltering me from some things (though I'd randomly catch awful news reports). Once our family became personally affected by a particular situation, my parents knew it was time to consider moving.
My dad had been an exchange student in Texas when he was a teen, we had all been to Orlando. My parents knew NY and Chicago from business trips, so we knew this country would be a great next home.
Do you remember anything about the immigration process?
It all started in Colombia, although the actual asylum process began with our lawyer soon after we arrived in Utah ('02). We were granted political asylum in 2006 after two trials (one for each of my parents).
That same year, we became residents and then we had to wait at least five years to apply for citizenship, which we did in 2011. Then we were given materials to prep for the Naturalization Exam and some months later took our exams separately. We had to just answer a few questions right and prove that we could speak English.
A few weeks after that, were invited to the Naturalization Ceremony. There, we took the Oath of Allegiance, did some other things, and BECAME U.S. CITIZENS!
What was your first impression of America? 
My parents, dog and I were pretty much on our own; we relied just on ourselves. My dad had done some research into SLC before moving and knew what neighborhoods were right (East) and which wouldn't be (West). That's how we knew of a local K-8 Catholic school, in which they enrolled me the day after we arrived. That's also how we learned about some condos nearby, which is where we moved upon our arrival.
My parents got jobs in Park City (30 mins away), and a couple years later we were able to buy a home just a couple blocks from my high school.
What were your first few years like here in the U.S.?
I loved my first years in this country. Because I had been taking English-language classes since I was six, I was able to assimilate successfully. I walked to/from all my schools, had friends, and was always super involved. Being a (happy) goody two-shoes, I did very well in school, although I was bullied for a bit soon after I arrived.
It also took me a while to learn that I needed to wear makeup at 13 because at my old school, which was all-girls, none of us did. And then there were guys! I was so smitten :). However, I don't know if I'd have my kids in co-ed schools because the opposite sex can be so distracting, haha!
My parents loved it here too (despite the stresses of the citizenship process). Though they were able to land good jobs in Park City soon after we arrived, they always regretted not having advanced degrees that they could have relied more on. That's why to us immigrants, education is such a BIG deal.
They had successful businesses in Colombia, but here they had to become employees: my mom at an alterations shop and my dad as a surveyor and later restaurant manager. When that alterations shop closed, my mom decided to start her own and now it's the top alterations shop in two counties!
Being a Renaissance man, my dad has been able to transition to other jobs and now he works in investment and retail trading. Together we're also looking to re-launch an organic/all-natural soap-making business.
How do you feel about America's immigration policies and the DREAM Act?
At first I had mixed feelings about things like the DREAM Act and similar "pardons": We had done everything right and taken care of business the way we were supposed to, and then there are these families that didn't do it the right way and could nevertheless potentially get what we fought so hard to get? (My parents are actually less stringent than me about this.)
But I've slowly come to realize that the kids aren't at fault. There are SOOO many good families out there. I get sad when I see they haven't reached their full potential because of a single mistake (albeit a pretty big one). Most are outstanding members of their communities, and we'd be lucky to have them as actual legal residents.
While I don't rejoice in the grim circumstances that brought us here, I am fortunate that my parents were able to turn that situation into an opportunity. They also knew that they didn't want to come here illegally because that'd harm us more than benefit us, and that's why as a non-mom, I often am like, "WHY do others even sign up for that life??!!"
The reason is that they're beyond desperate and prefer giving their families relatively better lives here without documents than continue living miserably in their home countries. That bravery is commendable and it fits our American spirit.
You've never been back to Colombia and your parents have only been back twice. Has anyone ever hassled them/you about becoming 'too' American?
Not at all. And if they did, we wouldn't care because we love this country :). I tear up every time I hear the Star-Spangled banner and we're as happy as clams here. I think because they moved here as adults, my parents have been better able to maintain their "colombianness."
I was 13 when we moved, so I may have a greater chance of being labeled "too" American. (Which, again, I wouldn't really care about.) I enjoy merging the values I grew up with new things I'm learning. For example, I'm more accepting of gay marriage now. For many things, I'll forever be gladly "stuck in my old ways" – I'm not having sex until I get married.
And while I still enjoy some Latin media and we've always spoken Spanish at home (with a few phrases in English in between), the truth is that I love American TV, movies, and music. In fact, in a given week, I may listen to just one Latin song but hundreds of American ones. Culturally, our country's the most innovative, so why not embrace that? If that makes me too American, then so be it.
Your family has really put down roots here – owning businesses, attending school, volunteering. What do they love about most America?
The safety/security and the privacy. In Colombia, everyone knows everything about everyone. Or maybe we were just very well-connected?
Here, no one minds your business and (if you're in the right part of town) you can be out on your own at any time of day and be wearing lots of expensive stuff and no one'll give a da**. Better yet, no one'll try to steal it off you!
Thanks so much for sharing, Annie! Have any of you guys immigrated with your families? Or on your own? Do you have any questions for her?