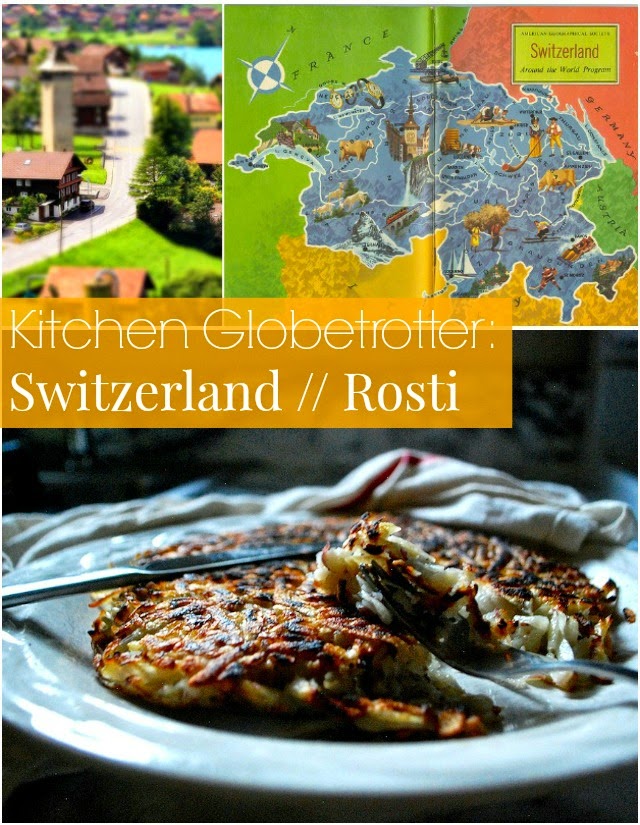 If there's any kind of food the Swiss know, it's mountain food. And I imagine if I were trekking through the Alps, I'd be craving a stomach-ful of warming, rejuvenating carbs and fats, too.
Being in the balmy Southeastern US, though, this fare was better enjoyed in small doses.
Don't get me wrong; the nationally-loved Swiss version of hash browns (read: potatoes fried in butter) is completely delicious! Being just potatoes and butter? Might be something to save for the occasional decadent brunch, or as a reward after a grueling workout.
It is some rich stuff, friends. And though crunchy, fluffy and savory as is, the American in me loved it even more smothered in salt, pepper and hot sauce. What do you prefer? Are you a hashbrown (or Rosti) purist, happy with just the main ingredients? Or do you add on cheese, an egg, or—like me—a generous douse of something spicy? Share your take below!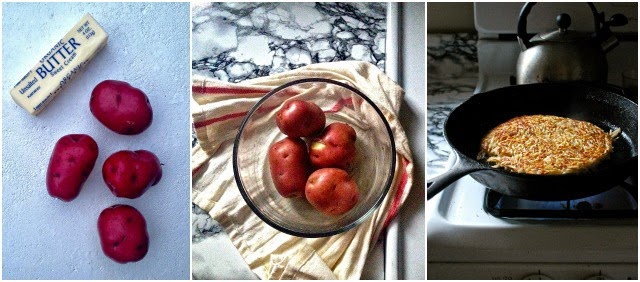 Swiss Rosti
Serves 2 as a main, 4 as a side
2 medium or 4 small waxy (red) potatoes
2 tbsp butter (to veganize, use coconut oil)
Salt and pepper (if desired)
Parboil the potatoes until just tender, but not soft. Allow to cool, then chill for a couple of hours.
Once chilled, coarsely grate the potatoes. If you prefer to season with salt and pepper, do so now.
Melt 1 tbsp of butter in a heavy-based frying pan until sizzling, then add grated potato. Mix gently until all strands are coated in butter, then lightly press into a flat round cake with your spatula. Cook on medium heat 10 minutes, shaking the pan occasionally to keep the potato cake from sticking.
Once golden and crisp, place a pan on top of the plate and invert it so that the cake sits, cooked-side-up, on the plate.
Add the remaining tbsp of butter and, when hot, slide the potato cake back into the pan, cooked side remaining up. Cook for another 10 minutes, then serve.What's your favorite international breakfast? I looooove Dan Bing!
P.S. I rounded up all of my favorite meat-free recipes
here
.
photo by Vinoth Chandar // Tom // cc